Houston Rockets Star Unsure For First Round Of Playoffs With Injured Quad
KEY POINTS
Russell Westbrook suffered a right quad injury and is uncertain for the first round of the NBA Playoffs
The Houston Rockets will face the OKC Thunder in the first round
James Harden urges his teammates to step up in Westbrook's absence
The Houston Rockets are in danger of missing Russell Westbrook in the first round of the NBA Playoffs. The team announced that the star point guard suffered a strained muscle in his right quadriceps following an MRI on Wednesday.
"We'll see how it responds and everything, but we all hope," Rockets head coach Mike D'Antoni said when asked about Westbrook's status for the postseason, which begins on Monday. "We'll just see next week. I don't know right now."
Westbrook has already been ruled out for the rest of the seeding games inside the Orlando bubble. He will then undergo reevaluation prior to the start of the Playoffs.
The nine-time All-Star had already felt soreness in his right quad as early as during the Rockets game against the Portland Trail Blazers on Aug. 4, according to ESPN. Despite this, the former MVP still played the succeeding games for Houston and even racked up 20 points, 5 rebounds, and 6 assists in 28 minutes against the Spurs on Tuesday.
D'Antoni, however, is not convinced that Westbrook aggravated his injury by deciding to play through the soreness.
"I don't think he aggravated it," D'Antoni said. "During the game and after the game, he was fine. He woke up the next day and was sore, so they're checking it out to make sure it can respond to treatment. We don't know 100 percent right now, but he's definitely going to be out Friday and then we'll see."
With his status uncertain, Westbrook could miss going up against his former team, the Oklahoma City Thunder, in his supposed first playoff series wearing the Rockets uniform.
OKC booked a first-round date with Houston after winning against the Miami Heat on Wednesday, 116-115.
Westbrook missing the best-of-seven affair would certainly be a strain on Houston's back, but James Harden is opting to look at the brighter side of things as he urges his teammates to step up in his co-star's absence.
"Guys have opportunities to step up and have got to be ready to go and take advantage of the minutes," Rockets star guard James Harden said. "Obviously, we all know how important Russ is to everything we're trying to accomplish. So the faster he can get his body right and get back on the court, the better off we'll be."
In his first season with the Rockets, Westbrook has averaged 27.2 points, 7.9 rebounds, and 7.0 assists as he has connived with Harden in leading the Rockets to the fifth seed in the Western Conference.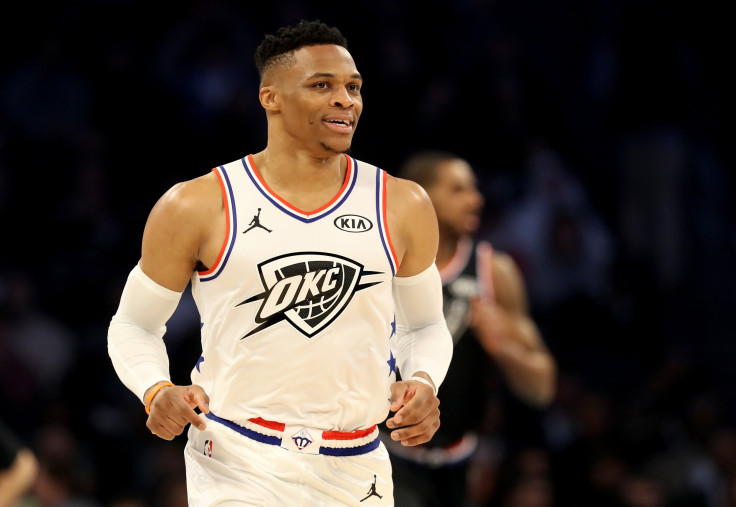 © Copyright IBTimes 2023. All rights reserved.