Houston Texans Are Heavy 2019 AFC South Favorites After Beating Indianapolis Colts In NFL Week 12
There's still well over a month left in the 2019 NFL season, but the Week 12 "Thursday Night Football" matchup might end up being the deciding factor in the AFC South. The Houston Texans defeated the Indianapolis Colts 20-17 to take control of the division.
The victory improved the Texans to 7-4 on the year, giving them a one-game edge over the 6-5 Colts. According to the oddsmakers, Houston is now the overwhelming favorite in the AFC South.
FanDuel Sportsbook has Houston as a -220 favorite to win the division. Indianapolis' AFC South odds dropped to +270 with the loss.
The Tennessee Titans have +700 odds, trailing the Texans by 1.5 games. Jacksonville is 2.5 games out of first and a long shot with +3500 odds.
Tennessee hosts Jacksonville in Week 12. The Texans and Titans still have to face each other twice.
Houston and Indianapolis split their two head-to-head meetings. With both teams owning a 3-1 record in the division, the tiebreaker remains undecided. If the Texans and Colts finish with the same AFC South record, their record in common games will break a potential tie.
Indianapolis could very well be back in first place at the end of Week 13. Houston is scheduled to host the New England Patriots in their next game. The Colts will host the Titans, whom they beat in Tennessee two months ago.
The second-place finisher could earn an AFC wild-card berth. The Colts only trail the No.6 seed Oakland Raiders by a half-game.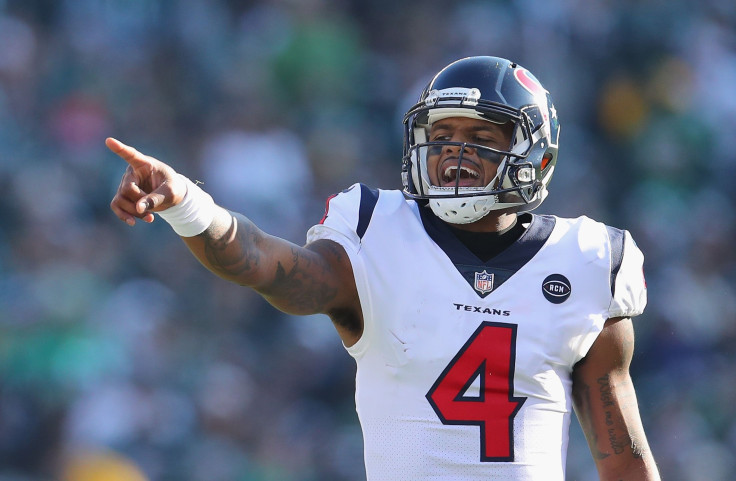 When Andrew Luck retired in the preseason, Houston became the clear AFC South favorite. Deshaun Watson had been in the MVP discussion up until a few weeks ago. The best quarterback in the division threw for 298 yards, two touchdowns and a 104.6 passer rating in Thursday's victory.
Jacoby Brissett was limited to 129 passing yards on 25 attempts in Houston. He's come back to earth after a hot start, throwing a touchdown pass in just two games since the end of September. Brissett does have a rushing touchdown in each of the last two contests.
The Texans are looking to win their fourth AFC South championship in the last five years. Houston has just one playoff win during that time.
Houston is tied for 10th in the NFL with 30/1 Super Bowl odds. Indianapolis is 15th at 80/1.
© Copyright IBTimes 2023. All rights reserved.