Houston Texans RB Arian Foster To Return Sooner Than Expected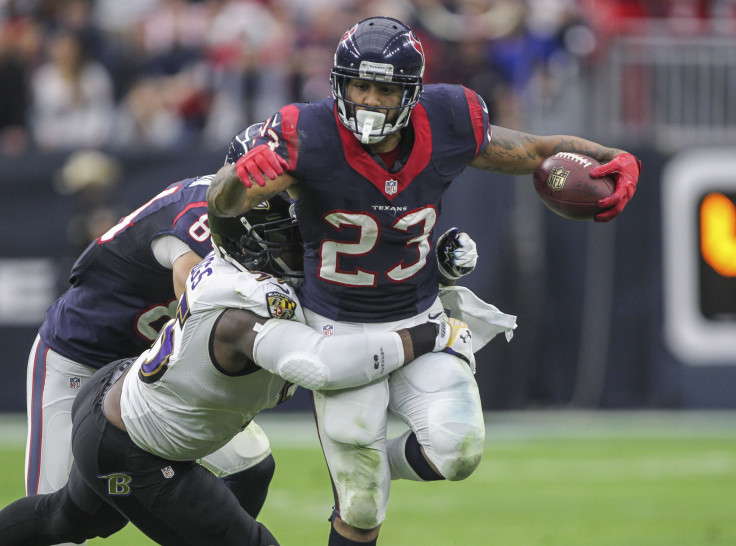 Arian Foster was initially thought to be out until November but new reports said that he could be back within the month or around the first quarter of the new NFL season.
The report is being confirmed by the league's official website, which stated that Foster will not be placed on the injured reserve, or designated, to return list. Aaron Wilson of the Houston Chronicle had a similar update on Foster's status on Twitter.
Foster suffered a groin injury at the start of Texans' training camp and was pegged to rejoin the team only around the second half of the regular season. Around the third week of August, there was still no report on the probable timetable of Foster's return and the team announced that he was still rehabbing.
The four-time NFL Pro Bowler, who made the elite squad in 2010, 2011, 2012 and 2014, is the Texans' best offensive player producing 1,246 rushing yards on 260 carries with eight touchdowns in 13 regular season games last year. For his career, he has a total of 6,309 rushing yards on 1,391 attempts with 58 touchdowns.
The Texans went 2-2 in their recent preseason games with wins against the San Francisco 49ers (23-10) and New Orleans Saints (27-13) and losses to the Denver Broncos (14-10) and Dallas Cowboys (21-14). Houston opens the new NFL season against the Kansas City Chiefs on Sept. 14.
© Copyright IBTimes 2023. All rights reserved.