How Do You Fix A Broken Washington? Tom Daschle, Olympia Snowe And Others Have Ideas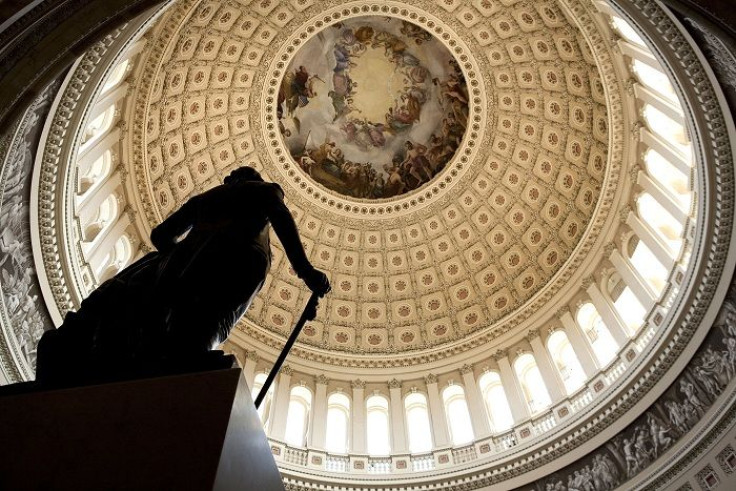 Bipartisanship is an old-fashioned concept on Capitol Hill.
At least, that's what one might assume from observing the relationship between the U.S. Congress and the Obama administration. The president's first term – and now, his second – has been marked by an intractable feud between Democrats and Republicans that has resulted in a series of frustrating self-created crises (the debt ceiling, the fiscal cliff and now sequestration) and, ultimately, a Congress with the lowest approval rating ever recorded.
The 112th Congress went down as one of the least productive in modern history, passing just 219 bills, compared to 383 by the 111th Congress. That's less than a third of what was passed by the 80th Congress (1947-1948), which President Harry Truman famously called the "Do-Nothing, Good-for-Nothing Congress."
"If you're result-oriented, it's miserable," said recently retired Sen. Olympia Snowe, R-Maine, on Wednesday, speaking at a town hall-style meeting hosted by the Bipartisan Policy Center.
After spending almost two decades in the Senate, the moderate Republican last year announced she would not be running for re-election, citing the hyper-partisanship she said now characterizes the nation's capital. She was replaced by an independent, former Gov. Angus King.
Snowe is a member of the BPC's new Commission on Political Reform, which held its first public gathering at the Ronald Reagan Presidential Foundation and Library. The commission -- which includes more than a dozen civil and political leaders, such as former Senate Majority Leader Tom Daschle of South Dakota and former Michigan Gov. Jennifer Granholm on the Democratic side, and former Idaho Gov., Sen. and Interior Secretary Dirk Kempthorne for the Republicans -- made its first of several planned appearances to discuss the causes of political polarization and its impact on government and decision-makers.
While the media, and even some lawmakers, mourned Snowe's recent departure as the loss of a rare moderate capable of crossing the political divide, several members of the commission said they remembered the days when – shocker! – Democrats and Republicans were actually capable of getting along. In fact, they were even friends.
"You don't have to be in the 'middle' to get along," Kempthorne, a conservative, said. He reminisced on how, years before, the late U.S. Sen. Ted Kennedy personally invited him to the Ronald Reagan Library itself at an event where the legendary Democrat was "happily" addressing a room full of conservatives.
"I remember Nancy [Reagan] saying, 'Teddy, America doesn't know about how much you and Ronnie liked each other, and worked for the betterment of America," Kempthorne said, discussing how he and Kennedy had afterwards attended a dinner hosted by the former first lady.
Similar anecdotes were repeated by Daschle, former U.S. Rep. Henry Bonilla, R-Texas, and former Bush administration official Eric Motley, all of whom agreed that kind of cordial relationship between Democrats and Republicans is now rare or simply nonexistent. In fact, several of the speakers compared modern-day Capitol Hill to "The Hunger Games," the hit young adult novel where children are forced to fight each other to the death.
But it doesn't have to stay that way. Here are some of the key things the commission said need to be addressed in the American political system.
What Happened To Civics Class?
Even though polls show Americans blame politicians for the partisanship that often gridlocks national affairs, surveys suggest that voters are just as politically divided as their elected officials. And it could be because they are easily persuaded by the news media.
Several analyses, including one particularly thorough 2004 report from the Pew Research Center, indicate voters gravitate toward media outlets that support their political ideology. So, yes – Republicans are more likely to trust Fox News, and Democrats MSNBC. But that's a problem, according to Dan Glickman, a former Kansas Democratic congressman and U.S. secretary of agriculture, because it shows people "are reacting to a label."
An educational system that emphasizes civics education is key to not only promoting political education, but teaching voters to think for themselves, the commission agreed.
"Today more people pay attention the details of their cell phone plan ... they know more about the Kardashians" than elections, particularly local elections, and politics, said Bonilla.
Educating voters to understand the importance of local civic engagement is key to addressing another issue pointed out by the commission: the political primary process.
Open Primaries For Local Elections
Having open primaries could be a step toward electing more candidates who don't subscribe to the extreme left or right. That would be a primary election that – unlike in most states today – does not require a voter to be registered with a certain political party in order to vote in its primary.
And electing candidates who actually fight for their constituents, instead of the Republican or Democratic party, is key to allowing voters to feel like they're actually being rewarded for their civic participation.
When the far left or far right become the only choices, Snowe said it obviously spills over into the legislative process. She said it has practically turned the Senate into a parliamentary system where "you vote with party blocs" and not your own conscience. That would also encourage lawmakers to cross the political divide on issues that matter.
Several states currently have open presidential primaries, but they are closed off for local and state elections. Louisiana and Washington state operate under a nonpartisan blanket primary for local and state elections. California voters in 2010 passed Proposition 14 to add an amendment to the state constitution instituting open primaries for local elections.
Reforming Money In Politics
Campaign finance reform is an issue that cannot be ignored, most of the panel agreed, even though it's one that may not gain real traction anytime soon.
The law in this area has become so sophisticated that Daschle said outside spending groups, such as Super PACs and "dark money" groups, can manipulate elections.
It's the most vicious on the local level, where Daschle said they "hijack" primaries. Because the U.S. Supreme Court ruled money is equivalent to speech, opening up the way for outside corporations and individuals to spend unlimited sums on elections, there is an unbelievable amount of money being funneled into political campaigns. That was clearly seen in the 2012 election, the most expensive political race on record.
"This to me is such an important issue," said Granholm, a Democrat. "Because members of Congress spend between 30 and 70 percent of their time raising money."
The amount of money currently being raised by private groups is overwhelmingly out of proportion to the amount raised by individual citizens. For instance, the Center for Responsive Politics reports more than half of President Barack Obama's fundraising in 2012 came from large donors. They made up three-quarters of the contributors for Mitt Romney.
While Granholm, Daschle and Glickman all said they would support passing a constitutional amendment clearly stating that money is not free speech – the only way to get around the Supreme Court decision – no one really believes that would pass anytime soon.
Something a little more realistic would be creating a law that prevents congressional lawmakers from raising money while they are in session, which would severely reduce the amount of time they spend fundraising.
© Copyright IBTimes 2023. All rights reserved.