How Do You Protect Cities Against Future Storms Like Sandy?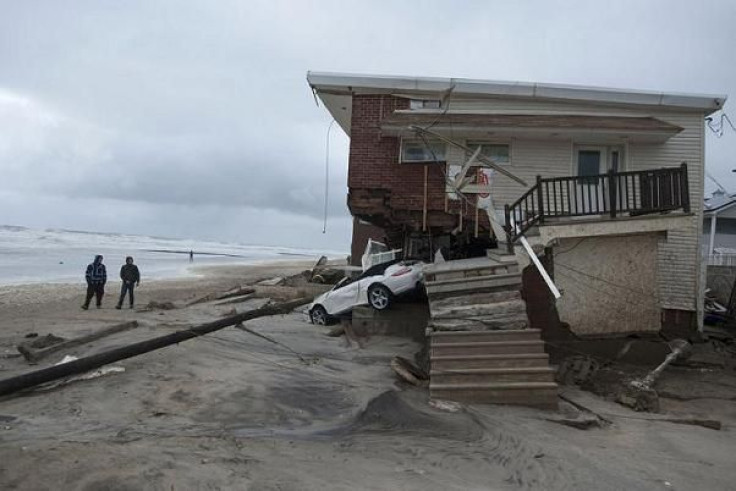 Could storm-surge barriers in New York Harbor protect the Rockaways or Staten Island from the next superstorm?
Many coastal and poorer of areas are still in dire need and the city is still struggling to bring its entire public transportation system back online. With some climate scientists suggesting Frankenstorms like Hurricane Sandy are a new normal, New York City officials and residents must be asking: How can we guard against the next tempest?
Despite the battering, Sandy could have dealt the East Coast a much worse hand. Even though she was pumped up by her combination with a winter weather system, Sandy was still just a Category 1 hurricane.
A relative welterweight like Sandy was enough to flood many of the low-lying areas in the city. A Category 3 hurricane, however, "would sever Lower Manhattan; City Hall would be sitting on a new island," Stony Brook University researcher Douglas Hill predicted in 2005.
Storm-surge barriers that stay open most of the time, but which are shut fast when there is danger of flooding, could be the way to protect against future storms of similar or greater strength than Sandy. Such banners are already in place in the Netherlands, as well as in some vulnerable cities in the U.S., including Providence, R.I., and New Bedford, Mass.
Hill and his colleagues at Stony Brook's Storm Surge Research Group said that much of the New York City metro area could be protected from "hundred-year" floods if storm surge barriers were built at the mouth of New York Harbor, at the upper portion of the East River, and at the mouth of Arthur Kill, which runs between Staten Island and New Jersey.
But would closing the gates during a storm just mean that rain-swollen rivers would build up at the barriers? Not so, Hill said. He modeled the effects closing a storm surge barrier would have with the levels of rainfall felt during Hurricane Floyd, the destructive storm that barreled up the East Coast in 1999.
"At present sea level, the possibility of serious flooding from accumulated water coming down the Hudson River is not great," Hill said.
In the past few years, Hill and his colleagues have revamped the original idea, cutting the barriers down to two: the one in the East River, and another that runs from Sandy Hook, N.J., out to the Rockaways. But the original three-barrier proposal would likely have been a huge saving grace for Sandy-ravaged areas, researcher Brian Colle told Fast Company's Ariel Schwartz.
"It would have definitely helped inside the barrier. In the storm [simulations] we did run, the water levels barely changed at all," Colle said.
Still, if barriers are built, how high should they be? The existing sea walls in Lower Manhattan, a mere five or so feet above sea level, proved inadequate in the face of Sandy's historic wrath. But will future storms break Sandy's record, thanks to rising sea levels? Will the Big Apple invest billions in more infrastructure to provide low-lying areas with a false sense of security?
Plus, how to get the word out about the storm's approach, and about relief efforts to disaster victims and would-be volunteers? While groups like Occupy Sandy have used social media to their advantage, in times of crisis Twitter or Facebook provide an easy vector for false information to go viral, like the inaccurate missives posted by 29-year-old hedge fund analyst and Republican campaign worker Shashank Tripathi.
"We're playing a high-stakes game against nature and often losing," Northwestern University geologist Seth Stein said in a statement Monday.
Stein and his father, Brown University economist Jerome Stein, recently published a paper in the journal GSA Today outlining a cost-benefit analysis model that could help cities weigh their options. The primary cases the Steins examined were the tsunami that struck Japan in 2011, and Hurricane Katrina, which ravaged New Orleans in 2005.
In some instances, it may be better to invest more in better warning systems and evacuation procedures rather than trying to construct unreasonable shields against natural disasters.
"There are complicated choices that have to be made, given that we don't know when a similar event will happen," Jerome Stein said. "We need ways to consider a range of options, each of which has different costs and benefits, and help communities involved make the most informed choices."
© Copyright IBTimes 2023. All rights reserved.