How The Feared MQ-9 Reaper Drone Stacks Up Against China's CH-4 - IBT Graphics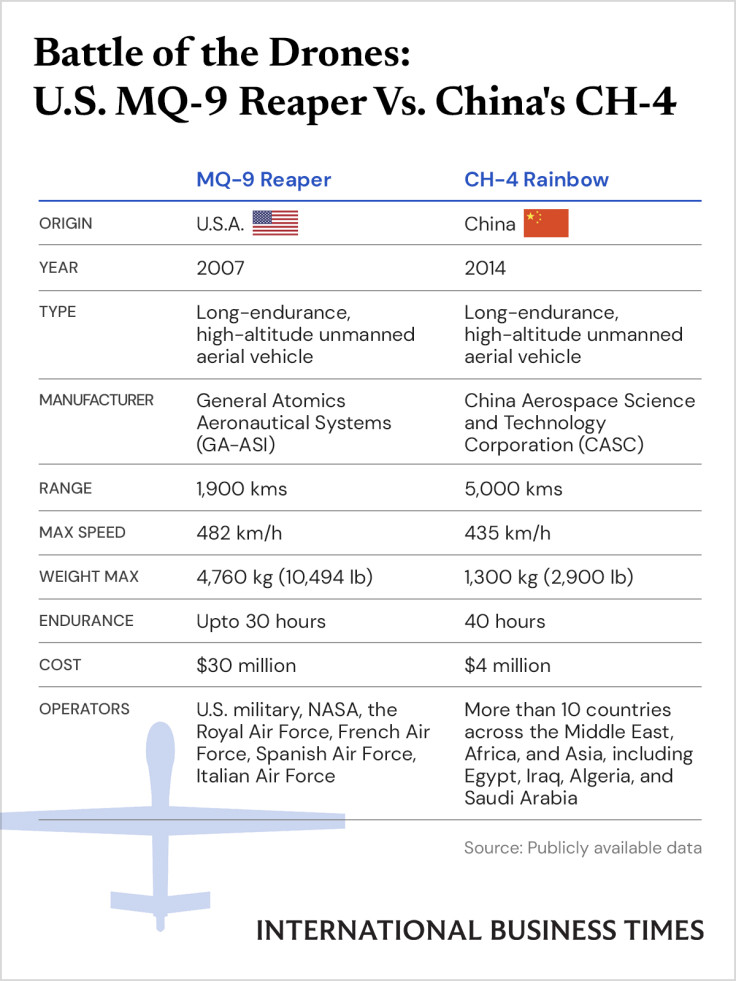 India has approved the procurement of the feared MQ-9 Reaper armed drones for its armed forces, Reutes reported Thursday. The deal, a sign of deepening defense cooperation between the world's largest democracies, is worth about $3 billion.
Developed by General Atomics Aeronautical Systems for the U.S. Air Force, the remotely operated aircraft is described as an "intelligence-collection asset." They are also able to conduct targeted strikes on the enemy. Notably, it was an MQ-9 that the Pentagon used to kill Qasem Soleimani, the commander of the Iranian Quds Force in 2020. It can carry missiles and bombs and reach a height of up to 50,000 feet.
India will buy 31 of these drones, whose sale was approved by Washington 2 years ago. President Joe Biden's administration has been pressuring India to show progress on the procurement ahead of Prime Minister Narendra Modi's visit next week.
New Delhi, despite having tense borders with China and Pakistan, has been slow to induct armed drones, which have shown their potential in the Ukraine conflict. Russia has used Iranian-made Shahed-136 drones to smash Ukrainian targets including civilian infrastructure and also bring misery to the civilian population there. Ukraine, too, has used Western-made drones and the Turkish Bayraktar TB2 UAVs to take the fight to Russia.
The Chinese CH-4 Rainbow, developed by the China Aerospace Science and Technology Corporation (CASC), is a dedicated Unmanned Combat Aerial Vehicle (UCAV), that is said to have borrowed heavily from MQ-9 Reaper. Both drones have the capacity to strike mission roles through various precision-guided munitions. The appearance of the Rainbow CH-4 is also almost identical to the Reaper drone, according to Popular Mechanics. The Reaper, however, packs more punch: it can carry five times as much ordnance as its Chinese rival.
© Copyright IBTimes 2023. All rights reserved.