How Is Foie Gras Made? Christmas Treat Linked To Bird Flu Outbreak 2016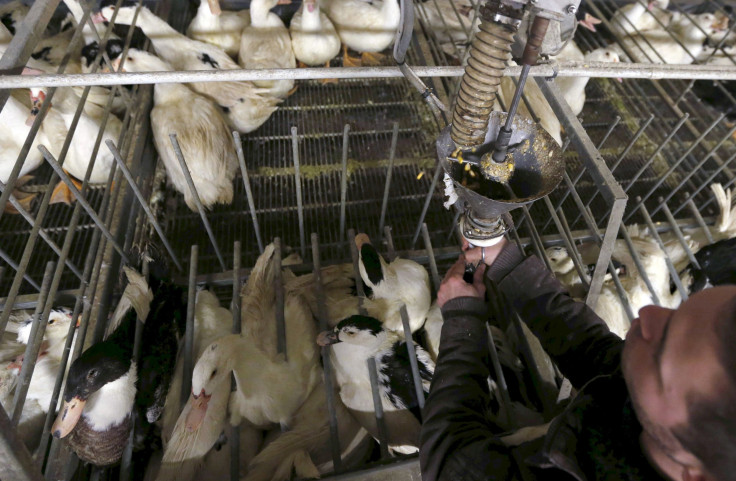 A highly contagious case of bird flu found on a duck farm in southwest France has raised alarm ahead of the holiday season, a time when the nation's foie gras-producing region is typically in high demand to produce the controversial delicacy.
France's agriculture ministry announced Friday that the H5N8 bird flu was found on the farm, CBS News reported. The announcement came a week after the first outbreak of the virus was found on a farm in Normandy, prompting farmers to kill 2,000 ducks on a farm in the Tarn region.
France is the European Union's biggest poultry breeder and has battled bird flu in the past. It had hoped to be declared free of the highly pathogenic avian flu in December. But the recent outbreak means a ban on France exporting ducks on foie gras must remain in place.
France's foie gras region has been hit hard by bird flu in recent months, with a 25 percent decrease in duck and geese output because of the trade restrictions. Ahead of this year's Christmas season, foie gras lovers can expect shortages and high prices, the industry has warned.
Foie gras is a traditional holiday treat. The rich, creamy duck liver is often spread on bread or crackers. It's generally despised by animal activists because it is often made by force-feeding a bird to intentionally enlarge its liver beyond normal size. The overfeeding contributes to the smooth texture of foie gras.
"A goose in its natural environment generates its own reserves of fat," Spanish farmer Eduardo Sousa told the Guardian last year. "The foie gras industry has learned to take advantage of that, but they've gone too far. There are videos on the internet that are horrifying. And, what's worse, they're maltreating an animal that is very sensitive. These are animals that have a family, that fall in love, that are intelligent. When you see this animal in a cage with all these machines, you know it is suffering."
© Copyright IBTimes 2023. All rights reserved.