How Good Is Zion Williamson? Duke Star Draws Comparisons To NBA Greats Ahead Of March Madness
Ready or not, here comes Zion.
As office pools begin to gear up for March Madness, the name that many casual basketball fans will quickly begin to learn is Zion Williamson. The Duke Blue Devils' star forward has already drawn comparisons to some of basketball's all-time greats and there won't be a shortage of conversation about his talents in the coming days.
The big question surrounding "the next great thing" is, well, how great is Zion?
In short, he probably won't be as dominant as LeBron James or Kobe Bryant, so expect Michael Jordan's legacy to remain comfortably intact. But the talent and skill are certainly there for him to emerge as the best player in the NBA within the next two or three years.
Perhaps the best way to describe Williamson is to think of a shorter version of Blake Griffin with a bit of King James mixed in. Boasting a linebacker physique, Williamson is listed at 6-foot-7 and 285 pounds, so he's not a traditional wing player and might even be considered an undersized but effective power forward like Charles Barkley. He runs the floor well, has a knack for getting rebounds in traffic and plays with overflowing intensity. Those brave enough to step into his path to draw a charging foul might want to first consider purchasing an insurance policy.
Williamson has off-the-charts athleticism despite lacking the fluidity of James. He might remind some of a bulky version of Dominique Wilkins, with his fantastic acrobatics and propensity to get to the hoop. When Williamson dunks, he often cleanly spikes the ball and as if he is taking out his anger on the rim.
R.J. Barrett, another Duke freshman expected to be a top pick in 2019 NBA Draft, claims Williamson has a 45-inch vertical leap. Head coach Mike Krzyzewski, who has been at Duke for nearly 40 years, claims Williamson is the best athlete he's ever coached.
After Duke's 74-73 win over rival North Carolina on Saturday, Tar Heels' head coach Roy Williams couldn't hold back his praise for Williamson, who had just finished pouring in 31 points and 11 rebounds in just his second game since suffering a Grade 1 knee sprain on Feb. 20.
Williamson "put on his Superman jersey again and was incredible," Williams told reporters.
While Williamson has turned plenty of heads, there is still room for improvement. His outside shot is not automatic like many of the current stars in the NBA. Williamson's 32.7 percent shooting from beyond the arc is respectable but certainly not eye-popping. He also could refine his half-court game.
It's important to note that Williamson is just 18 years old. He shows a great deal of poise for his age, has an affable personality and seems to take the heavy spotlight in stride. Having spent most of his life in South Carolina, he joined nearby Duke in Durham, North Carolina, and was listed as low as the No. 5 prospect in the nation before quickly emerging as a potential NBA superstar. Williamson is also adjusting to his growing frame, having gained 100 pounds in two years.
The statistics are there to back him up, too. Williamson is averaging 22.1 points, 9.3 rebounds, 2.3 steals and 1.8 blocks. As FiveThirtyEight notes: "No player in the past 25 years has averaged 20 points, eight rebounds, two blocks and two steals per contest." In his last two games, Williamson has converted 26 shots on 32 attempts.
There was plenty of chatter about Williamson on the day he survived the knee-injury scare. In a home game against North Carolina — and just 31 seconds into the start — he ripped through his shoe as he planted his foot. The bizarre scene somehow found a way to be even more surreal, as it caught the attention of a former president, as Barack Obama, seated behind Krzyzewski, could be seen saying, "his shoe broke."
Opposing teams may need another wardrobe malfunction to slow him down.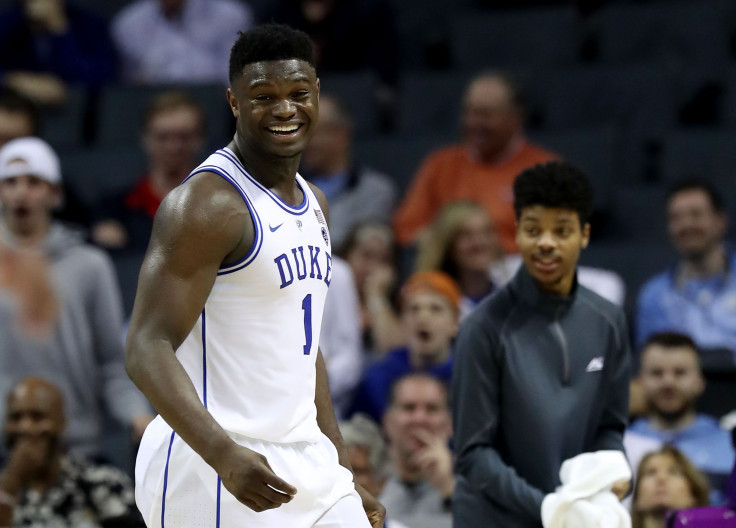 © Copyright IBTimes 2023. All rights reserved.