How ISIS, Foreign Fighters Turned Syria's First Revolutionaries Into Bashar Assad Supporters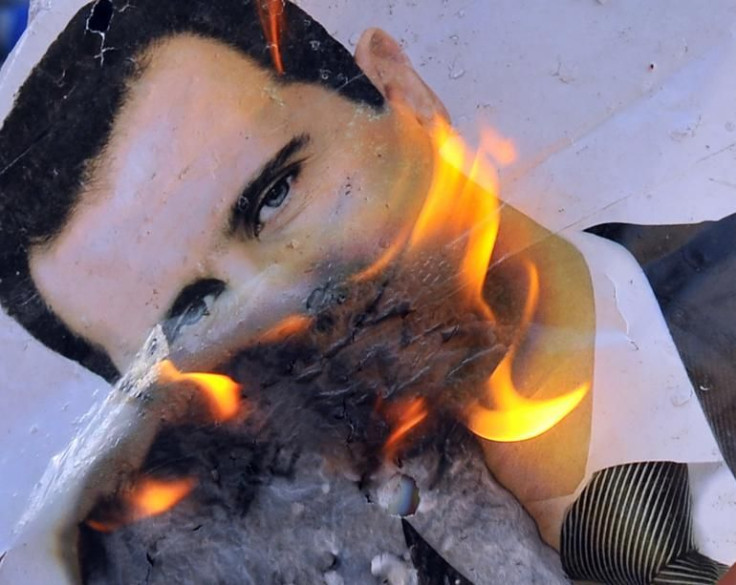 BEIRUT -- It was November 2011, at the beginning of the Syrian revolution, when Madame Hind sat with her son on their balcony in Deraa, enjoying the first moment of calm in two weeks since President Bashar Assad's soldiers raided their home in search of weapons and supporters of the recent anti-regime protests. A plane broke into her line of vision and began to circle the town, getting closer to the ground with each ring. She didn't seek shelter inside, not even when the plane was close enough, she said, for her to see the pilot's face. She didn't think they were in danger. She never imagined Assad would use military jets to attack civilians.
No one in Deraa that day could imagine it. Very few could have predicted then that the budding civilian uprising against the Syrian regime would become a war that has drawn in foreign powers, turned the east of the country into a grotesquely violent theocratic "caliphate" under control of the Islamic State group, and spawned sectarian strife throughout the region. Since 2011 more than 220,000 people have died in Syria, many of them in the regime's air attacks, and another 3.5 million have been displaced. Despite the amount of civilian blood on Assad's hands, many Syrian refugees have turned away from their revolutionary fervor to support him. This startling shift in popular opinion is a narrative the regime itself has been pushing during the past year.
It has been more than four years since that November day, when Hind watched three rockets from the plane incinerate her neighbors' home, killing everyone inside. She and her family left Syria the next morning, and her five children are now split between Lebanon and the Gulf states. Yet Hind now says the only one who can lead Syria is Bashar Assad.
"He made many mistakes, but now his solution is better than his mistakes," said Hind, who did not want her first name published. "Assad is defending his country from the people who are destroying it."
Like many Syrian refugees, Hind has abandoned her hope for the revolution. As a refugee in the Lebanese capital, she now longs for the life she had under Assad before the war. She sees the war as a clear case of cause and effect. If the young men in her town hadn't protested, the regime wouldn't have been forced to crack down. If they hadn't attacked the army, the rockets would not have killed her neighbors. If the opposition had never formed, the 220,000 people who are now dead would be alive and the millions displaced would be still in their homes in Syria.
The emergence of foreign fighters and terrorist groups like the Islamic State group and Jabhat al-Nusra, who want Syria to be a part of a wider, ultra-fundamentalist Sunni state, has further soured many former opposition supporters on the revolution.
As one refugee from Aleppo described it, "It's like a world war, but inside of Syria" -- a view that has only benefited Assad.
"He has attempted to frame the entire conflict as a fight against foreign terrorists," said Christopher Kozak, a Syria analyst at the Institute for the Study of War. "The Syrian people are with him and that he represents Syria, whereas the opponents represent either foreign terrorists or foreign political agendas."
And while the opposition might rival the regime when it comes to manpower, Assad is still the only faction in Syria with an air force. When a town or city comes under rebel control, civilians will often try to flee to regime-held areas to avoid revenge airstrikes.
Despite the rebels' territorial gains, most Syrians still live under Assad's rule. Regime forces control roughly 50 percent of the territory, but that holds as much as 72 percent of the population, according to Fabrice Balanche, a political geography researcher at Université Lyon 2 focusing on Syria.
"Whoever is in the sky has the power," Hind said. "Bashar Assad is controlling the sky, so he's controlling the country."
In fact, Assad's preeminence does not just come from air dominance. He relies on foreign fighters just as much as the opposition, drawing much of his manpower from Iranian proxies like the Lebanese Shiite group Hezbollah, Iranian militias, and now even Afghan refugees from Iran.
However, the opposition's foreign fighters -- roughly 20,000 foreign militants from more than 40 countries have traveled to Syria to join the rebels -- are viewed as much more brutal than Assad's foreign supporters, and that has been a major reason for the shift in allegiance for some Syrians.
"I love Assad compared to these people," said Amir, Hind's 21-year-old son. His disillusionment with the revolution comes from direct experience fighting in it.
In 2013, he said, he decided to make his way to Jordan, where the U.S. and its allies had set up a training camp for opposition fighters. After his training, Amir said he was handed a gun and told he would be dropped off at the border with Syria.
"I asked, 'Who do I have to kill? I don't know who is civilian and who is not.' They said, 'Kill everyone,'" Amir recounted. "The war is wrong because you're fighting your friends and family. You don't know who you're killing."
Amir left the training camp, and never returned to Syria.
"We lost this case," Ahmad, a Syrian refugee from Damascus whose name has been changed for security reasons, said of the revolution, mirroring Amir Hind's disillusionment. "Now you have to just search for what will benefit you."
For many refugees living in Lebanon who lack basic health care, education and housing, Syria under Assad's regime before 2011 was a land of comfortable living. Enrollment in schools was 100 percent. Health care was much less expensive and much easier to get in Syria's major cities than it is now for refugees in Lebanon, many of whom do not have any access to medicine or doctors.
Before the war, Ahad -- who also did not want her last name used -- was second in her university class in Damascus studying psychology, and "didn't pay a cent" for her education, she told IBTimes. Thanks to her grades, she got the highest possible level of government funding, which meant she paid less than $15 a semester.
She grew up in the town of Dael among the first Syrian revolutionaries to rise against the Assad regime. Her uncle is still missing after being arrested by Assad's forces for protesting. Her cousin was killed for the same reason. During her last days in university, pro-regime forces would frequently raid the school looking for fighters, sometimes even shooting at students.
Ahad left Syria in 2011, and four years later she has not forgotten the frequent, random raids on her university by regime forces who were looking for "people who were with the revolution," but she has learned to justify them. The regime was brutal, but they wouldn't have had to be if not for the opposition fighters in her school, she said. At least before the revolution she was getting an education, she added; now she is 24 and a refugee living in a Beirut suburb, where she works as a cashier at a convenience store for $200 a month. Ahad said she is no longer confused about who to blame for the war; at least under Assad she had a future.
Syrians who have shed their revolutionary goals in favor of going back to life under Assad aren't blind to the regime's abuses. Hind doesn't deny that there are crimes being committed on both sides that are impossible for anyone to justify. But for her, the biggest crime is that Syrians have lost their country. And for that, she blames the opposition that rose up against Assad and failed.
But what does one say to the father of a child killed in one of the barrel bomb or chemical attacks Assad is accused of carrying out almost weekly?
"I will try to make the father of the child understand that in every war there are martyrs," Hind said. "Bashar Assad didn't mean to kill your son. Nusra are rats, ISIS are cockroaches, and there are children dying in between."
"It's the classic story of a war," said Kozak, the Syria analyst. "There are sides fighting, but there's a large majority caught in the middle, like the small folk on 'Game of Thrones.'"
And what if Hind, one of those people caught in the middle, saw Assad today? She would "kiss him between his eyes," she said. "All he did was a reaction. He wanted to defend his country."
© Copyright IBTimes 2023. All rights reserved.