How Much Do Employees Make At Target, Walmart, Amazon, CVS, And More?
As retailers grapple with the consumer shift to online shopping, many companies are looking at increasing their employees' salaries in 2020 and beyond. While the move may help some retailers retain employees, for others, it can place an additional strain on already tight earnings. Here's a look at the retailers that have made a commitment to raise the minimum wage for their workers.
Walmart
Walmart (WMT) announced that it was testing a higher minimum wage at 500 of its stores in the U.S., earmarking $12 an hour for cashiers, shelf stockers, and other positions, USA Today reported. The company also said that its team leaders would start at $18 an hour in these select locations, the news outlet said.
Through the remaining stores, Walmart reportedly pays a starting wage of $11 an hour, up from the $9 an hour it previously paid.
Target
Target (TGT) has also taken steps to increase its starting wage. In June, the retailer announced that it would increase hourly wages to $13 with a goal of hitting $15 an hour by the end of 2020.
For Target, and its more than 300,000 workers, it was a chance to empower its team members and keep its business moving forward. Stephanie Lundquist, chief human resources officer at Target, said in a statement, "As the marketplace becomes more competitive, the significant investment we're making in our team, including our increased minimum hourly wages, sets Target apart.
"This year, we're thrilled to offer our new seasonal team members competitive pay, beginning at $12 an hour, and introduce a fun new team member appreciation program that builds on our efforts to help team members take care of themselves, their families and their communities during the holidays," she added.
Amazon
Retail giant Amazon (AMZN) also increased its starting wage to $15 for all employees in the U.S. back in October 2018. More than 250,000 employees took advantage of the wage increase, including full-time, part-time, temporary, and seasonal employees.
After the wage increase, Amazon CEO Jeff Bezos challenged his competition's wage rates saying in an annual letter to shareholders, "Match our employee benefits and our $15 minimum wage. You know who you are. … Better yet, go to $16 and throw the gauntlet back at us. It's a kind of competition that will benefit everyone," Footwear News reported.
Amazon has also reportedly extended the $15 per hour minimum wage to Whole Foods employees.
Costco
Costco (COST) is another retailer that has raised its minimum starting wage in the U.S. In June 2018, the retailer raised the starting wage to $14 an hour, up from the $13 an hour it offered previously, Market Watch reported. The wage increase included reportedly affected 245,000 associates at the time.
CVS Health
CVS Health (CVS) raised its starting wage to $11 an hour in February 2018. The company, which offers four weeks of 100% paid parental leave, also reportedly raised the wages of many of its store workers and retail pharmacy technicians that were making more than $11 an hour.
"As part of our ongoing commitment to the patients, customers and communities we serve, we said that we would invest our tax savings back into our business, and that's exactly what we're doing," Larry Merlo , CVS Health president and CEO said in a statement.
"Today, we're building on the investments we've been making in our employees, in their wages, benefits and career development. It's our employees who drive our performance and we appreciate how hard they work every day to deliver on our purpose of helping people on their path to better health," he added.
Walgreens
Yet another retailer offering higher worker minimum wages is Walgreens (WBA). The pharmacy and drugstore retailer announced that it was investing $150 million to increase its in-store wages in fiscal 2019.
"We will be making select incremental investments of around $150 million in fiscal 2019, mainly in store wages, but also to fuel our new community health care initiatives, and you can view these in light of the favorable tax reforms in the US," Walgreens CFO James Kehoe said during the company's fourth-quarter earnings call (via Market Watch).
Shares of Walmart stock were up 0.78% as of 11:30 a.m. EST on Tuesday while shares of Target stock were up 0.33% at the same time. Shares of Amazon stock were up 1.07% while shares of Costco stock were up 0.48% and shares of CVS Health stock were up 1.03% at the same time. Shares of Walgreens stock were also up 0.29% at the same time.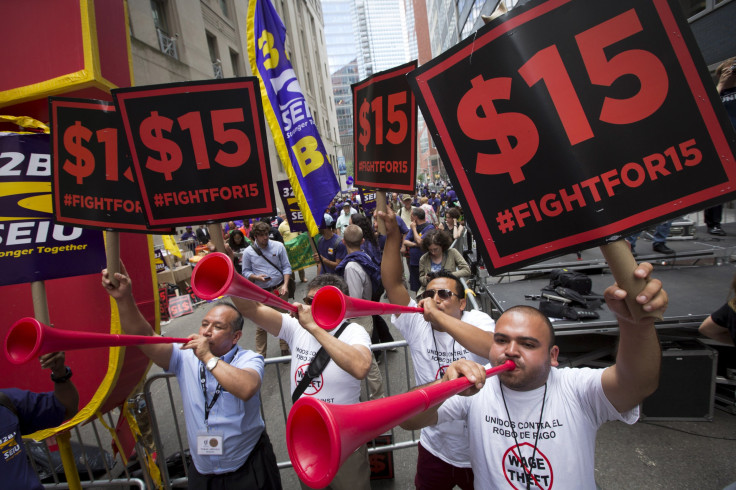 © Copyright IBTimes 2023. All rights reserved.