How NBA TV Deal Could Affect Max Contracts, 2016 Free Agents And 2017 CBA Negotiations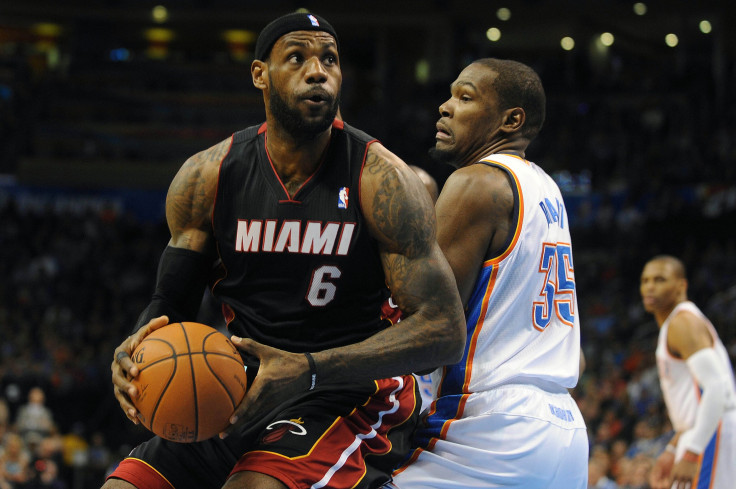 The NBA's new $24 billion deal with ESPN and TNT will nearly triple the league's annual take from its television and digital rights, leading to speculation that the National Basketball Players' Association will pursue an increase – or the outright removal – of the league's maximum contract system. With the surge in revenue expected to push the salary cap to anywhere from $85 million to $95 million by the 2016-17 season, marquee players such as LeBron James or Kevin Durant could see their yearly salary approach $30 million – or beyond.
"It's an interesting discussion; it's one that's been bandied about for a long time," said Larry Coon, a noted expert on the NBA's collective-bargaining agreement, regarding the potential end of max contracts. "If you have a system in which there's a salary cap, in which there's limited exceptions, in which there's control through the luxury tax and all these other mechanisms to keep salaries in check, then what's the benefit of also having max salaries? If the cap is $60 million and a team wants to pay LeBron James $45 million, it's still only going to be able to spend $15 million on everybody else, that's a strategic decision on their part."
The NBA's maximum contract system provides an upper limit to a star player's income based on a locked-in percentage of the league's salary cap – 25 percent for players of six years' experience or less, 30 percent for players of seven to nine years' experience and 35 percent for players of 10 years' experience or more. The salary cap for the 2014-15 NBA season will be $63 million, meaning that James, an 11-year NBA veteran, will earn about $21 million per season as a max contract player.
With the new TV deal in place, "Basketball-Related Income" – an amalgamation of revenue streams used by the league to determine each year's salary cap – could reach $6.7 billion by the 2016-17 NBA season, league sources told CBS Sports. That BRI figure would push the league's salary cap up to anywhere from $85 million to $95 million, according to various estimates.
In anticipation of how the new TV deal would alter his earning potential, James passed on a four-year offer from the Cleveland Cavaliers this summer and signed a two-year, $42.1 million contract with the franchise. The deal will expire after the 2016 season, just in time for James to sign a new contract and reap the benefits of any changes to the CBA. "It was being a businessman," James said about his decision, according to ESPN. "I understand the business of this sport. It had a lot to do with it."
Durant, who will be a highly coveted free agent when he hits the market in 2016, also expressed support for potential alterations to the current system. "A lot of these guys are worth more than they're making," he said on Tuesday.
The end of the maximum contract system could also spell the end of the increasing prevalence of "super teams" within the NBA – rosters composed of two or three max-salary players and a supporting cast of interchangeable veterans and scale-salaried rookies. The Miami Heat used this technique to win two titles in four years from 2010 to 2014 with James, Chris Bosh and Dwyane Wade. Without it, the NBA would, in theory, have greater competitive parity.
"LeBron, Wade and Bosh – they only took a very slight pay cut to fit within that room, and they made it work, because maximum salaries kept the amount they could make down," Coon said. "For LeBron, it was a case of, he's only sacrificing $1.5 million, which in the big picture isn't really a big sacrifice in order to build the team he wants to build. Without maximum salaries, now instead of asking him to sacrifice $1.5 million, you're asking him to sacrifice $25-$30 million. Now it's a different picture."
With support from James, Durant and other prominent voices, NBPA President Chris Paul, could indeed push the league to increase – or even to discontinue – its max-contract system, ESPN's Brian Windhorst reports. But James isn't ready to discuss that portion of the union's negotiation strategy just yet.
"I don't even really get into speculation conversations in my name," he told ESPN. "I haven't even began to think about as far as how I'm going to go forward with what I'm doing. I've been too busy worried about how we're going to get better in training camp. But there will become a point and time where I will sit back with my team and some of the guys and from a players' perspective, from a Players Association perspective, how we go about this with this new deal approaching."
Any discussion on max contracts would take a backseat to the NBPA's pursuit of a larger portion of the NBA's revenue pie. The current CBA was negotiated to fix a financial system that league owners insisted was a losing model. By 2011, 22 of the league's 30 owners claimed to be operating at a loss. To stop the bleeding, players agreed to reduce their share of the league's BRI from 57 percent to 50 percent – 51 percent if the NBA's financial fortunes improved.
The $24 billion TV deal, coupled with the recent sale of the Los Angeles Clippers for more than $2 billion, suggests to players that team owners are capable of sharing a more substantial chunk of the league's profits.
"When you have this much influx of cash into a situation, it stimulates people to believe that the dynamics have changed and to seek different deals," said Paul Haagen, a sports law expert and professor at Duke University. "Then the question is, in 2017, do you say 'we're making so much money now, let's not rock the boat' or 'there's so much money here, this is exactly the time to rock the boat.'"
For his part, James seems intent on rocking the boat.
"The whole thing that went on with the last negotiation process was the owners was telling us that they were losing money," he said. "There's no way they can sit in front of us and tell us that right now after we continue to see teams selling for billions of dollars, being purchased for $200 million, [selling] for 550 [million], 750 [million], $2 billion," James said. "And now [Mikhail] Prokhorov is possibly selling his majority stake in the Nets for over a billion. So, that will not fly with us this time."
But cutting NBA players in on the money generated by the TV deal through a massive, one-time increase in the league's salary cap – for example, a jump from the current $63 million to $85 million – would be problematic. Each team is required to spend a minimum of 90 percent of the salary cap, so general managers would overpay in the short term to meet their quota. Players who happened to be free agents ahead of the 2016-17 season would stand to unfairly profit compared to players who became free agents ahead of the 2017-18 or 2018-19 seasons, the league argues.
There is another way for the NBA's owners to distribute the players' portion of the league's increased BRI, Coon asserts. Rather than a sudden increase in the salary cap, league executives could "hold back," or gradually increase the salary cap.
Players will still receive their guaranteed 51 percent of BRI, but in the form of a payment separate from their annual salary. NBA Commissioner Adam Silver has already discussed the implementation of this measure, known as "cap-smoothing," with new NBPA executive director Michele Roberts.
"The league has an escrow system…if there's a shortfall – if the league doesn't pay them the full amount that they're guaranteed – the league cuts them a supplemental check," Coon said. "[League executives] are going to hold back the salary cap, and that's going to create a shortfall because the cap won't be high enough to allow teams to provide players the 51 percent that they're guaranteed. The league is going to have to cut the players a supplemental check. If that happens, the players' association distributes that check to the players pro-rata, which means that every player in the league gets paid whether they're a free agent or not."
The two sides haven't discussed this alternative method yet, but he expects they will in future negotiations. Coon's solution has the added appeal of providing an equal benefit to all NBA players, rather than a disproportionate benefit to a select few – which is why the NBPA exists in the first place.
© Copyright IBTimes 2023. All rights reserved.