How Persian Gulf Airlines Are Wooing American Travelers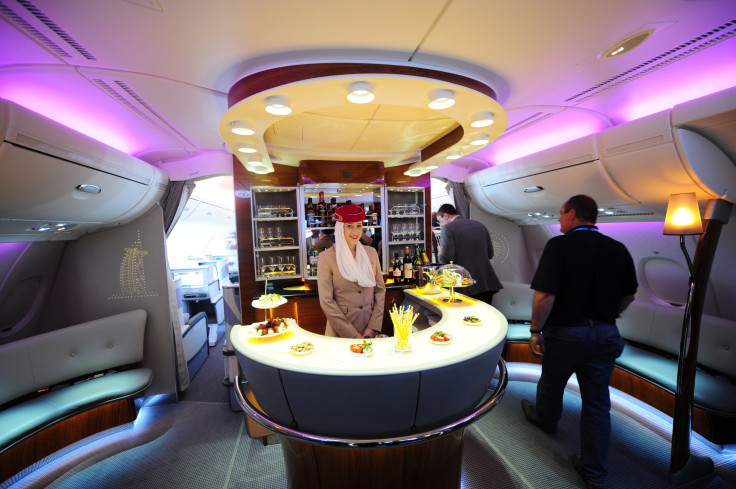 The rise of Middle East airlines Emirates, Qatar and Etihad has their international and American competitors furious -- enough for legacy carriers American, Delta and United to launch a campaign to limit their Persian Gulf rivals' access to the U.S. on the basis that the Gulf carriers receive unfair subsidies from their home governments. But American consumers have no such qualms about flying the three Gulf airlines, as data and stories from frequent fliers show.
One of those frequent fliers is Aashish Chaturvedi, a consultant in Chicago who has been traveling regularly between India and the United States since he moved to the U.S. for college in 2008. As a result, he's flown to Mumbai, India, on several airlines via many hubs in Europe. But when Emirates began flights out of Chicago to Dubai, United Arab Emirates, last summer, selecting the Middle East carrier as his go-to airline was an easy choice.
"They offer newer planes, faster travel times, and Dubai's airport is a really nice one for connections," he said. "And most of the time, an Emirates ticket is cheaper than on U.S. airlines."
A search for a round-trip ticket from Chicago to Mumbai for a three-week trip in April showed Emirates tickets were going for $939, compared with $1,023 on United. Emirates is routinely rated as one of the world's top airlines, claiming fourth place in the Skytrax Top 100 airlines in 2014. United was number 53. Delta was the highest-placed U.S. carrier at number 49, while all three Gulf carriers were in the top 10.
Emirates, Etihad and Qatar are facing a backlash from European airlines as well as American ones. But their expansion into the U.S. has offered fliers an alternative on long-range international travel.
'More Value For Your Money'
"It's a no-brainer," said travel expert Ben Schlappig, who writes about airlines at OneMileAtATime.com. "On Middle East carriers, you're getting more value for your money, whether you're in economy or business class. The food is better, the hubs are fantastic -- the connecting experience is for the most part human. Compare that with U.S. airlines that have aging fleets, surly flight attendants. It's a race to the bottom."
The three Gulf carriers now fly out of 11 U.S. cities on 25 flights a day and want to add more -- an expansion that U.S. airlines want to end. Doug Parker, CEO of American Airlines, said he and his counterparts at Delta and United have asked the U.S. government to freeze the addition of new routes out of the U.S. for Gulf carriers until the government revisits the fairness of its Open Skies agreements that allow foreign carriers to fly without restrictions.
But even if the addition of new routes is suspended, American fliers are still choosing the Middle East three in growing numbers. For example, the Gulf carriers have more than tripled their share of U.S.-to-India bookings since 2008 to 40 percent. Meanwhile, American carriers are losing ground: During the same period, their share has fallen from 39 percent to 34 percent. Emirates, which ranked 30th globally in international capacity in 1998, has shot up to first place today, while Qatar is in 10th place, followed by Etihad in 13th place.
And U.S. airlines are worried that the Middle East carriers will now begin to edge them out on profitable routes to Europe too, as the Gulf carriers are able to carry passengers from the U.S. to Europe by adding a stop on some of their flights to the Middle East. Emirates already offers one such flight: New York's John F. Kennedy International Airport to Milan, which then continues on to Dubai. According to a report compiled by American carriers, U.S. carriers have lost 13 points of market share on this route since Emirates started the flight in 2013.
It's not hard to see why American fliers are choosing the Gulf airlines: They boast updated fleets featuring new jets like the Airbus A380, the world's biggest passenger plane. And the airlines have been luring high-end travelers with extravagantly updated premium-class cabins. Case in point: The Emirates A380 features a bar where passengers in first class or business class can mingle and sip drinks when they're not lounging in their lie-flat seats. The jet also has a shower, for first-class passengers.
Astonishing Gap
David Wolf, a private equity investor from Chicago, flies frequently to Abu Dhabi, United Arab Emirates, and to India. For many years he was an Executive Platinum member with American Airlines -- the highest elite level on the world's biggest airline. He said the gap in business-class service between American carriers and their Gulf counterparts is astonishing, while the prices are virtually the same. Even Etihad's limited frequent-flier options, which don't allow members to use points for booking on One World alliance carriers, don't deter Wolf from choosing that airline over American competitors.
"On Etihad, the experience is incredible. The service and food on board is superior. On American carriers, it's just pathetic," Wolf said. "I've flown on American Airlines, business class to London, where things like video don't even work. They really put this aircraft into service with these kinds of problems for a business-class flier?"
Schlappig agrees. "On United 747s, you don't even have personal TVs. You're looking at a monitor from 1986," he said. "Compare that to Emirates where you have Wi-Fi for a dollar and 4,000 in-flight entertainment options." (He was referring to economy class on United.)
But U.S. airlines, which posted 4.6 percent net profit in 2014, argue that they have re-invested their earnings into improving their own fleets. They put $13.9 billion into their product and customer experience last year, reports Airlines for America, a trade group that represents the 10 largest American carriers. Those capital expenditures are expected to increase to $16 billion in 2015. Delta announced an upgrade of its premium cabins in December, and it ordered 50 new aircraft from Airbus last year to renew its long-range fleet.
Of course, U.S. airline executives argue, it's easy to buy new planes outfitted with the latest bells and whistles when Qatar and the United Arab Emirates provide the Gulf carriers with $42 billion worth of subsidies, an allegation the Middle East carriers vehemently deny. But Wolf wonders what money has to do with poor in-flight customer service he routinely experiences on U.S. airlines.
Whether the Gulf airlines have an unfair advantage or not -- and that's an issue the U.S. government is being pushed to investigate -- one thing's for certain: The Middle East carriers are flying high, and Americans want to join the ride.
FOR FREE to continue reading
✔️ Unlock the full content of International Business Times UK for free
offer available for a limited time only
✔️ Easily manage your Newsletters subscriptions and save your favourite articles
✔️ No payment method required
Already have an account?
Log in
© Copyright IBTimes 2023. All rights reserved.