How The Restaurant Industry Can Win Over Inflation
Inflation has hit the restaurant industry hard, on both the revenue and the cost end.
On the revenue end, inflation has hit restaurants by squeezing family budgets. For instance, according to The American Institute for Economic Research, the average American family needs an additional $11,500 in income today in order to afford to buy the same things from 2020.
The squeezing of family budgets leaves little money for discretionary spending like dining out. For instance, Darden Restaurants posted weaker sales for the last quarter due to inflation headwinds.
On the cost end, inflation has raised spending on food materials, energy, and labor, hurting gross margins. For instance, the price of eggs rose 39.8% in August, the price of milk 17%, and the price of bread 16.2%.
Inflation's hit came as the industry tried to recover from the pandemic lockdowns, and left restaurant owners with a few choices.
One was to cut down hours and let employees go. But that sours relations with both customers and employees, meaning that restaurant owners let inflation beat them rather than the other way around.
Another choice was to try to pass on the higher costs to customers with price hikes and smaller servings.
But this option has its drawbacks, too. It can push customers to "trade down" and dine in less expensive places like fast food outlets or cook meals at home. For instance, Chipotle's burrito price hikes have resulted in a drop in transactions.
Once again, inflation is the winner.
Still, there's a third option: raise prices modestly, absorbing most of the cost of inflation.
While this option will hurt the restaurant industry's profitability in the short run, it will let it beat inflation over the long run.
At least that's the view of two restaurant owners International Business Times visited last week. They both seemed to beat inflation, as evidenced by the crowded parking lots and the filled tables at lunchtime.
"You have to think of your customers first, before you think of yourself," Tommy Tan, owner of The Orient, a Chinese restaurant in Bethpage Long Island, said. "They have many bills to pay, so you should raise prices moderately, and help them order for value."
Gus Tsiorvas, owner of Embassy Diner in Bethpage, agrees.
"The cost of food materials won't be going up at this rate forever," he said. "Lettuces, scallions and eggs won't double and triple every year. We haven't seen it before, and hopefully won't see it this time around."
"You should treat customers like family," added Tan." They came to your store in the past, they come now, and you want them to come back in the future,"
"The same applies to the employees," Tsiorvas said. "My family has been in the restaurant business for decades. "It's hard to find and train good employees. You must treat them like part of your family, staying with them in good and bad times."
"And that will help you maintain the quality of service the customer deserves," Tan adds.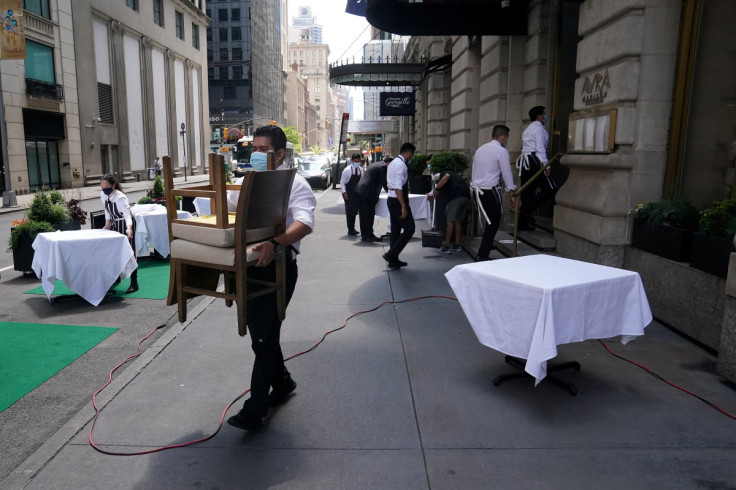 © Copyright IBTimes 2023. All rights reserved.