How Trousers Caused A Helicopter Crash That Killed Three
The Transport Accident Investigation Commission (TAIC) of New Zealand said Thursday a helicopter crash that killed three people in Wanaka in October this year, was caused after a loose pair of trousers flew out of the cabin and got entangled in its tail rotor. Pilot Nick Wallis was among the dead.
"There is evidence that a pair of over-trousers that had been packed in the cabin came out of the helicopter and became entangled in the tail rotor," Chief Commissioner Jane Meares said, Straits Times reported. "Paint marks on the over-trousers matched the color and profile of the tail rotor blades, and marks on a tail rotor blade match a zip and dome connector on the over-trousers."
The interim report said witnesses to the crash, which occurred on Oct.18, saw items coming toward the tail rotor post which the helicopter started to rotate and descend. They then saw the tail section get separated from the chopper while in flight. The helicopter further descended, hit the ground and burst into flames.
The country's Civil Aviation Authority, in November, warned about the importance of securing loose items in helicopter cabins. Meares said investigators also discovered that, in three occasions in prior to the accident, the helicopter's doors opened mid-flight.
"Effective safety management depends on such incidents being reported and investigated, but none of these occurrences were recorded in the operator's incident reporting system," Meares said.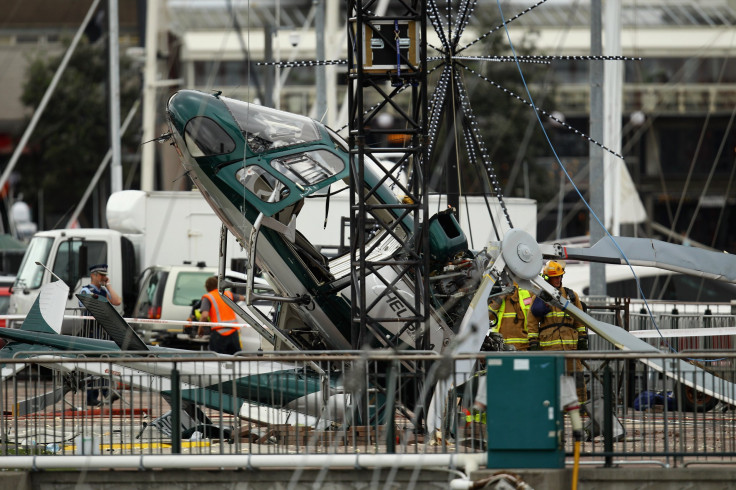 TAIC also released its interim report on the helicopter crash that killed Nick Wallis' brother Matthew Wallis in July. Though there is no conclusion regarding the cause, evidence shows that the helicopter might have faced mast bumping.
"Although we have not come to a conclusion about what caused this accident, evidence of mast bumping is always a concern for the commission. There is also evidence that a main rotor blade has struck and entered the cabin in flight. There are score marks on the blade that match screws on the canopy bow; there is scoured paint on the screws. The same rotor blade has marks matching damage to the flight instruments panel," the report said, the Sydney Moring Herald reported.
Matthew was flying to Mt. Aspiring National Park when the satellites stopped tracking his helicopter's position. Jonathan Wallis, his elder brother, searched for him on another helicopter when he heard about it. About 25 minutes after the contact was lost, Jonathan was found an oil slick in Lake Wanaka, New Zealand.
"I anticipated that he would be swimming in the lake because I found the oil, but it very quickly changed from that ... and as I started to find debris, I realised this was quite serious," Jonathan said. Three days after the accident his body was found.
© Copyright IBTimes 2023. All rights reserved.