A Huge Natural Gas Leak In Southern California Is Wasting Millions Of Dollars' Worth Of Fuel [VIDEO]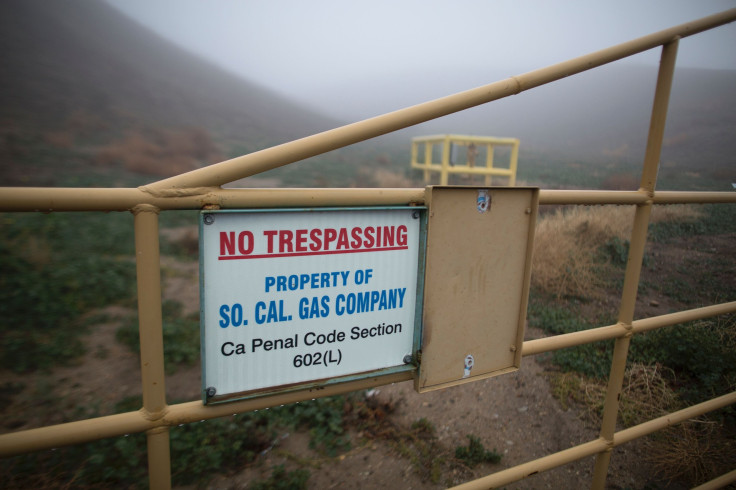 A runaway natural gas leak is spewing millions of dollars' worth of fuel over a California valley. The ruptured storage facility near Los Angeles has so far wasted nearly $11.4 million in gas by one count, a sum that's rapidly growing as utility crews struggle to contain the leak.
The rupture within Southern California Gas Co.'s massive underground system — first reported Oct. 23 — is venting gas at a rate of more than 66,000 pounds per hour, California regulators estimate. More than 2,000 families near the Aliso Canyon facility in the hills above the San Fernando Valley have evacuated to escape the putrid smell of chemicals and potential long-term health risks. The utility said Sunday it expects finally to stem the flow of gas by late February or early March.
The Environmental Defense Fund, a national green group, is keeping a running count of the value of wasted gas. The $11.4 million figure is based on a price of $3 per million cubic feet of gas, which was the monthly average Henry Hub spot price for the period October 2014 to October 2015, according to the U.S. Energy Information Administration.

SoCalGas, the nation's largest natural gas distribution utility, pumps the fuel into storage wells 8,500 feet below the site during summer and pulls from those supplies in the winter to meet higher demand.
The value of the gas escaping into the air is only a fraction of what the utility spends each year on natural gas supplies. SoCalGas spent $1.45 billion on natural gas last year, Sempra Energy, the utility's parent company, said in its 2014 financial report. San Diego-based Sempra reported $11 billion in revenue last year.
The cost of the wasted gas is also a relatively small slice of the total tab SoCalGas will have to pay for the leak. The utility faces as much as $900 million in total costs, including the relocation of residents and legal expenses, Bloomberg News found in a Dec. 4 analysis.
Sempra did not respond by deadline to questions about SoCalGas' gas leak expenses or the Environmental Defense Fund tally.

Still, the environment, not the utility's wallet, will bear the worst of the leak's effects.
The storage facility is spewing a staggering amount of methane into the atmosphere, at around 37.5 million standard cubic feet per day, according to California regulators. As a greenhouse gas, methane is dozens of times more potent than carbon dioxide, meaning that relatively small amounts of methane can have an immediate and powerful impact on global warming. Natural gas is composed mostly of methane. It also contains small amounts of other gasses, including propane and butane.
The methane leak has the same short-term climate impact as putting 4.6 million vehicles on the road, or running about six coal-fired power plants, said Tim O'Connor, who directs the Environmental Defense Fund's California oil and gas program. Methane does not last in the atmosphere as long as carbon dioxide, however.
He said the SoCalGas rupture points to a broader risk facing the 400 underground natural gas storage facilities across the country. His organization and other green groups have criticized California and other states for weak regulations and enforcement on methane emissions.
"While Aliso Canyon is on the outside edge of what's possible, it's not altogether unlikely that could happen again," he said. "It's important that we manage our infrastructure in a way to not allow these things to happen."
© Copyright IBTimes 2023. All rights reserved.