Hungary Passes Anti-Migration Laws As Refugees Walk Toward Austria From Budapest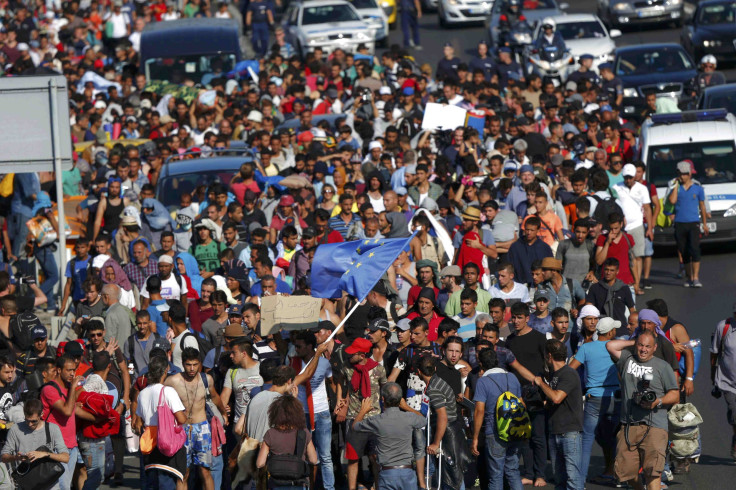 Hungary's parliament passed anti-migration laws Friday amid the country's efforts to cement its position of keeping refugees from entering its territory by building a razor-wire fence along its border with Serbia, according to news reports. The laws, which give more power to police to deal with the current crisis, include prison time of up to three years for illegally crossing Hungary's border, Reuters reported. Damaging the fence the government is constructing also would also be a criminal offense.
One hundred forty members of parliament voted in favor of the laws with 33 voting against, the Budapest Business Journal reported. Members of Hungary's far-right Jobbik Party voted for the laws.
The laws passed Friday would allow refugees to submit their asylum requests at Hungary's border, Reuters reported. While the European Union's Dublin Regulation calls for refugees to submit asylum requests in the first EU country they enter, this policy has largely been overlooked.
Penalties against those found to be smuggling or trafficking humans also were raised in the wake of the discovery last week of 71 bodies in a truck near the border of Hungary and Austria.
As the laws were passed, hundreds of refugees who had been stuck in limbo in Budapest set out on foot toward Austria hoping to reach western states such as Germany that have said they would take in refugees from the war in Syria. The journey by foot is more than 100 miles. In the town of Bicske, refugees broke through a police barrier and ran westward, according to the Associated Press.
Hungary's Prime Minister Viktor Orban wrote in German newspaper Frankfurt Allgemeine Zeitung this week that the current refugee crisis was posing a challenge to Europe's Christian roots. "Europe's response is madness," he wrote. "We must acknowledge that the European Union's misguided immigration policy is responsible for this situation."
The Associated Press reported that Hungarian, Polish, Czech and Slovakian leaders issued a joint statement Friday saying they would reject any mandatory quota system proposal to deal with resettling refugees. The statement said the EU should preserve voluntary measures.
© Copyright IBTimes 2023. All rights reserved.
FOLLOW MORE IBT NEWS ON THE BELOW CHANNELS