Hurricane Ian Is So Bad Even The Always-Open Waffle Houses Are Closing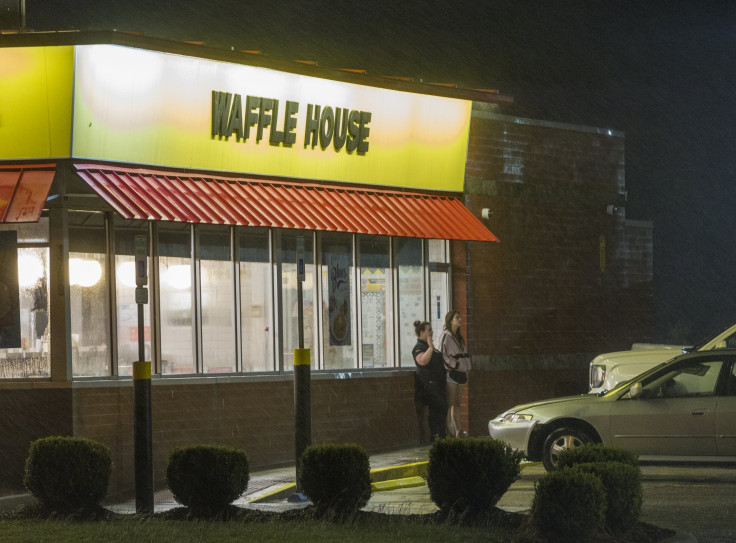 With Hurricane Ian about to make landfall in Florida nearing Category 5 status, there are signs that even the Federal Emergency Management Agency (FEMA) can't ignore about the severity and strength of the storm.
Winds are predicted upwards of 160 mph, and the National Hurricane Center has issued a warning of 12-to-18-foot waves along the southwest Florida coastline with heavy rains and flooding expected in parts of central Florida as well as the southern and northern region and parts of Georgia and South Carolina.
But one signal that Hurricane Ian could severely batter Florida is the closure of Waffle House restaurants in the state. The chain, which rarely closes and has been known to stay open even during the most severe storms, is shutting down some locations in preparation for when Ian hits.
The Waffle House Index, which tracks which locations are closed due to weather, had over 20 locations temporarily shut down as of mid-morning Wednesday, USA Today reported.
Waffle House Vice President of Public Relations Njeri Boss confirmed the closures to USA Today, saying, "We do have closures in mandatory evacuation zones and areas within low-lying areas that are subject to severe flooding."
Boss told the news outlet that Waffle House's Storm Center has been tracking Ian since it was named a storm, adding, "We constantly track storms during hurricane season, following their progress when there is an indication, they might make landfall or deliver significant storm conditions."
Even FEMA has been watching the Waffle House Index, which tracks which restaurants are open, closed, or serving limited menus. According to USA Today, FEMA said that "The Waffle House test just doesn't tell us how quickly a business might rebound — it also tells how the larger community is faring."
When the Waffle House Index is green, it signals that a location is open and operating at full capacity, while yellow means the restaurant is serving a limited menu, and red means the store is closed.
"Waffle House became almost like a rough guidepost," Craig Fugate, former FEMA director and creator of the term the Waffle House Index in 2004, previously told Fox News. "If it was open and had a full menu we probably weren't in the worst-hit areas yet."
Waffle House has more than 100 restaurants in Florida and over 2,000 locations throughout the U.S.
© Copyright IBTimes 2023. All rights reserved.