Hurricane Irene 2011: New Jersey Transit and Metro-North Service Remains Suspended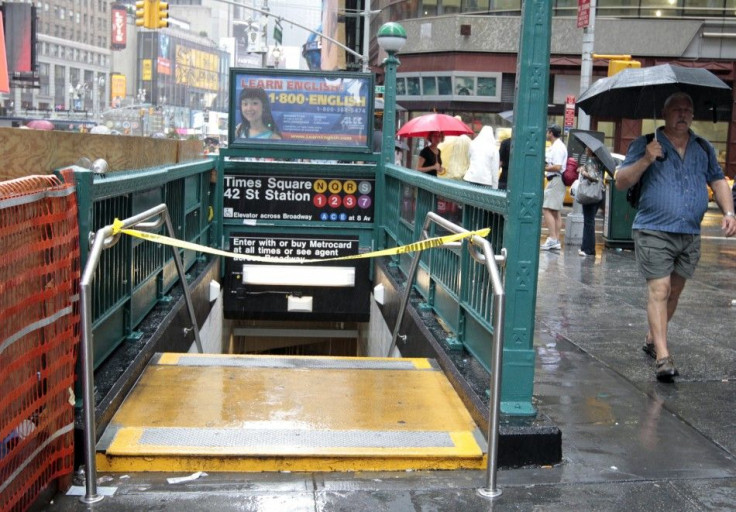 In the wake of Hurricane Irene, all but one of New Jersey Transit's commuter train lines remained suspended on Monday morning, as did all Metro-North Railroad service and half of the routes on the Long Island Rail Road.
The Atlantic City Line, which runs from Philadelphia to Atlantic City in southern New Jersey, was up and running for the morning commute on Monday, according to the New Jersey Transit Web site. But the seven other commuter train lines, which connect various parts of the state to Manhattan, Hoboken and Newark, were still down.
New Jersey Transit had restored service on its three light-rail lines, although delays remained, and buses were running with some delays, detours and cancellations due to flooding. All commuter train tickets were being cross-honored on private-carrier buses and PATH trains.
Metro-North Railroad, which connects Manhattan to suburban New York and Connecticut, remained suspended on Monday as well. The Long Island Rail Road lines to Babylon, Hicksville, Ronkonkoma, Port Washington, Hempstead and West Hempstead were running with delays, but the rest -- the lines to Oyster Bay, Port Jefferson, Long Beach, Far Rockaway, Montauk and Greenport -- were suspended.
The Metropolitan Transportation Authority, which operates Metro-North and the Long Island Rail Road, reported on its Web site that there was still significant damage to many portions of the Metro-North system. Local streams and the Bronx River continue to overflow their banks and crews are working to clean up three mudslides. It gave no estimate of when commuter train service would be restored, saying only that it would happen when it is safe to do so.
The MTA has, however, restored subway service on all lines in New York City. Delays and crowding continue, because fewer trains are running, but service is expected to improve throughout the day. Bus service within the city is very limited because of flooding and debris.
Hurricane Irene passed through the region late Saturday into early Sunday, causing extensive flooding and power outages in some areas while leaving others almost entirely unscathed. New York City did not suffer the catastrophic damage that officials had warned of, but it will still be some time before all public services are up and running again.
© Copyright IBTimes 2023. All rights reserved.