Hurricane Irene Path: Storm Tracking Toward New York; Officials Preparing Response Plans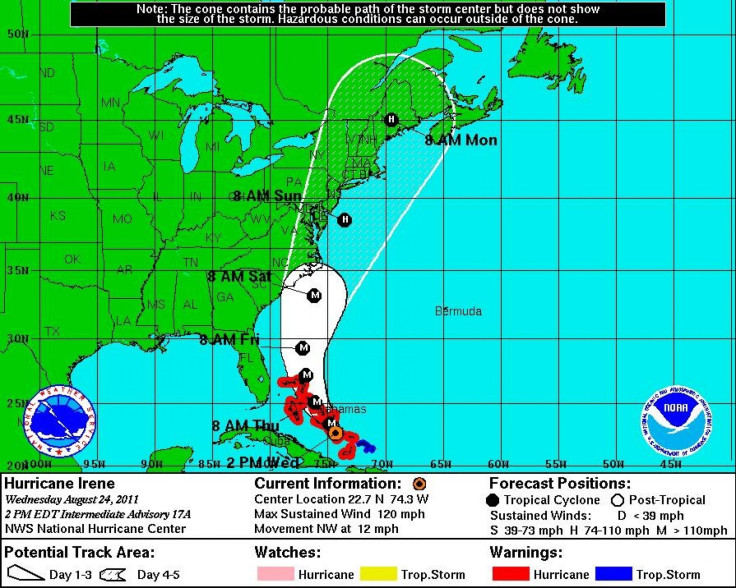 Hurricane Irene continues to strengthen and cut a path toward the eastern United States, with good odds of striking the New York area, and possibly making a direct hit on Long Island late Sunday.
Irene is the first hurricane of the 2011 Atlantic season and threatening to be the first to strike the U.S. since Ike in 2008.
It looks like Long Island will be impacted in some way by this system, whether it's a hurricane or not when it gets here, said meteorologist Brian Ciemnecki at the National Weather Service in Upton, N.Y. in Newsday. We're definitely going to see some rain and some winds on the ocean, even if it passes nearby.
The National Hurricane Center does have the official forecast track, and right now it's on a track that will bring it very close to Long Island.
Currently a major Category 3 storm with maximum sustained winds of 120 miles per hour, Irene is moving through the Bahamas, centered 250 miles southeast of Nassau and moving northwest at 12 miles per hour.
Rainfall of six to 15 inches is expected through Thursday night and water levels may rise by five to eight feet in the southeast Bahamas and Turks and Caicos Islands and seven to 11 feet in the central and northwest Bahamas as Irene moves through.
The storm is expected to depart the Bahamas Thursday night, likely running parallel with the Florida and Georgia coasts and passing off the South Carolina coast Saturday, lashing the area with high wind and rain.
But a focus of Hurricane Irene has become forecasts which show Irene possibly making a direct strike on Long Island, with major impact in the New York area and along the highly-populated east coast I-95 corridor. Models currently show Irene could reach the area late Sunday night as a Category 2 storm with winds of 100 miles per hour or higher.
Irene is then expected to bring extreme impacts to the region and on its way up the east coast, with damaging winds, power outages, flooding rains and coastal surge Saturday through Monday.
White House spokesman Josh Earnest said Wednesday that President Barack Obama is confident in FEMA Director William Craig Fugate's abilities to handle an emergency situation, should one develop in the coming days with Hurricane Irene. Obama also said that the White House advises residents who live within the path of Hurricane Irene to listen to local emergency officials and follow evacuation and precaution orders if given.
New York Gov. Andrew Cuomo said state and local agencies are meeting Wednesday to prepare response plans for Irene. Cuomo is urging residents to closely monitor the forecast and be prepared to follow instructions of local emergency officials. Cuomo said that parts of the state near coastal waters are at the highest risk, but that inland areas are also subject to flooding and power outages.
© Copyright IBTimes 2023. All rights reserved.