Hurricane Irene Smashes Into North Carolina Coast; 90,000 Powerless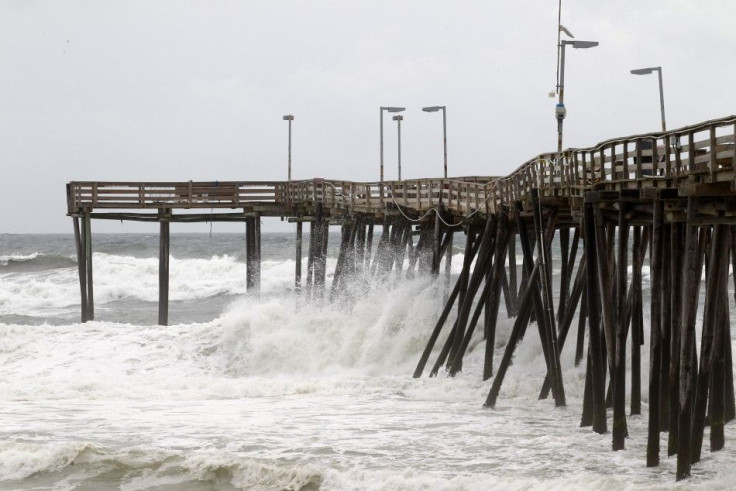 Hurricane Irene made landfall Saturday morning at about 7:30 a.m. on the coast of North Carolina, bringing torrential rains and powerful winds.
The National Hurricane Center (NHC) reported that Irene had weakened to a Category-1 storm when it smashed into Cape Lookout, a natural barrier island 11 miles southeast of Beaufort, carrying winds of 85 mph and wind gusts of 90.
At least 90,000 residents on North Carolina's coast are without power, including a hospital in Morehead City according to the Charlotte Observer.
Damage from the storm has reached deeply into the state of North Carolina – heavy rainfall has been reported in Richmond and Anson Counties, far inland; with power outages recorded in Raleigh. However, the financial hub of Charlotte is expected to miss the rain.
At Currituck County, in the northernmost part of the Outer Banks, some power outages have been reported.
A local official told reporters: "[The surf on the beach is clawing at the dune]. It's kind of early for that. We are going to have some significant storm surge.
In Nags Head, also on the northern edge of the Outer Banks, reportedly about one-third of residents remained in defiance of the evacuation orders. Power has stayed on, but trees have fallen and some flooding has occurred.
High winds of up to 70 mph have reportedly knocked out power and damaged homes and stores in Washington, N.C., along the Pamlico River. Beaufort County is on flood watch,
Casey Dail, a meteorologist with the National Weather Service based in Wilmington, N.C., told media: [Irene] is still a Category 1 hurricane, a strong storm. We have reports of wind gusts of up to 115 miles per hour. We have had a lot of coastal flooding, a lot of storm surge, a lot of trees and power lines down across Eastern North Carolina.
Forecasters believe the storm will continue to pass through the western edge of North Carolina, then move back into the Atlantic Ocean, before making a second landfall in Long Island on Sunday.
Irene is next expected to impact the Hampton Roads region of southeast Virginia, an area very vulnerable to flooding.
The hazards are still the same, said National Hurricane Center hurricane specialist Mike Brennan. The emphasis for this storm is on its size and duration, not necessarily how strong the strongest winds are.
Up and down the east coast, at least 2.3-million people have been ordered to evacuate, including 1 million in New Jersey, 315,000 in Maryland, 300,000 in North Carolina, 200,000 in Virginia and 100,000 in Delaware.
This is probably the largest number of people that have been threatened by a single hurricane in the United States, said Jay Baker, geography professor at Florida State University, according to reports.
© Copyright IBTimes 2023. All rights reserved.