Hurricane Sandy Anniversary: New York City's Infrastructure Reconstruction A Work In Progress 2 Years After Superstorm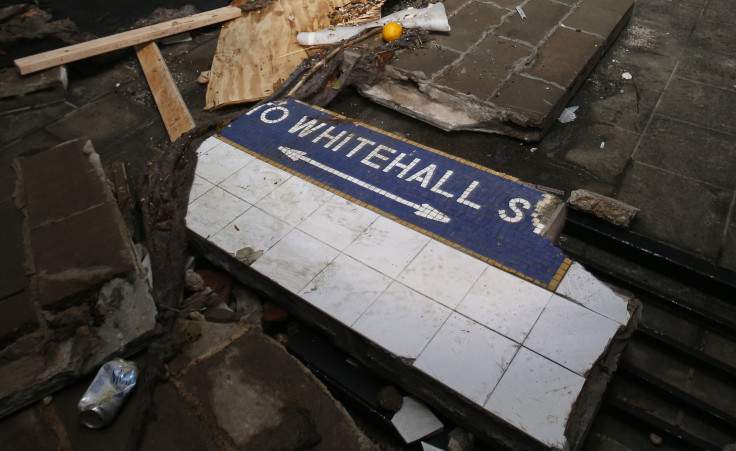 The stereotype of the complaining New Yorker doesn't apply when it comes to the city's effort to repair and improve its infrastructure after Hurricane Sandy barreled down on New York City in 2012. Most subways, utilities and other infrastructure are almost back to their pre-Sandy status. The reconstruction is going so smoothly that it has even received "good marks" by the Straphangers Campaign, a transit advocacy group that's not shy to gripe about the government. But more work is still set to begin to make sure that another Sandy-like storm doesn't inflict similar damage.
When Sandy battered New York City two years ago, the city's infrastructure was in shambles. Airports and bus routes were paralyzed for days, it took nearly a week to restore power to Lower Manhattan and two weeks to reopen tunnels to all vehicular traffic. Nine of the city's 12 underground tunnels were flooded from Sandy. Two years and billions of dollars spent on infrastructure later, the subway system still hasn't fully recovered.
The city's most recent success is the reopening of the subway tunnel, or tube, that services the R train. Work on the Montague Tube was finished last month, ahead of schedule and under the $250 million proposed budget. Part of the subway line that connects Brooklyn to Manhattan was shuttered for a year as workers removed damaged equipment and debris and replaced thousands of feet of track and power and communications cables.
"New York's transit network suffered more damage during Sandy than anyone at the [Metropolitan Transit Authority] has ever seen in our lifetimes," MTA Chairman and CEO Thomas Prendergast said at a news conference with New York Gov. Andrew Cuomo last month. "The effort required to rebuild the Montague Tube was nothing short of heroic. It took more than a year of round-the-clock reconstruction in difficult conditions, but we have restored the R subway line train with a smoother and more reliable ride in a tunnel built to handle future climate risks."
Up next is the Cranberry Tube, which services the A and C subway lines. A contract for the restoration work is expected to be awarded at the beginning of 2015, with the job scheduled to be completed in the third quarter of that year, MTA spokesman Kevin Ortiz said.
While the work on the R train was faster and cheaper than the MTA anticipated -- Ortiz would only say the project was less expensive due to "typical cost savings," it's unclear whether the rest of the infrastructure repairs and upgrades will follow suit.
"We have always said that this work will extend for several years. However, with the work that has been completed -- with both short term and long term mitigation efforts, our system is better protected today," Ortiz said in an email. "Much more needs to be done but we are at a much better place."
The city's post-Sandy rebuilding effort was praised by Gene Russianoff of the Straphangers Campaign, a transit advocacy group usually quick to criticize the MTA. "On balance, I'd give the MTA good marks two years out of Sandy," Russianoff said in an email. He lauded the agency's quickness in restoring partial service to the A train, its successful effort lobbying for $5.8 billion in federal funding and its focus on restoring service to vulnerable areas, such as downtown Manhattan.
While it took a week for the lights to turn back on in Lower Manhattan after Sandy, it took nearly another week for all 3.3 million customers of Con Edison, the city's main utility company, to have their power restored. Con Ed is in the midst of a four-year, $1 billion project to storm harden its infrastructure from another Sandy. Last month, the company said it prevented 20,000 power outages from improvements made to its system so far, including installing devices to its overhead system that make outages less widespread.
"The post-Sandy storm hardening improvements are paying service reliability dividends for our customers," Robert Schimmenti, Con Edison's vice president of engineering and planning, said in a statement. "Devices installed on our overhead system isolate damage on our lines so that when outages occur, fewer customers are affected."
The New York City Department of Transportation, which oversees roads, traffic signals and streetlights, completed all emergency repairs since Sandy hit, but projects to improve existing infrastructure from a Sandy-like storm are ongoing, a spokesperson said, declining to provide cost projections or say whether the projects are ahead or behind schedule.
By 2015, work on traffic signals and streetlights in parts of Manhattan, Staten Island, south Brooklyn and parts of Queens is expected to be finished. Other projects are still in the bidding process, such as work on 13 of the city's movable bridges that were damaged from Sandy and two underpasses in Lower Manhattan.
Streets in southern Queens and parts of Brooklyn and Staten Island are being resurfaced, according to DOT, while reconstruction work on multiple streets in those boroughs as well as Manhattan is set to begin next year.
The agency is also building three new ferry boats that can run in extreme weather. Some of the city's ferry services were out of commission for more than a week after Sandy, and Lower Manhattan's Whitehall Ferry Terminal serving the Staten Island Ferry sustained major damage from the storm. Repairs to roofs, elevators, escalators, electrical and mechanical systems and security infrastructure at Whitehall and the St. George Ferry Terminal have been completed, while there are plans to improve landing docks at Whitehall and St. George to flood-proof the structures. Plans for the ferries are in the design stage.
As projects to rebuild the city's transit lines and utility systems have been greenlighted, New Yorkers in low-lying areas are still waiting for more bulkheads to be placed in their communities to protect roadway erosion and to mitigate some flooding. Joseph Addabbo, a state senator who represents the Rockaways section of Queens -- one of the hardest-hit areas from Sandy -- had been calling for flood-prevention measures before the hurricane hit. Residents of Broad Channel, a narrow island that connects the Rockaways to mainland Queens by bridges, have to contend with severe flooding even from average rainstorms.
"It took Sandy to really shed light on the issue. We've been screaming for this for years," Addabbo said. "We're not sure if a storm is coming four weeks from now or 40 years. These projects can't come fast enough."
Some of those projects include raising streets to allow water to recede back into neighboring Jamaica Bay and are a year or more from starting. And homeowners in flood-prone areas will be required to elevate their homes at the tune of about $100,000 or pay a large increase in their flood insurance bills. Addabbo said the federal government should foot part of the construction cost.
"You can't ask a senior on a fixed income or a middle-class family to do that," he said.
FOR FREE to continue reading
✔️ Unlock the full content of International Business Times UK for free
offer available for a limited time only
✔️ Easily manage your Newsletters subscriptions and save your favourite articles
✔️ No payment method required
Already have an account?
Log in
© Copyright IBTimes 2023. All rights reserved.