Hurricane Sandy Is 'Meteorologically Mind-Boggling,' Headed For Atlantic City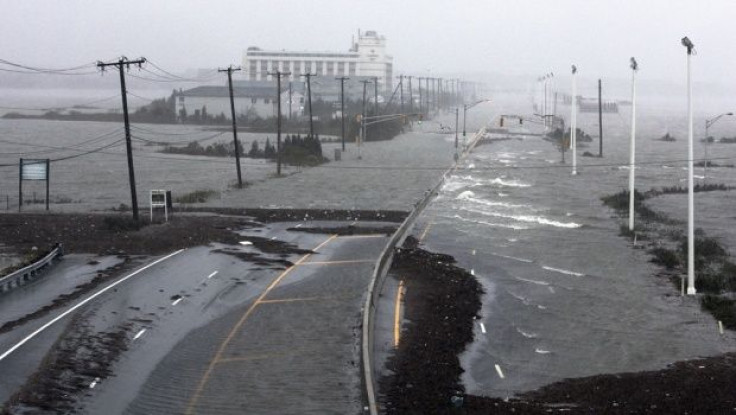 The Eastern Seaboard is collectively holding its breath as Hurricane Sandy bears down with gale-force winds and storm surges that may cause massive flooding along vast stretches of the coast, and have already put parts of Atlantic City, N.J., underwater.
On Monday at 5 p.m. EDT, the National Hurricane Center in Miami said Sandy was located about 30 miles (45 kilometers) east-southeast of Cape May, N.J. and about 40 miles (65 km) southeast of Atlantic City, N.J. The storm is moving west-northwest at 28 mph (44kph), and has maximum sustained winds of 90 mph (150kph), placing it on the high end of Category 1 on the Saffir-Simpson Hurricane Scale.
The center of Sandy is expected to reach the coast of extreme southern New Jersey or central Delaware between 6 and 8 p.m. EDT.
As of Sunday, Sandy's death toll was at least 65, with 51 recorded deaths in Haiti. That country's capital of Port-au-Prince suffered between 8 and 10 inches of rain during the storm. On Monday, the U.S. Coast Guard was searching for two missing crew members of the tall ship HMS Bounty, which sank off the coast of North Carolina.
At a press conference on Monday afternoon, President Barack Obama said he had spoken with the governors of states that lie in Sandy's projected path and that there were no unmet needs at this time. He urged the public to listen to state and local officials and follow evacuation orders, and cautioned that power outages and transportation issues may take days to rectify.
"This is going to take a long time for us to clean up," President Obama said.
New York City mayor Michael Bloomberg gave a press conference in New York City late Monday morning, explaining that the storm is expected to make landfall near Atlantic City on Monday evening, with wind gusts of up to 85 mph expected Monday afternoon. Flood warnings will remain in effect until 3 p.m. on Tuesday with high wind warnings in effect until 6 p.m. the same day.
New York City subways and buses were suspended on Sunday and are expected to remain out of operation at least through Tuesday. New York City public schools will be closed again on Tuesday.
On Monday evening, New York governor Andrew Cuomo announced that multiple bridge closures in New York City. At 4 p.m. EDT, the Tappan Zee Bridge over the Hudson River north of the city closed. At 7 p.m., the Throgs Neck and Whitestone Bridges from the Bronx to Queens, the Verrazano-Narrows Bridge connecting Brooklyn and Staten Island, the George Washington Bridge from New Jersey to Manhattan, the Henry Hudson Bridge from the Bronx to Manhattan, and the Cross Bay Veterans Memorial Bridge in the Rockaways will all close.
The RFK (or Triborough) Bridge and the Lincoln and Midtown tunnels will remain open for the foreseeable future, according to Gov. Cuomo.
Scientists have been following and projecting Sandy's path with all the tools at their disposal: ocean buoys, radar and satellite imagery, and computer modeling. The National Oceanic and Atmospheric Administration also gathers information from special reconnaissance aircraft, which fly over hurricanes and can drop instruments into them to measure wind speeds, air pressure, temperature, and altitude.
The latest data gathered on Hurricane Sandy point to an unprecedented and mighty tempest, scientists say.
"A meteorologically mind-boggling combination of ingredients is coming together," Weather Channel senior meteorologist Stu Ostro wrote Sunday.
Sandy is one of the most expansive storms on record. On Sunday, instruments recorded tropical storm-force winds extending 520 miles from her center, whipping up an area of seas 1,030 miles across. As of 2 p.m. EDT on Monday, Sandy had hurricane force winds extending up to 175 miles out from her center an tropical storm-force winds extending out 485 miles from her center.
Later on Monday, Sandy is poised to take an unusual left turn back toward the East Coast, thanks to a strong ridge of high pressure near Greenland that is preventing the storm from moving out to sea.
The storm is also likely to develop into a strange hybrid, with a tropical cyclone at the center of a larger storm that more resembles a nor'easter. In this configuration, the combination of tropical moisture and extremely cold air will likely produce heavy snow at high elevations, according to Ostro.
As Sandy moves toward the East Coast, she'll be passing over cooler waters that would ordinarily reduce her intensity. But a trough of low pressure pulling the hurricane toward the East Coast will be adding energy derived from atmospheric temperature gradients to the storm.
According to most computer models, Sandy's eye will touch down in New Jersey sometime between 10 p.m. Monday and 4 a.m. Tuesday. At landfall, Sandy is predicted to still be spewing hurricane- or tropical storm-force winds of 60 to 80 miles per hour.
On Saturday, Johns Hopkins University researcher Seth Guikema predicted that 10 million people from Virginia to Pennsylvania would lose power because of high winds.
Alhough Sandy's winds pose a threat, the system's real danger comes from the accompanying storm surge and likely flooding. NOAA's Hurricane Research Division has rated the danger of Sandy's winds at 2.6 on a scale from 0 to 6. But they pegged the destructive potential of Sandy-related storm surges at 5.7.
"This is a higher destructive potential than any hurricane observed between 1969 and 2005, including Category 5 storms like Katrina, Rita, Wilma, Camille, and Andrew," Weather Underground's Jeff Masters wrote Sunday.
Monday's full moon will likely pile on 2 to 3 more feet to the storm surge, due to higher tides. It's highly likely that the surge will overcome flood walls in New York's Manhattan, and Masters wagers there is a 50 percent chance that Sandy's storm surge will flood part of that city's subway system.
Flooded tunnels could mean that major arteries of the subway system would be unusable for some time. In September, Columbia University research scientist Klaus H. Jacob told the New York Times that last year's Hurricane Irene came close to rendering the tunnels under the East and Harlem rivers useless for a month or more.
"We've been extremely lucky," Jacob told the Times. "I'm disappointed that the political process hasn't recognized that we're playing Russian roulette."
© Copyright IBTimes 2023. All rights reserved.