Hurricane Sandy: NYC Workers Assess Damage To Begin Restoring Subway, Bus Services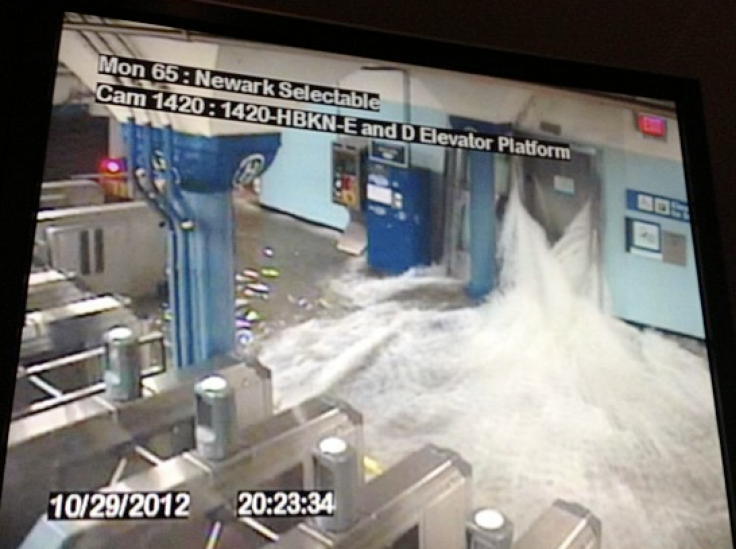 Thousands of workers with New York City's Metropolitan Transit Authority (MTA) began Tuesday inspecting damage Hurricane Sandy caused in order to restore subway and bus services to its more than eight million daily customers.
Meanwhile, the death toll from Sandy climbed to 38, with New York and New Jersey adding to the tally. The superstorm crippled New York City, shutting down businesses and all commuting.
The MTA said Tuesday the restoration process will be both exhaustive and time-consuming. Pre-emptive closures of both subway and bus routes were initiated before the hurricane to safeguard the equipment.
It was uncertain, as of Tuesday evening, when full service would be restored, and once floodwaters have been drained or pumped out, the MTA must inspect approximately 5,600 buses, 6,200 subway cars, 600 miles of tracks and 468 subway stations.
"Our transportation system has never faced a disaster as devastating Hurricane Sandy, which has caused an unparalleled level of damage," said MTA Chairman Joseph J. Lhota in a statement. "This will not be a short process, but it will be one that puts safety as its major focus," he said.
"Our employees have never faced a challenge like the one that confronts us now," he added. "All of us at the MTA are committed to restoring the system as quickly as we can to help bring New York back to normal."
Seven East River subway tubes, two Long Island Rail Road tubes, which link the borough of Manhattan with the borough of Queens, and two vehicular tunnels were flooded. A subway bridge, three subway yards and six bus depots were also inundated, according to the MTA.
The office of New York Gov. Andrew Cuomo announced that limited bus service was to resume at 5 p.m. with no fares charged. Five of the MTA's seven bridges also reopened at noon.
© Copyright IBTimes 2023. All rights reserved.
FOLLOW MORE IBT NEWS ON THE BELOW CHANNELS