'I Can't Breathe' Eric Garner Protesters March From New York's Times Square To Christmas Tree Lighting Ceremony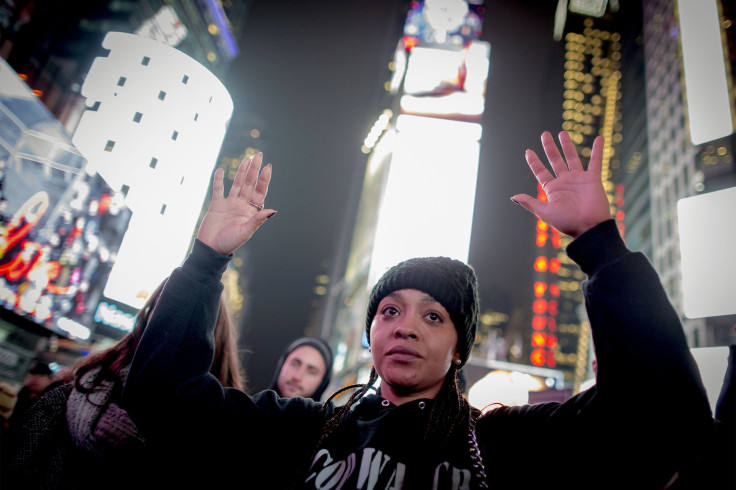 NEW YORK -- Protesters chanted "What do we want? Justice! If we don't get it? Shut it down!" as they marched from Times Square to Rockefeller Center in New York City Wednesday night hours after a grand jury decided not to indict a white police officer in the chokehold death of Eric Garner. The goal was to "shut down" the annual Rockefeller Center Christmas tree lighting over what they called an unjust decision to not bring criminal charges against New York Police Department Officer Daniel Pantaleo.
"This is about justice and fairness and about not letting our fellow man be killed with no consequences," 33-year-old Manhattanite Rick Tennison said. "This is about making sure Eric Garner's death wasn't in vain."
The protesters also chanted "I can't breathe," a reference to an exclamation by Garner as police were attempting to arrest him shortly before his death. Upon reaching Radio City Music Hall at about 6 p.m., they were met with a large contingent of NYPD officers who sought to block them from reaching the tree lighting.
"Ferguson, Eric Garner, we can't keep letting this happen," Brooklyn musician Ryan Alhorn, 26, said. "That's why we're out here."
New York Mayor Bill de Blasio urged protesters to remain calm. "This is now a national moment of grief, a national moment of pain and searching for a solution," he said. "No family should have to go through what the Garner family went through."
Garner, 43, died after being put in a chokehold as he was apprehended by Pantaleo and several other officers for selling cigarettes on the sidewalk. A New York medical examiner ruled his death a homicide, citing "compression of his chest and prone positioning during physical restraint by police."
Pantaleo said he never meant to kill Garner. "I became a police officer to help people and to protect those who can't protect themselves," Pantaleo said in a statement Wednesday. "It is never my intention to harm anyone and I feel very bad about the death of Mr. Garner. My family and I include him and his family in our prayers and I hope that they will accept my personal condolences for their loss."
Protesters also gathered Wednesday night at Union Square, Grand Central Terminal and in Harlem in upper Manhattan.
© Copyright IBTimes 2023. All rights reserved.