'I Want Them In': Merkel Calls For Greece To Stay In Euro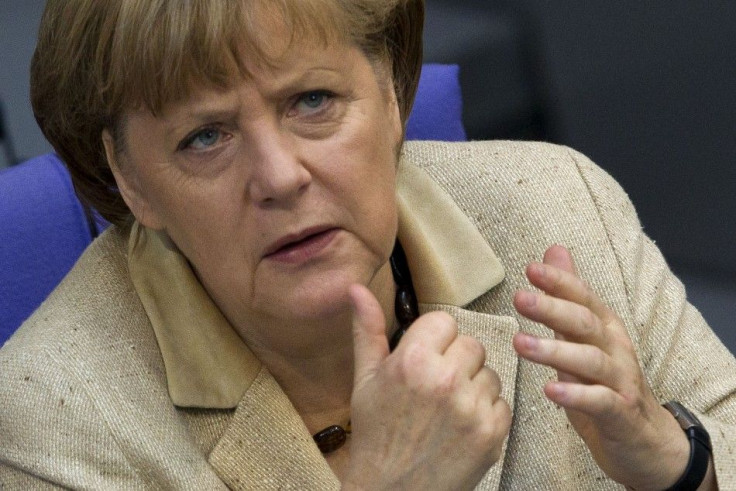 In a bid to temper talk of a Greek exit, German Chancellor Angela Merkel told CNBC on Wednesday that she wanted the country to remain in the economic-monetary union.
The Chancellor's comments come after a final bid to form a government failed on Tuesday, raising the possibility of a Greek exit from the euro zone.
Elswehere, Greek President Karolos Papoulias will meet party leaders to set up an interim government, it emerged Wednesday, as the country braces itself for a fresh round of elections next month.
I want, just like Jean-Claude Juncker, that Greece stays in the euro. I think that would be good for Greece and for all of us, she said. Juncker is Luxembourg's prime minister.
Merkel added, If Greece believes that we can find more stimulus in Europe in addition to the memorandum (the deal stuck with the troika), then we have to talk about that.
Despite Merkel's comments, uncertainty loomed over Greece's economic and political future -- pushing the euro to a four-month low against the dollar.
Leaders of five political parties met in Athens on Tuesday in a last-ditch effort to form a unity government. Lawmakers, however, are bitterly divided over the austerity program the government has imposed to get huge bailout loans from the European Union and the International Monetary Fund.
The radical left-wing Syriza party -- the group most adamantly opposed to further austerity cuts -- finished with an impressive second place in the recent election and may actually win the next round, according to polls.
The likelihood of Greece defaulting and leaving the euro zone may increase in the absence of an agreement on austerity and the terms of rescue loans.
Merkel, who has been a staunch advocate for budget cuts and spending reductions, is facing a growing backlash against her austerity led fiskalpact.
The election of Socialist French President François Hollande last week brought further pressure on Merkel.
Hollande, who flew to Berlin on Tuesday hours after being sworn into office, was a vocal critic of Merkel's austerity stance during his election campaign. In a meeting, both leaders pledged to forge a joint approach to boost growth in the recession-plagued region and to closely work together on resolving the sovereign debt crisis.
© Copyright IBTimes 2023. All rights reserved.