Iceland Volcano Eruption Could Spell Trouble For Air Travel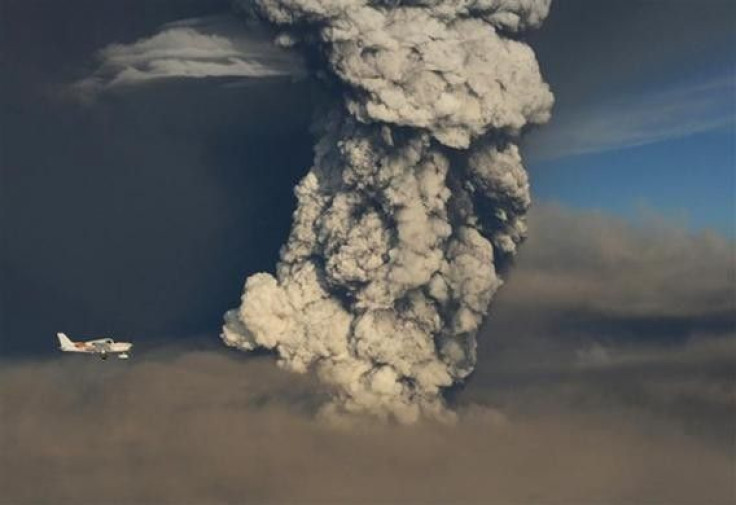 Another volcano is rumbling in Iceland -- and the airlines are quivering. The Bardarbunga volcano, located directly below Iceland's largest glacier, is threatening to erupt. A "swarm" of earthquake activity has been detected in the area since Saturday morning.
There are "very strong indications of ongoing magma movement," Iceland's Meteorological Office said in a statement Monday. "Presently there are no signs of eruption, but it cannot be excluded that the current activity will result in an explosive subglacial eruption, leading to an outburst flood and ash emission."
As a result of this new activity, the meteorological office issued an orange alert -- the second-highest warning level -- to the aviation industry on Tuesday. The aviation color codes are used by the industry to measure how dangerous a volcano could be to air travel. The orange level signifies "heightened or escalating unrest with increased potential of eruption."
In 2010, the Eyjafjallajokull volcano eruption in Iceland wreaked havoc on aviation, emitting an ash cloud that grounded or rerouted flights over the North Atlantic for six and a half days. Losses to the industry totaled $1.7 billion, according to the International Air Transport Association, a trade group. Some 10 million passengers and 100,000 flights were affected.
Some 50 passenger and cargo airlines regularly fly routes that take them across the North Atlantic. Major international carriers like Delta, Air France and Lufthansa are monitoring the situation closely, reports Bloomberg.
But the number of airlines that could be affected by an eruption is hard to predict, said Henry Harteveldt, an airline industry analyst. "A lot will depend on, if there's an explosion, the magnitude and the wind patterns that would disperse the ash," he said.
"We do know that, since 2010, airlines and air traffic organizations learned from the experience of the first ash cloud and have invested in technology that tracks any explosion," he added. "They are also able to determine if there are other viable routes that can be kept open. That may mean routing aircraft further north or south of Iceland to go across the Atlantic. The airlines have operation centers that have gone into high alert."
For now, operations are continuing as normal at the three biggest U.S. carriers -- American Airlines (NASDAQ:AAL), Delta Air Lines (NYSE:DAL) and United Airlines (NYSE:UAL) -- that fly to Europe, representatives told Bloomberg.
But they are aware that anything could happen to disrupt things quickly. "The good news for air travel is that both these clusters are away from the heart of the main volcano, as it's in the heart that the kind of magma is produced which leads to highly explosive eruptions that produce the abundant fine ash capable of being transported long distances through the atmosphere," said Dave McGarvie, an expert on volcanology. "But we know so little about this volcano that she could surprise us."
© Copyright IBTimes 2023. All rights reserved.