Iditarod Sled Dog Race 2015 Start Time And Live Stream: Warm Weather Pushes Event North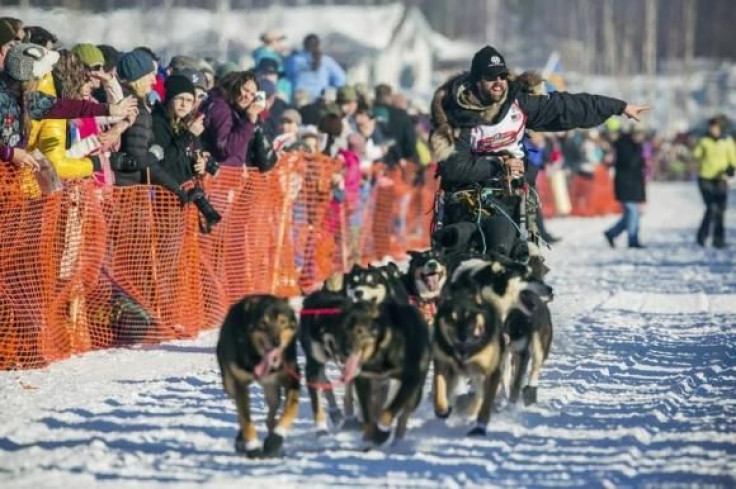 For those who haven't had enough of Old Man Winter this year, the 2015 Iditarod Sled Dog begins Saturday in Fairbanks, Alaska, with a live-stream broadcast on the event's official website. The race's official start happens on Monday, but the ceremonial start begins Saturday at 9:30 a.m. local time, 1:30 p.m. EST.
The annual 1,000-mile event typically begins in Anchorage, but officials were forced to relocate the route this year due to unseasonably warm weather conditions, as NPR reported.
Named for the Iditarod Trial, which runs up the Alaska Range, the popular Iditarod Sled Dog race first began in 1973. This year's race will feature 78 racers -- or mushers -- six of whom are former champions, according to CBS News. Some of the less experienced participants say the route change this year could help their chances. "It doesn't hurt a guy like me who has only run the race a couple of times," Brent Sass of Eureka, Alaska, told the Associated Press.
This winter has been an unusually warm one for much of the Western United States, due to the same weather pattern that pummeled much of the East Coast with mountains of snow and frigid temperatures.
Start time for this year's Iditarod Sled Dog will be Monday at 9:30 a.m. local time, 1:30 p.m. EST. The race will conclude in about 10 days in the city of Nome.
Watch the live stream replay and live blog on the official website, iditarod.com. For full-screen viewing, users can log in or register for free.
This article previously stated incorrectly that the race's start time was 10 a.m. local time Saturday.
© Copyright IBTimes 2023. All rights reserved.