If Demetrious Johnson Can't Fight, TJ Dillashaw's Coach Wants Dominick Cruz Rematch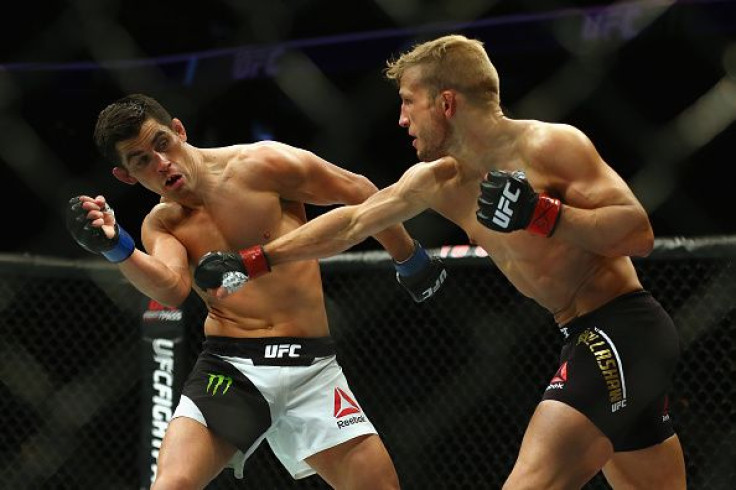 Duane Ludwig wants to see UFC bantamweight champion TJ Dillashaw extract revenge on Dominick Cruz in a rematch if a super-fight with Demetrious Johnson falls through.
Following his win over Cody Garbrandt at UFC 217 in November last year that saw him become a two-time champion, Dillashaw called out flyweight champion Johnson for a super-fight to determine who the best pound-for-pound fighter in the world was.
Despite months of no updates, it looked like the much-awaited contest was close to fruition with rumors that it would take place on the stacked UFC 226 card on July 7. However, UFC President Dana White texted Lance Pugmire of the Los Angeles Times on Thursday stating that the fight was never made and that Johnson is out for a while with injury.
Despite the now revealed unavailability of "Mighty Mouse," the fight could have been made months ago and Ludwig, who coaches Dillashaw, believes the holdup came from a lack of agreement on the date and fight purses of both fighters.
"[The] holdup is probably dates and money, I'm assuming," Ludwig told BJ Penn Radio, as per MMA Mania. "I really don't know what the hold up is, because I'm not in on those meetings and I don't really want to be. I have focused my efforts on the actual martial arts aspect, of improving TJ and his martial arts in general. I'm teaching him and finding out, again, what actually works. But the business side, I try to let them figure that out on their own."
With the fight likely to be scrapped for now, Ludwig has a backup plan for Dillashaw and that is defending the belt against Cruz in a rematch. Cruz is regarded as the greatest bantamweight of all time. He notably came back from two torn ACLs to regain the title he never lost against Dillashaw back in January 2016 in a widely-debated split-decision victory.
Rather than getting a rematch, Dillashaw had to fight two more times and wait 22 months until he got a chance at regaining the title against Garbrandt, who inflicted Cruz's first loss in nearly ten years in December 2016 to win the title.
"What's Cruz's situation, now? For me, personally, I would like to see that [rematch]," Ludwig added. "So Demetrious, and then – or – Cruz."
Cruz was scheduled to fight against Jimmie Rivera at UFC 219 in December last year but had to pull out from the card after suffering a broken arm in training. "The Dominator" seems to be fit again though and is open to a rematch with Dillashaw.
"That's the fight that matters," Cruz said in February about a potential rematch with Dillashaw. "Everybody wants to see if he can beat me and everybody knows I can beat him. Why wouldn't we see that again? I just don't understand why it would go any other way. . ."
"It's silly to me, the game. If I lost to somebody and I was the champion, I'd want that fight right away. Yes, [I did that with Faber]. I had to get it back and I want to get my loss back from Cody too but he lost so I want the guy that's the champion," he said.
© Copyright IBTimes 2023. All rights reserved.