If ISIS Leader Abu Bakr al-Baghdadi Is Killed, Who Is Caliph Of The Islamic State Group?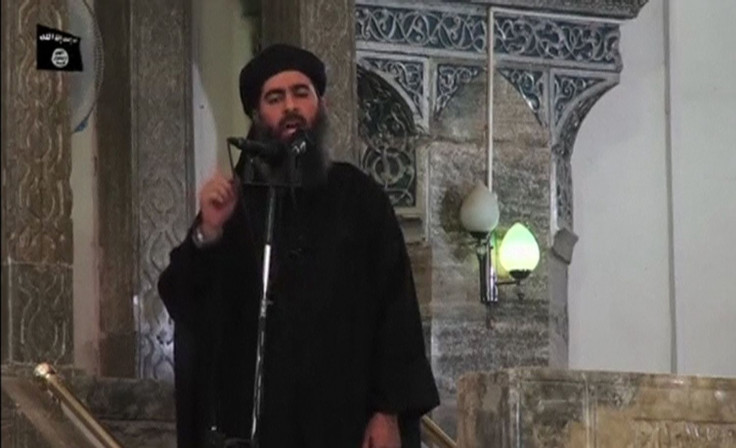 If reports Islamic State group leader Abu Bakr al-Baghdadi was killed in a U.S. aristrike are true, his loss raises the question of whether ISIS can survive or thrive without him. The self-proclaimed title of caliph of the Islamic State is more than a figurehead for the group. Baghdadi's "qualifications" include spending several years detained by U.S. forces and allegedly having a formal education in Islam.
His death would have a significant impact on the group's morale, but a new leader would be appointed "without operational delay," experts said. His successor would likely be someone in the militant group's highly organized leadership structure, and ISIS' ground operations will continue without a hitch.
"ISIS has likely prepared for Baghdadi's succession. ISIS has undergone changes in their structure during different phases of the group's evolution," said Lauren Squires of the Institute for the Study of War. "They are forward leaning and thinking. It would be shortsighted to think that planning a successor is not only part of their logistical plan, but their ideological plan, too."
After ISIS declared a caliphate earlier this year, the group established an almost political structure with Baghdadi at the head. But those who wield the most decision-making power are right below him in the chain of command, the Shura Council and Sharia Council. The Shura Council is made up of Baghdadi's two deputies -- one in charge of Iraq and one in charge of Syria -- and seven to nine heads of the group's various ministries.
"The Shura Council is the highest advisory body and theoretically must approve Abu Bakr's appointments and even the choice of who should succeed him as caliph, which is decided by the Sharia Council," according to a report on the militant group by the Souffan Group.
Baghdadi's Successor
"The council will come to a consensus based on filling widely understood qualifications, so someone that they can at least bill as legitimately fulfilling all the requirements," Squires said. Religious education and experience "can be faked, but you need a blank slate with an unknown history," she added.
A good caliph needs to come with the full package, or have so secret a history, the Shura Council can create its own ideal candidate. He (and it can only be a man) needs deep knowledge of the militants' tactical and financial operations, so the obvious choice would be a member of ISIS' current leadership. He must also be well-versed in formal religious scholarship so his interpretation of Islamic law can carry enough weight his followers will obey.
"There are likely several deputies who are capable of stepping into Baghdadi's role as ISIS emir if and when he is killed," Squires said. "Abu Ayman al-Iraqi [head of the Military Council] was reportedly recently killed in the same raid or else he would be at the top of the list," Squires said, speaking of the group's military leader.
The next in command for the military is reportedly Omar al-Shishani, a red-haired Chechen fighter who has become a kind of poster-boy for foreign fighters. Though his battle skills are allegedly unmatched, he lacks formal religious education and experts doubt he would be considered for caliph.
Squires speculated Baghdadi's two deputies -- Abu Ali al-Anbari (deputy of Syria) and Abu Muslim al-Turkmani (deputy of Iraq) -- could be on the shortlist along with Abu Suleiman -- ISIS' shadowy war council leader.
Caliph Requirements
Abu Suleiman fits the military requirements but a good caliph must also be able to sway an audience and gain international recognition, all while maintaining that intimidating air of mystery. In the four short years that he's been in power, Baghdadi succeeded in seizing large parts of Iraq and Syria, running the Islamic State and cultivating an aura of power so strong, foreign fighters are pouring in by the thousands to fight for him, and formerly independent extremist groups are pledging allegiance all over the region. He turned ISIS into one of the most feared terror organizations in the world despite having made only a handful of public appearances.
Though he will likely be seamlessly replaced, some experts say they believe very few in ISIS' current leadership could truly replace him.
"Baghdadi's persona within ISIS is a very unique one. I don't see anyone who can live up to his legacy," said Aymenn Jawad al-Tamimi, a professor at Israel's Hertzliya University and a Shillman-Ginsburg Fellow at the Middle East Forum. "The public figures don't have his credentials and others in the highest ranks don't have anything resembling his persona."
© Copyright IBTimes 2023. All rights reserved.