If Israel Attacked, Iranian Jews In The U.S. Have No Doubt: Choose Israel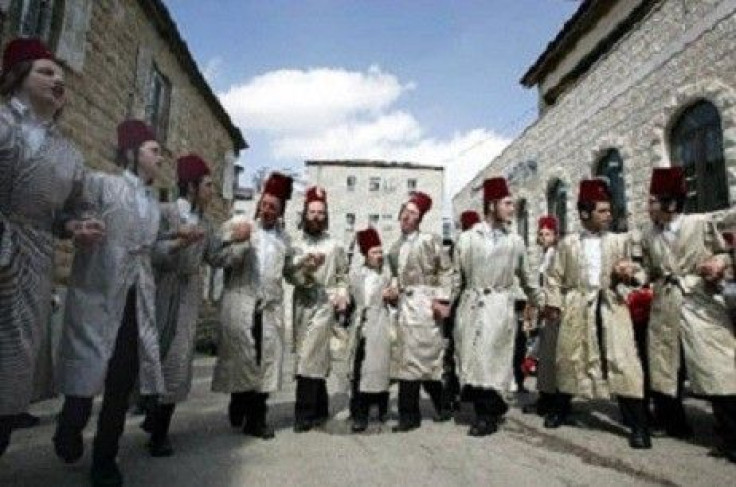 Drinks are in hand, heels are high, and collars are open at the Sephardic Heritage Alliance's happy hour mixer at the Indigo Hotel's rooftop bar in Manhattan's Flatiron district. The young, eligible Persian and Sephardic Jews of the city have come out to mingle and forget that nagging worry -- what to do with their families in Iran if Israel were to attack.
Shayna Moh, 24, a Persian Jew who was born in the U.S., summed up succinctly what much of her community is feeling. "It feels weird," she said. "It's like my background versus my culture. I wouldn't like having to choose."
But when it comes down to it, "Yes, of course I would support Israel," Moh said. "I'm Jewish. My religion is more important."
Parisa Ooriel, 30, who came to the U.S. five years ago from Tehran to study at the New York Institute of Technology, said she was "definitely nervous" about the possibility of an attack and what would happen to her parents, who are still in Tehran. "I feel like I have roots there. I'm an Iranian Jew. I can't put one identity above the other. I feel pretty torn."
The theme of being torn between a background, culture and religion is a painful rift that many Persian Jews are acutely feeling as Israel rattles its saber ever louder in Iran's direction. After the Iranian revolution in 1979 and the execution of one of the community's leaders, Habib Elghanian, who had been accused of spying for israel, the population of Iran's Jews dropped precipitously. The largest population of Persian Jews in the world now exists in Israel, with estimates between 200,000 and 250,000. As of July, there are an estimated fewer than 9,000 Jews still living in Iran, amid President Mahmoud Ahmadinejad's virulent, outspoken anti-Semitism.
Now, with rumors of an attack before the U.S. election in November as Israel seeks to stop an Iranian nuclear development program that it fears would end up giving the Islamic regime an atomic bomb, stress may be reaching a boiling point.
"I would absolutely be concerned for my family," said Shayan Sadri, 26, of the possibility of an attack. Sadri was born in Houston, but his parents emigrated from Tehran. "I don't want to support Iran and their nuclear plans or Israel and their war plans. I want to be neutral."
"I would support Israel," said Ben Samih, 24, who studied political science at Queens College in New York. He came to the U.S. when he was four and is "basically American" but says most of his mother's family is still in Iran. "There's a lot of people [in the community] who are saying, 'Let's bomb them, let's bomb them, let's do it,' but it's a tough situation."
Opinions are just as mixed and feelings are just as torn in Great Neck, on New York's Long Island, one of the centers of the Persian Jewish community. Around 45,000 families live in the Great Neck area, and about one-third of them are estimated to be Persian Jews. Of the 14 synagogues in the town, six are Sephardic, a term that refers to Jews from North Africa, the Mideast and the Mediterranean. And at the Shop Delight Supermarket on Welwyn Road, nearly all customers stop by the bread counter to pick up traditional Persian flatbread, baked in an oven that has been specially imported from Iran.
Eddie Yakubov, 36, Shop Delight's owner, said Israel had an obligation to attack. "Israel has to go in," he said. "If it doesn't, it's going to be a bigger problem."
And as for Persian Jews in Great Neck, well, "They are Jewish," Yakubov said. "They want Israel to succeed and to win. They are concerned about what will happen to Israel if Iran gets the bomb."
Eddie Aziz, 29, agreed and said that an attack on Iran "feels necessary."
"Iran is a threat to Israel," he said, adding that he's a longtime member of AIPAC, a U.S.-based pro-Israel lobby, so he's "more aware of what's going on than what's in the news." Aziz wouldn't elaborate.
State Assemblywoman Michelle Schimel, who represents Assembly District 16 which includes Great Neck and much of the Persian Jewish community, said that many of her constituents were concerned about what might happen to the Jewish population that's still in Iran if a war were to break out.
"Many of them still have family living there," Schimel said. "When I ask them what they think Israel should do, they're usually not commital, but they support Israel wholeheartedly."
Schimel also that the Iran Divestment Act, which was passed in Albany earlier this year, has been praised by much of the Persian Jewish community. The act punishes any companies who do business with Iran by preventing them from also doing business in New York state.
"What we're doing on a small level is finally taking hold," said Schimel about the Act. "The fiscal impact is starting to work, and when I speak to Iranians in my community, they agree and they are glad that companies who are investing in Iran are being prevented from doing business in the U.S.
"People don't want conflict," Schimel said, "Nobody wants war. And this war would definitely impact well beyond Israel and Iran. I feel that we should do economics first."
The head of the Persian Cultural Organization, who didn't want his name used, also said the community, as a rule, was against a war between Israel and Iran. "Overall, the feeling in the community is that they don't think there should be a war," he said, "Mainly because there is still a Jewish community in Iran. The Jewish community has been there for 3,000 years. It's still the biggest Jewish community in the world outside of Israel and the US. They have parents, uncles, aunts, sisters, brothers, grandparents, in Iran. Even though they support the fact that someone has to get rid of the government, they don't want it this way [with war]. The way that America is doing it and the UN is doing it, that's the best way to do this."
But, if push came to shove, he agreed, then the community would probably stand behind Israel. "If one day there's war," he said, "The affiliation with Israel is much stronger than with Iran, because of the fact that they all left Iran."
Fariba, 52, a member of the Mashadi congregation in Great Neck who wouldn't give her last name, said, "I would not be happy, but if it has to be done, it has to be done." Fariba said she came to the U.S. in 1983 from Tehran and that "the Iranian people themselves are not bad; it's just the politicians. I would be upset both for the Israelis and the Iranians. But if Ahmadinejad has to be stopped, he has to be stopped."
Lida Ayalah, 45, who came to the U.S. less than three years ago, lived in Israel for a short time after leaving Iran. "I felt better in Israel," she said, in her soft Farsi-tinted English. "All of my family is still there. I was very alone in Iran. It's very dangerous for the Jews in Iran."
"I think Israel should attack Iran," Ayalah added. "Ahmadinejad wants to use atomic weapons. It's dangerous for Israel. It's better to support Israel, and the community thinks like me."
"I'm scared and I'm worried for the Jewish people," said Rachel S., 66, who didn't want to give her last name either. "It's very scary for the Jews in Iran."
In between the aisles of vegetables at Shop Delight, Rachel reminisced about her life in Iran. "I had a beautiful car, a beautiful job, everything, but we decided it was better to leave." She and her four children escaped on horseback 27 years ago. She hasn't been back since and says her cousins who still live there are afraid even to speak on the telephone.
"I came here with one suitcase, four children and one Torah," Rachel said. "I am Iranian, but first I am Jewish, and I am proud I am Jewish. I have everything here [in the U.S.]."
"Ahmadinejad and Khomeini, they are worse than Hitler!" Rachel added, without fear of risking overstatement. "Israel must be very strong. But Israel is going to win, I am sure. They have God on their side."
© Copyright IBTimes 2023. All rights reserved.