If Scotland Votes No, New Promised Powers Will Have To Be Wrestled From Angry Conservative MPs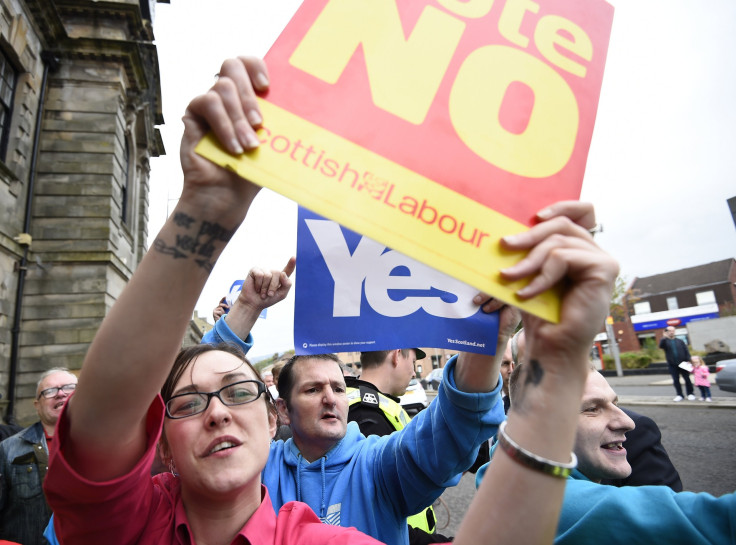 If Scotland votes for independence in Thursday's referendum, the world will see the peaceful birth of its newest country. But what if Scotland decides to vote No, as polls suggest it might just do?
The first thing that may happen is a phone call to U.K. Prime Minister David Cameron from the independence campaign leader and Scottish First Minister Alex Salmond, conceding defeat. But rather than the U.K. reverting back to the status quo, the two sides will likely enter into negotiations about what new powers, if any, Scotland might get.
Those negotiations will depend on a number of factors, chiefly the margin of victory for the No campaign.
Salmond has already stated that if the Yes vote exceeds 45 percent he will ask for even more than the "devolution plus" deal, which is the name of the package that the three main parties in the U.K., Labour, the Conservatives and the Liberal Democrats, offered Scotland in the event of a No vote. That involves transferring significant tax-raising and welfare powers from Westminster.
Should Salmond get more than 45 percent, he wants what's known as "devolution max," which would leave Westminster controlling only defense, foreign affairs and possibly taxes such as VAT, levied on purchases, and national health insurance. He will demand to keep corporate taxes, air passenger duties, total control over income taxes, and more welfare powers. Anything under that 45 percent threshold, and his negotiating position will be lessened considerably, ensuring that "devolution max" will be off the table and the "devolution plus" offer may be far weaker. Should the Yes vote come in below 35 percent, which seems unlikely given recent polls pegging it at 48 percent, Salmond would be forced to consider his own position as the First Minister of Scotland.
The contentious part is, how strong will those devolved powers be?
Because the three main parties have yet to decide on any solid plan with exact details, that is still uncertain. As things stand, devolution plus would lead to an extra 13 billion ($20 billion) being pumped into Scotland, with the first reforms being approved as quickly as next week and full reform by Jan. 30, 2015.
However, those devolved powers would make Scotland the most powerful nation of the four-country union, angering U.K. politicians in Westminster who have already said that they will not vote to give Scotland more. Some also said that Scotland's current spending needs to be curbed, with one Conservative MP saying there would be a "bloodbath" if it didn't. The implication of a No vote, however, is that Scotland's current allocation of 1,300 pounds ($2,000) per head per year would in fact be increased.
Interestingly, Salmond wanted to offer the people of Scotland either full independence, devolution max or an all-out no vote, but the U.K. government rejected the "devolution max" option, instead opting for a simple yes or no on independence. The new offer of "devo max" has come after the polls narrowed significantly over the last two years. After support for independence hovered at around 30 percent for years, the tide began to turn in early August; the no campaign enjoyed a comfortable 22 percentage point lead, but within three weeks the polls had begun to converge. For the first time, it looked as if the UK may well be split -- and the new powers were offered.
Up until now rebellious Conservative backbenchers have been asked to keep their anger out of the media, in an attempt to avoid angering Scottish voters; in Scotland, the party has only one Member of Parliament and has been deeply unpopular since the days of Margaret Thatcher.

It's yet to be seen if the conservative uproar about extra powers for Scotland will prompt voters to choose independence, or if they have enough faith in the promise to opt for Yes. What is certain is that, yes or no, Scotland's union with England will never be the same.
© Copyright IBTimes 2022. All rights reserved.
FOLLOW MORE IBT NEWS ON THE BELOW CHANNELS