Illegal Immigrant Identification Card: New York City Vows New Immigration Policy Will Fight Fraud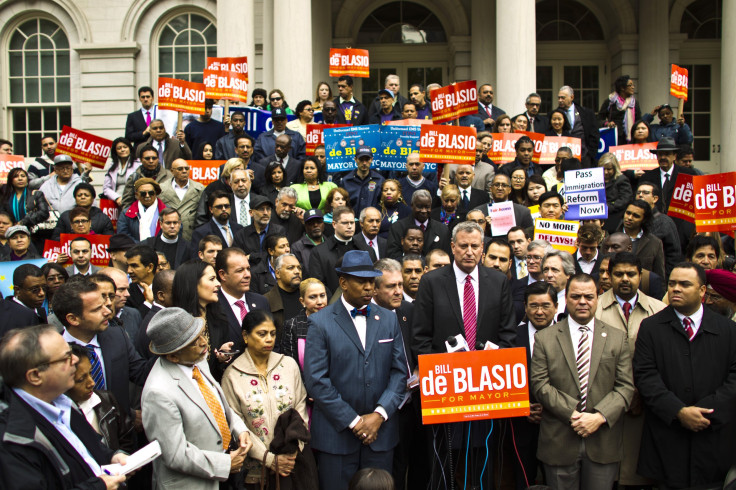 Illegal immigrants living in the most populous city in the United States will soon be able to obtain identification cards needed to access government services and other benefits. New York City Mayor Bill de Blasio announced the criteria for the municipal ID card Friday while reassuring the public that the program would protect against identification fraud.
"A great deal of analysis and care went into ensuring our IDNYC card is strong on privacy and security, while providing access to as many people as possible," said de Blasio said in a press release. "We want New Yorkers to feel proud to carry this card in their wallet, but also to feel confident knowing that their information is safe and secure."
The identification cards will be available starting in January 2015. Nisha Agarwal, the city's commissioner of immigrant affairs, said City Hall sought feedback from advocates, focus groups, residents and immigrants while designing the card system. "We are going to continue to develop the program, working with businesses and our community partners to make new benefits available to cardholders as the program grows," Agarwal said. "Today's announcement underscores our commitment to delivering to New Yorkers the best possible and most robust municipal ID card program in the country."
De Blasio announced in July that the city would give photo identification cards to illegal immigrants. The program will remain free through Dec. 31, 2015. The cards expire after five years and the minimum age to apply is 14 years old. Conservatives have slammed the mayor for giving free "perks" to illegal immigrants.
To prevent fraud, applicants must present proof of identity, including foreign passports and birth certificates, and New York City residency. The cards will be printed on polycarbonate card stock and will include an embedded hologram, the applicant's signature and a secondary, black and white "ghost" photo of the applicant.
Government officials hope they will soon be able to keep better track of who lives in New York City under the ID program. Roughly half of all New York City residents over the age of 16 don't have state driver's licenses.
New York City is home to more than 500,000 immigrants without legal status.
© Copyright IBTimes 2023. All rights reserved.