Bill De Blasio On Eric Garner Death: 'I Saw A Man Die Who Didn't Have To Die'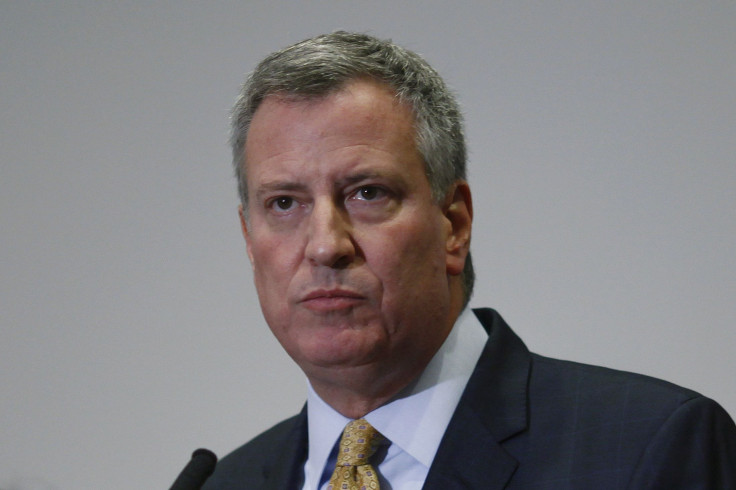 Reforming the New York Police Department by training officers to engage in community policing and stopping the number of young black men who get stopped and frisked will reduce the chances of another death like Eric Garner's, New York City Mayor Bill de Blasio said in a Thursday-morning radio interview. The mayor declined to comment on whether Officer Daniel Pantaleo, who put Garner in a fatal chokehold, and other cops on the scene should have been indicted in the incident, but said the U.S. Justice Department and the NYPD may bring their own charges against the officers.
"I watched a video of a human being and I saw a man die who didn't have to die and I saw a man cry out for his life in a way that went horribly wrong and can't happen again," de Blasio told Hot 97's "Ebro in the Morning with Laura & Rosenberg." He prefaced his statement by saying he doesn't judge the outcomes of any judicial proceedings.
Community policing, a method in which officers walk the beat and get to know the people they serve, is one of the top priorities of New York City Police Commissioner Bill Bratton, de Blasio said. Officers will also now be trained to explain why they show up at a scene and try to call for backup when necessary and deescalate tensions.
De Blasio said he is trying to cut down the number of so-called stop and frisks, which are overwhelmingly conducted against black men and are seen as racial profiling and discriminatory. There were 700,000 stop and frisks in the city three years ago, and New York is on pace for under 50,000 by the end of the year, the mayor said.
The mayor said the policies will help ensure that a death like Garner's won't happen again in the city. "I never will bring back the person Eric Garner and it's a tragedy, but it does mean if we say to our officers, 'You're only going to succeed with our community,' … we're going to have a police force that lives out that notion of respect," he said.
The return of a "No True Bill" in the Garner case on Wednesday sparked protests in the city, and de Blasio called the Garner death "a national moment of pain." In a well-received speech, the mayor said he thought of what it would be like to lose his half-black son, Dante, when trying to comfort the Garner family.
De Blasio said the protesters were in pain and were seeking change. He said the solution goes deeper than just improving police-community relations. The economic divide in the city also comes out in police issues, and giving New Yorkers better opportunities will also make a difference, the mayor said.
"Our job is to actually address the root cause," he said.
© Copyright IBTimes 2023. All rights reserved.