Images Show Chinese Airstrip On Man-Made Spratly Island Nearly Finished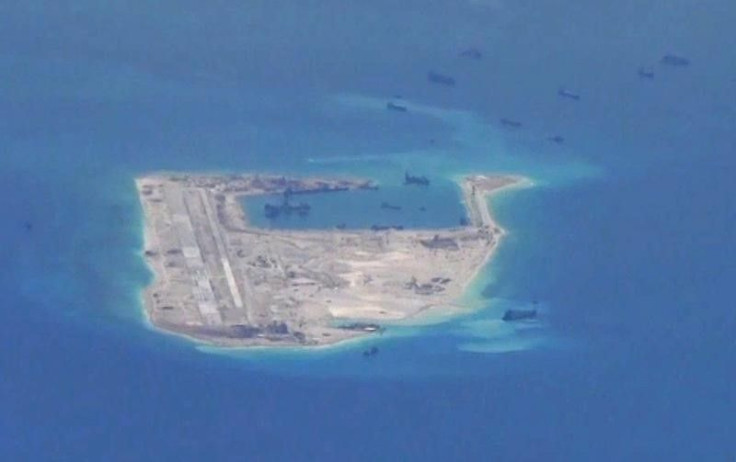 China said on Tuesday some of its land reclamation in the Spratlys, where it's building seven islands on top of coral reefs, had been completed, although it gave few details.
The latest photographs were taken by satellite imagery firm DigitalGlobe and published by the Asia Maritime Transparency Initiative (AMTI) at the Center for Strategic and International Studies in Washington. (amti.csis.org/)
AMTI said the airstrip was being paved and marked, while an apron and taxiway had been added adjacent to the runway.
Two helipads, up to 10 satellite communications antennas and one possible radar tower were visible on Fiery Cross Reef, it said. The images also showed a Chinese naval vessel moored in a port.
Recent images of Chinese-occupied South Johnson Reef also showed a large multi-level military facility in the center of the reef with two possible radar towers under construction, AMTI added. Two helipads and up to three satellite communications antennas were also visible, it said.
China claims most of the South China Sea, through which $5 trillion in ship-borne trade passes every year. The Philippines, Vietnam, Malaysia, Brunei and Taiwan also have overlapping claims.
China stepped up its creation of artificial islands last year, alarming several countries in Asia and drawing criticism from Washington. Beijing says the outposts will have undefined military purposes, as well as help with maritime search and rescue, disaster relief and navigation.
On Tuesday, the Foreign Ministry did not specify where land reclamation had been completed in the Spratlys. Recent images indicate there is still much reclamation continuing at Mischief Reef and Subi Reef.
The U.S. State Department's number two diplomat last Friday compared China's behavior in pursuit of territory in the South China Sea to that of Russia in eastern Ukraine.
A day later, Chinese Foreign Minister Wang Yi said changing position on China's claims to the South China Sea would shame the country's ancestors, while not facing up to infringements of Chinese sovereignty there would shame its children
© Copyright IBTimes 2023. All rights reserved.