IMF Chief Christine Lagarde Warns Of Mediocre Economic Growth In Emerging Markets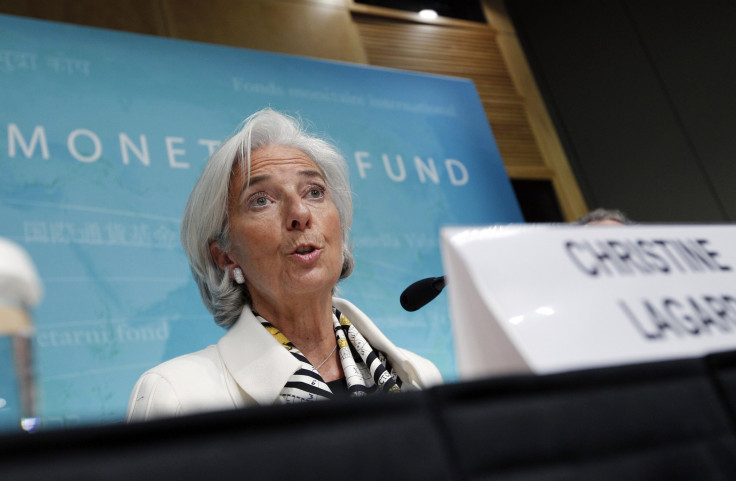 The head of the International Monetary Fund is warning leaders of emerging-market nations to avoid complacency in the face of what could be a sustained economic slowdown. "Six months ago, I warned about the risk of a 'new mediocre' -- low growth for a long time," IMF Managing Director Christine Lagarde said in a speech Thursday at the Atlantic Council.
"Today we must prevent that new mediocre from becoming the 'new reality,'" Lagarde said. "The bottom line is that risks to global financial stability are rising. The 'new mediocre' growth environment is not a comfortable place with respect to financial stability."
Global economic growth was 3.4 percent last year, which she pointed out is about the average for the past 30 years. But this isn't the problem, she said: "It is rather that, given the lingering impact of the Great Recession on people -- including 50 percent youth unemployment in some countries -- growth is just not good enough."
Advanced economies are finally pulling out of a slump, and even the eurozone is improving slightly. Part of this is due to the European Central Bank's trillion-euro quantitative easing program announced in January. But the outlook for emerging and developing economies isn't as bright.
"Forecasts for most emerging and developing economies are slightly worse than last year," Lagarde said, noting that low commodity prices are one of the primary causes.
To move forward, she recommended a combination of structural reforms at the country level to improve productivity, labor force participation, trade policy, and financial policies that will boost investment. She also suggested that developing countries push for greater influence in global economic institutions, in order to reflect their growing importance in recovering the world's economy.
"Here, 2015 presents a special moment," she said, adding that it offers "an opportunity to make a tangible difference in the lives of a large number of people in the world -- especially the poorest people."
© Copyright IBTimes 2023. All rights reserved.