IMF Likely To Trim 2016 Global Growth Forecast As Headwinds Persist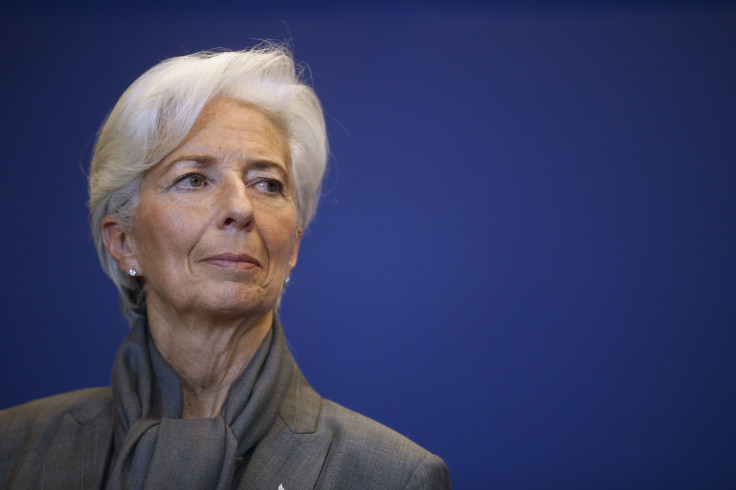 Global economic growth remains "too slow, too fragile, and risks to its durability are increasing," International Monetary Fund chief Christine Lagarde said last week during a lecture in Frankfurt. On Tuesday, when the IMF releases its latest World Economic Outlook report, it is expected to further slash forecast for global growth and sound fresh alarm over the state of the world's economies.
"Given comments from Christine Lagarde recently, a downgrade to the IMF's world growth forecasts looks to be on the cards," Ryan Djajasaputra, an economist at the London-based Investec bank, told the Guardian.
In January, the IMF forecast a "gradual" global growth of 3.4 percent for 2016, citing the slowdown in emerging economies, including China, and falling commodity prices that have these nations' exports, as a cause for concern. Since then, however, the downside risks to global economic growth have considerably attenuated — helped by the European Central Bank ramping up stimulus and the U.S. Federal Reserve moderating expectations of future rate hikes.
On the flip side, though, economic and political risks stemming from the spread of global terrorism and the burgeoning refugee crisis will continue to feed the "uncertainty and fear" about the state of global economy, Lagarde said.
"Financial spillovers from emerging market economies are likely to have risen as the channels of transmission have strengthened, magnifying the reverberation of economic shocks and financial friction," the IMF said, in an analysis published last week.
IMF is far from the only global lender envisaging a gloomy year for economic growth. Earlier this year, the World Bank issued a "perfect storm" warning for 2016, and slashed its growth estimate to 2.9 percent from an earlier 3.3 percent.
On Monday, the bank said that in the fiscal year 2016, it is on track to lend as much as $25 billion to middle-income countries — which are reeling under a precipitous drop in commodity prices and exports — through its main lending arm, the International Bank for Reconstruction and Development.
© Copyright IBTimes 2023. All rights reserved.