Immigration Reform 2015: Can Pope Francis' US Visit Shift Debate On Immigrants?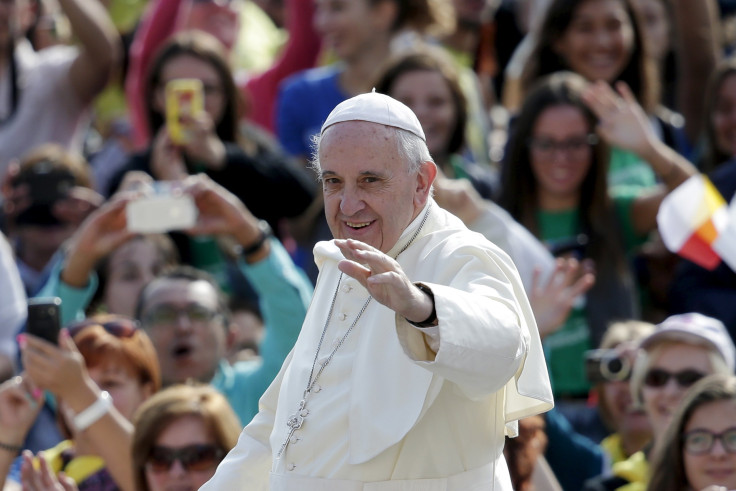 Gustavo Torres remembers the rush of hope he felt in the summer of 2013 when Pope Francis, then a newly minted pontiff, began speaking out against a "globalization of indifference" for the plight of Middle Eastern and African refugees desperately trying to reach European shores. For Torres, a Colombian-born immigrant living in the U.S., the pope's words struck a potent chord.
"That was a very big indication that he was on our side," he said.
Pope Francis this week is traveling for the first time in the United States, where he is widely expected to make remarks about immigration in an address to Congress Thursday. Torres, executive director of Casa de Maryland, an advocacy group for low-income immigrant communities, is part of a large contingent of activists who are pouring their hopes into the pope's visit to kick off a kinder, gentler conversation about immigration reform in the United States.
Immigration advocates say that toxic rhetoric from Republican presidential candidates and other politicians this year has fostered political gridlock and a climate of fear surrounding undocumented immigrants in the U.S. But the advocates are hoping that Pope Francis, who has frequently spoken about the need to welcome and protect migrants and refugees, will be able to convince U.S. lawmakers and the wider public to take on a more compassionate stance toward immigrants in the country. There are few expectations that the pope will lobby for specific policies or change staunch anti-immigration views, but activists say the pope's message of acceptance of immigrants could help more-moderate policymakers renew a push for comprehensive reform legislation.
"[The pope] can remind us all of what our humanity calls us to do, versus what our short-term political aspirations compel just a few to do, which is continue to spew hate and division, and turn away from real human solutions," Angelica Salas, executive director of nonprofit advocacy group Coalition for Humane Immigrant Rights of Los Angeles, said.
Pope Francis is scheduled to address Congress in Washington Thursday and later visit New York and Philadelphia during his six-day U.S. visit. Immigration is expected to be a central theme of the trip. The pope is scheduled to give a special blessing to a group of undocumented immigrants and refugees in New York during his stop there Friday, highlighting an issue that has been roiling U.S. politics in the run-up to the 2016 presidential election.
The pope has been known for his progressive stance on a number of issues, speaking out on the need to address climate change, combat global poverty and secure equal pay for women. But he has been particularly vocal in urging compassion for those fleeing violence and danger in their home countries.
"A change of attitude toward migrants and refugees is needed on the part of everyone, moving away from attitudes of defensiveness and fear, indifference and marginalization," he said in his 2014 message marking the International Day of Migrants and Refugees. He recently urged religious institutions throughout Europe to shelter refugees that have been streaming in from the Middle East and Africa, prompting a swath of faith-based organizations to start opening their doors to asylum seekers.
His remarks on migrants have also made waves in the U.S., a year after it began grappling with record numbers of Central American children and families arriving at the southern border, fleeing soaring rates of violence and rampant poverty in Honduras, El Salvador and Guatemala. President Barack Obama's administration has come under fire in recent months for keeping mothers and children caught illegally crossing the border in family detention centers while they await deportation hearings. Former detainees and immigration advocates have blasted conditions in the facilities as inhumane, and a federal judge declared the practice illegal in July, but the government has not yet released all the families.
Roughly 72 percent of Americans support allowing the estimated 11 million undocumented immigrants living in the U.S. to stay in the country legally if they meet certain legal requirements, according to a May survey by the Pew Research Center, a Washington-based research group. But a host of legal battles and fiery remarks about immigration have left legislative reform stalled in Congress.
The federal government is continuing a protracted legal battle over Obama's executive action aiming to provide work permits and temporary deportation relief for millions of immigrants living illegally in the U.S. The murder of a woman by an undocumented immigrant in San Francisco in July also prompted lawmakers to challenge so-called sanctuary city policies originally designed to include and welcome undocumented immigrants in communities they live in. And Republican presidential candidate and businessman Donald Trump, who is currently leading in polls of GOP presidential hopefuls, stoked nationwide controversy by saying many Mexican immigrants were drug dealers and rapists, and pledging to deport all 11 million immigrants living illegally in the U.S. in the span of just two years.
"What I hear from Trump is fear. What I hear from Pope Francis is overwhelmingly compassion and justice, and I think we in this country desperately need that," said Peter Pedemonti, director of the New Sanctuary Movement of Philadelphia, a coalition of faith-based organizations in the area advocating for immigration reform. The New Sanctuary Movement emerged as a nationwide campaign last year as churches around the country began offering sanctuary to some immigrants facing imminent deportation and separation from their families.
Pedemonti said he hoped the pope's remarks would highlight problems in the U.S.' immigration enforcement system, which has resulted in more than 2 million deportations since Obama first came into office, and mobilize support for initiatives like providing driver's licenses for undocumented immigrants. "What we're hoping is that [Pope Francis'] broad message of love and mercy and justice can also be put into issues that are actually on the ground," he said.
Pope Francis was born in Argentina and is the world's first Latino pontiff, which has resonated with Latino communities in the United States who have been at the forefront of immigration advocacy and make up around one-third of the U.S. Catholic population. The Vatican announced he would be delivering 14 of his addresses in the U.S. in Spanish, and the remaining four in English.
"You cannot imagine how proud we feel as Latinos," said Casa de Maryland's Torres, who planned to be at the White House during Pope Francis' visit there Wednesday. "We have a pope who is not only Latino but is very progressive in his ideas, who has spoken on the importance of women's rights, immigration rights, protecting the environment. It creates a huge pride in our community."
Pope Francis' previous criticisms of global income inequality have also invigorated other advocates looking for larger solutions to the migrant crisis in the United States. "We're hoping the pope can elevate the intersection of economic policies and injustice, and how they apply to immigration," said Jean Stokan, director of the Justice Team for the Sisters of Mercy, an international Catholic organization that has worked closely with Central American refugees.
It will be up to immigration advocates themselves to build whatever Pope Francis says during his visit into momentum for policy changes, but a message of compassion for migrants would be vital, Stokan said. "He's going to help us, I hope, to reflect on what's fundamental: Where are our values, and what vision guides our people?" she said. "We hope it will wake people up the moment the pope speaks."
© Copyright IBTimes 2023. All rights reserved.