Immigration Reform 2015: Church Sanctuary Movement Steps Up To Shield Immigrants Facing Deportation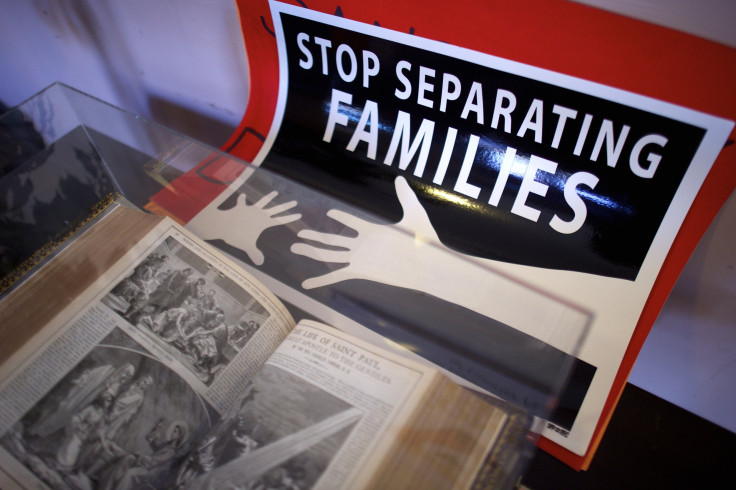 When Rosa Robles Loreto, an undocumented immigrant from Mexico, first took sanctuary at a church in Tucson, Arizona, to avoid being deported, she anticipated her ordeal would be over in a week, or maybe a month.
It didn't quite pan out that way. "I never would have foreseen it would be a year," she said this week. "I can't believe this is still going on."
Robles Loreto, 42, has been living in the Southside Presbyterian Church in Tucson since Aug. 7, 2014, after receiving a final order of deportation from immigration authorities. It was a last-ditch move to avoid being torn away from her family, a husband and two young sons who are also undocumented but consider the U.S. their home.
Southside Presbyterian Church's embrace of Robles Loreto and other immigrants facing imminent deportation has helped set off a nationwide revival of a church-led movement from the 1980s aimed at shielding immigrants from deportation. With comprehensive immigration reform stalled in Congress, church sanctuary has increasingly emerged as a viable last-resort option for some immigrants desperate to remain with their families and communities in the U.S. Immigration agents typically will not apprehend undocumented immigrants in places like churches or public schools, so those in sanctuary have some protection from deportation, even if they don't have legal documentation to stay in the country. Churches in Colorado, Pennsylvania, Texas and Oregon have recently provided refuge to would-be deportees, and there are dozens more that are willing to let immigrants take shelter within their walls to avoid deportation and try to secure some kind of legal relief.
Church leaders said they have joined the sanctuary movement as a means of living out their faith by protecting vulnerable immigrants in their communities. Many faith-based organizations provide ongoing support for immigrants facing deportation, helping them get access to legal counsel and other resources. But after some immigrants have exhausted all legal avenues toward relief, sanctuary remains the final option for protection while they continue to fight for a temporary legal reprieve from deportation.
The sanctuary movement first emerged in the 1980s, when churches across the country began sheltering refugees who had fled civil wars in El Salvador and Guatemala and were facing deportation from the United States. Southside Presbyterian Church was at the forefront of that campaign, and spearheaded its revival last year when it offered sanctuary to Robles Loreto and other immigrants in similar situations.
Robles Loreto wound up in the deportation net after being pulled over for a minor traffic infraction in 2010. She was ordered deported in July 2014 after exhausting all her legal options. Immigration officials in Arizona have said that Robles Loreto is a low enforcement priority, in accordance with a set of 2011 memos from the federal government advising agents to focus on deporting serious criminals and repeat offenders. But she hasn't received any formal protection from deportation.
Robles Loreto has lived in Tucson since 1999, save for three years when she returned to Mexico to give birth to her sons. She has a clean criminal record, and she and her husband both worked to support their children and are active members of their community.
Her church sanctuary case is not the first to have cropped up in the last year, but so far it's been the longest lasting one. Daniel Neyoy Ruiz, an undocumented immigrant father of two, took up refuge at Southside just a few months before Robles Loreto, and secured a stay of deportation three weeks later. At least eight others have since gone into sanctuary in churches around the country, and most of them have been able to get some form of temporary relief after a few weeks or months.
"We've always been aware that my case would be more difficult. I don't have any children or parents who are U.S. citizens that can fight for me," Robles Loreto said. In the meantime, she sees her sons on weekends when they are able to visit, and still cooks dinner for her husband to bring home on weekdays.
It hasn't been easy, she said. "We've had to learn tolerance and patience for each other, because it's very difficult for children to have to wait to see their mother," she said. "It's made us come to the church for strength as a family."
The Rev. Alison Harrington, the church's pastor, said offering sanctuary was a way to advocate for the federal government to abide by its own enforcement priorities, in addition to keeping families together. "When we started, we were very hopeful and kind of bright-eyed with the idea of sanctuary as an effective strategy for stopping deportation," she said. "We remain hopeful, but it's a kind of hope born from heartache and struggle."
The First Unitarian Universalist Church of Austin joined the sanctuary movement in June when it offered sanctuary to Sulma Catarina Franco Chamale, a lesbian immigrant and activist from Guatemala who said she would face life-threatening danger if forced to return to her home country. The church stepped up to her aid in keeping with its long tradition of inclusion and advocacy for lesbian, gay, bisexual and transgender communities, said Chris Jimmerson, an assistant minister at the First Unitarian Universalist Church.
"We are very LGBT accepting, so that seemed like something we ought to do," he said, noting the church had three gay ordained ministers, including himself. "This tradition of providing sanctuary goes all the way back to the Hebrew Bible, and a big part of it is about working for justice for the individual person that's living within the church community," he said.
Another sanctuary case cropped up just last week in Lilburn, a town near Atlanta, Georgia. Claudia Mariela Jurado, a pregnant immigrant from El Salvador with an outstanding deportation order, reportedly moved into a space in the Our Lady of the Americas Catholic Mission to avoid returning to her country, where murder rates have soared to global heights in recent months.
Church leaders said they had received strong support from their communities and other churches since they started offering sanctuary. "Among members of our congregation themselves, they really feel like they're living out their faith, so it's been very energizing for them," Jimmerson said.
The high-profile battles and fiery arguments over immigration reform over the past year have only added to immigration activists' frustrations. Comprehensive immigration reform remains stalled in Congress. President Barack Obama's attempts to extend deportation relief for undocumented parents of U.S. citizens were blocked by a multistate lawsuit that is still playing out in a federal court. Meanwhile, the heated rhetoric and partisan battles over immigration reform are set to escalate even more as the U.S. slouches toward the 2016 presidential election.
"It's a very discouraging time in terms of the political landscape," Harrington said.
Still, Rosa remains hopeful that she will get some form of relief from deportation soon, despite the long wait. "We are nervous, and we are sad that it's been a year. But we are also optimists," she said. "I have hope in God and I have faith."
In the meantime, more faith leaders around the country considering becoming part of the sanctuary movement. And while Robles Loreto's year-long case has been difficult, Harrington said Southside Presbyterian Church will continue to play a crucial role for vulnerable immigrants.
"It's a longer road than we initially thought it would be," Harrington said. "But that's okay, because we're keeping families together, and that's the most important thing."
© Copyright IBTimes 2022. All rights reserved.
FOLLOW MORE IBT NEWS ON THE BELOW CHANNELS