Immigration Reform 2015: Undocumented Immigrants Should Be Deported Quickly, Claims New Senate Bill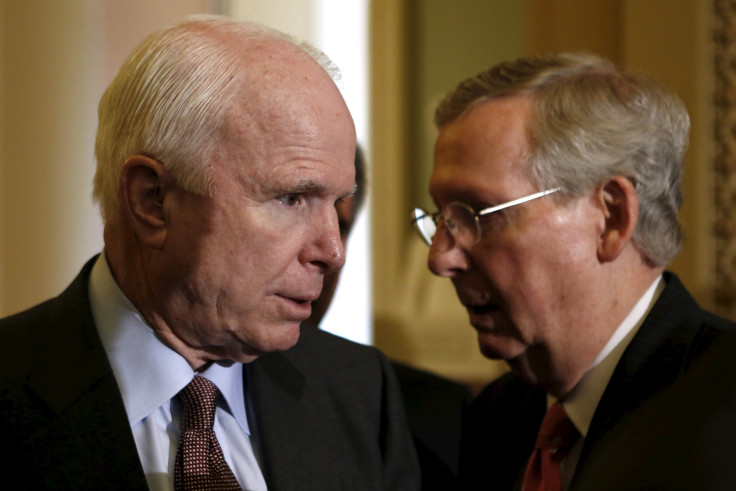 Republican Sens. John McCain and Jeff Flake of Arizona want Congress to require the Department of Homeland Security to detain and ultimately deport undocumented immigrants who have been arrested or convicted of serious crimes. The Criminal Alien Deportation Act bill comes amid a growing push in the Republican base for stricter immigration laws and enforcement, particularly targeting so-called "sanctuary cities" that have refused to implement federal immigration orders, after an undocumented immigrant with a lengthy criminal record shot and killed Kathryn Steinle, a 32-year-old woman, on a crowded San Francisco pier on July 1.
The Criminal Alien Deportation Act is meant to be a companion bill to the Stop Catch and Release Act introduced in the House earlier this month that would ban the current policy of releasing undocumented immigrants with pending criminal charges from prison. Both acts are part of efforts by Republican legislators to change the Obama administration's current immigration policy that restricts deportations.
"It is simply irresponsible to release known criminals into the public because their court hearings take years to process," said McCain and Flake in a joint statement. "In Arizona, we've seen the success of detaining and swiftly prosecuting criminal immigrants... and our bill would be an important step in extending a 'zero tolerance' approach nationwide."
Juan Francisco Lopez-Sanchez was transferred to San Francisco in March on an outstanding arrest warrant and was released three weeks later after prosecutors dropped a drug charge against him, according to the Washington Post. Rather than notify U.S. Immigration and Customs Enforcement (ICE) who planned to deport Lopez-Sanchez, the county jail released him without any contact to immigration officials, in line with the city's sanctuary policy. After Lopez-Sanchez killed Steinle, many GOP politicians and presidential contenders began using her death as an evidence of the need for stricter immigration laws. The Republican-led House Appropriations Committee voted to restrict Department of Homeland Security funding in sanctuary cities on Tuesday, according to Politico.
Secretary of Homeland Security Jeh Johnson responded to criticism of the Obama administration's immigration policy and sanctuary cities by acknowledging that federal authorities cannot control local enforcement.
"I don't believe that we should mandate the conduct of state and local law enforcement through federal legislation," said Johnson on Tuesday, reports Politico. "I believe that the most effective way to work with jurisdictions...is through a cooperative effort."
© Copyright IBTimes 2022. All rights reserved.
FOLLOW MORE IBT NEWS ON THE BELOW CHANNELS