Immigration Reform 2015: What Menendez Corruption Charges Mean For National Debate On Immigrant Rights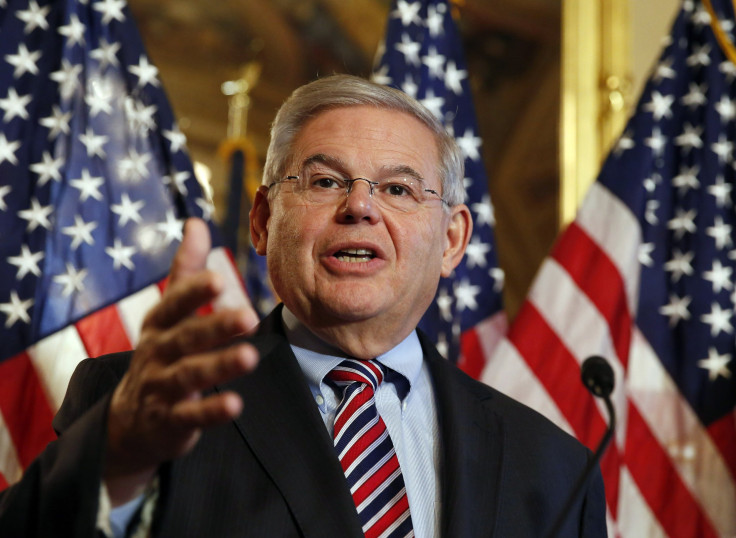 For decades, U.S. Sen. Robert Menendez, D-N.J., has been a national advocate for Latinos and immigrants, holding their hands at immigration reform rallies and pushing for legislation in Congress to expand their legal rights. But with Menendez now facing federal corruption charges, Latino groups fear that their tireless champion will have to turn his attention to his own problems, leaving them without a voice in Washington.
"He has consistently fought for an achievable path to citizenship for undocumented immigrants, for the speedy reunification of families separated by our outdated immigration system and for the immigrants to be treated fairly in immigration proceedings," said Frank Sharry, executive director of America's Voice, a pro-immigrant group, in a statement released Wednesday after the corruption charges were announced. "My fervent hope is that Sen. Menendez emerges from the current troubles stronger than ever. For he is not only the senior senator for New Jersey; he is also the senior senator for Latinos in America."
The National Council of La Raza, the nation's leading Hispanic advocacy group, also fretted about the future of the immigration reform movement without Menendez at its helm. "For millions of Latinos across the nation, Sen. Bob Menendez is more than just the senior senator from New Jersey. To the Hispanic community, Sen. Menendez has been our voice and our champion in the United States Senate," said Janet Murguia, president of the council, in a statement. "In the more than 20 years he has been in Congress, Sen. Menendez has consistently been one of the most thoughtful, constant, and eloquent advocates not only for Latinos, but for working families, consumers, and the country's interests abroad."
Menendez, who was born in the U.S. to Cuban immigrants, faces 14 counts related to public corruption and could be forced to resign if convicted. The indictment alleges that Menendez accepted nearly $1 million in gifts and campaign contributions from Florida ophthalmologist Salomon Melgen, who also was indicted, between January 2006 and January 2013 in return for using his Senate office to lobby on behalf of visa applications for Melgen's girlfriends. Menendez did not report the gifts he received from Melgen, according to the U.S. Justice Department.
Menendez pleaded not guilty Thursday in federal court and was released on his own recognizance. He has defended himself throughout the investigation. "I am not going anywhere," he said Wednesday, vowing that scandal is "not how my career will end."
Menendez is the only Latino Democrat currently in the U.S. Senate and was the first Latino to serve in the House leadership after being named chairman of the House Democratic Caucus in 2003. For years, he has attended immigration reform rallies across the nation, vowing to overhaul the immigration laws and help millions of illegal immigrants obtain legal rights. In 2012, he joined Republican and Democratic lawmakers in the so-called "Gang of 8" to introduce legislation that would have given work visas to millions of undocumented immigrants.
The senator's ability to help immigrants was already tempered by the Republican takeover in the November midterm elections, which cost him the chairmanship of the Foreign Relations Committee. His corruption scandal will likely only further weaken his role in the national immigration debate.
"Democrats are now in the minority in both houses, and he doesn't have quite the influence he had a year ago," said Ira Mehlman, spokesman for the Federation for American Immigration Reform, which opposes illegal immigration. "Congress is not going to be inclined to take up any of these measures."
In January, Menendez defended immigrant rights at a rally in New Jersey and urged House Republicans to support President Barack Obama's executive actions allowing millions of undocumented immigrants to remain in the U.S. "It's that fear that when there is a knock on the door, it's 'la migra,'" he said at the time, referring to the Spanish term for immigration agents. "We have to say no to fear, and yes to hope."
But by March, as reports of pending corruption charges spread, Menendez was skipping immigration rallies in his home state and fielding questions about the investigation from reporters.
Jose Parra, a former aide who worked for Senate Minority Leader Sen. Harry Reid, D-Nev., told NBC News that Menendez has been instrumental in helping Latinos gain a voice in Washington. "It's not just a question of whether this hurts Menendez's political career; it's also how does this hurt the Latino community's voice in the U.S. Senate," Parra said.
Menendez's loyal followers said they will wait for the scandal to pass. "We owe him a large debt of gratitude for his efforts, for his unwavering commitment, and for his courageous dedication," Murguia said. "As he has been there for us, we will be there for him."
© Copyright IBTimes 2022. All rights reserved.
FOLLOW MORE IBT NEWS ON THE BELOW CHANNELS