Immigration Reform Advocates Hope Obama Caves, But Will He?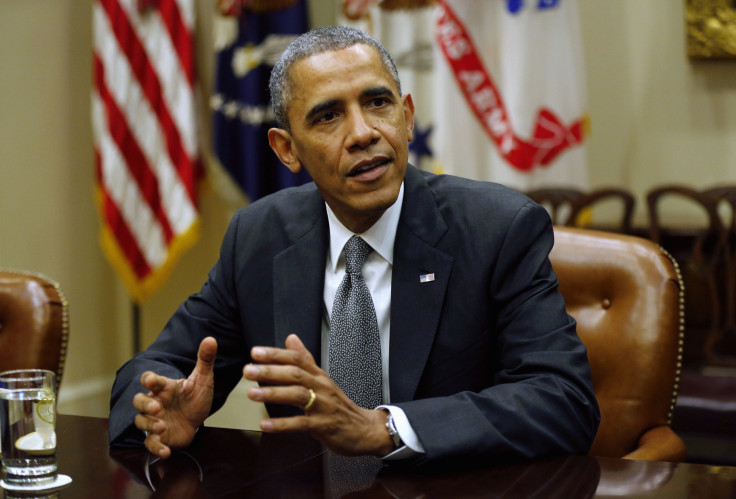 Immigration reform advocates have a nightmare: Republicans in charge of both the House of Representatives and Senate in 2015 after November's midterm elections. If that happens, the party that has resisted so far any comprehensive immigration reform would be in charge of the legislative agenda for the rest of Barack Obama's presidency.
But it could be the reality they have to deal with. Early signs indicate that the odds are against Democrats, who passed a comprehensive immigration bill in the Democratic-controlled Senate last year.
Statistician Nate Silver, who called correctly the 2012 election in every single state, is predicting a six-seat Senate gain for Republicans in the midterms, enough for a slim majority. Immigration reform advocates know the window of opportunity for a reform is closing; they say after June it's very likely their efforts will collapse. Only executive action from the president would work then. But would Obama do it?
Reform proponents are doing everything to get a permanent solution to what they say is now a humanitarian crisis, with nearly 2 million undocumented immigrants deported since Obama took office in 2009. Their latest gamble came in the form of discharge petition -- sponsored by Rep. Joe Garcia, D-Fla., and co-sponsored by almost 200 other lawmakers -- to force a vote on a bipartisan immigration reform bill in the House. It needs 218 signatures, a majority, to force any further action. And some Republicans would be needed to reach that number. If they can't make the cut by June, all eyes will turn to the president.
The White House didn't respond to request for a comment for this article. But some Democratic strategists say no one should expect Obama to accede further to the demands of those who want him to take executive action to stop deportations. The president already has asked Homeland Security Secretary Jeh Johnson to review deportation policies to find more humane solutions under the current law.
Democratic strategist James Williams said Obama could use executive action to stay deportation for certain undocumented immigrants -- something that's already being done for people brought to the country as children -- but added that "there's not much else he can do, frankly."
Still, immigration activists think the president should do something now. Lawmakers who support immigration reform say they cannot imagine starting from scratch on a new bill next year, when focus will shift to the 2016 presidential election and immigration reform will be a far less urgent topic.
"If we can't get this discharge petition, I'm going to stand should-to-shoulder with [immigration reform advocates] to say, 'Look, Mr. President, you've got to do something because clearly this isn't working,'" Garcia said during a telephone conference call with activists.
"This [discharge petition] is our final try," Garcia said. "We've got to get this through. We know that next year we're not going to get comprehensive immigration reform, so this is when we've got to do it."
House Republicans have a far different agenda, and are focused on attacking the Affordable Care Act. In the midterms, when the Republican Party's base usually turns out en masse, Obamacare could prove to be a winning issue for them.
Conservative voters tend to oppose immigration reform, especially if it gives a path to citizenship for the 11 million undocumented immigrants estimated to be in the U.S. That's actually a minority view in America, where according to a Fox News poll, 68 percent believe that people living here without legal papers should be put on a path to citizenship.
When House Speaker John Boehner, R-Ohio, announced a set of immigration reform principles in January, backing legalization but not a path to citizenship, he had to backtrack within a week when his caucus and base revolted.
"If you're in Paris, you're speaking French, right?" Williams said. "But the rest of the world doesn't just speak French. ... Likewise, all these Republican districts want to hear is that you're going to ship them back. That's why [Republican lawmakers] are ignoring the issue of immigration."
That may cost them. Williams said Democrats can use this as a weapon to run ads against vulnerable Republicans in districts that Obama won or states like Georgia, Virginia and Texas that have growing Latino populations.
Hispanic voters overwhelmingly flocked to Obama in the last two presidential elections. Still, Republican presidents have done well with the group too: George W. Bush won 44 percent of the Latino vote in 2004. A Republican candidate can get sizeable Hispanic support -- but Bush wasn't an opponent of immigration reform.
"Republicans are not going to sign the discharge petition," Williams said, "and by not doing so, Democrats will beat the hell out of them on it."
"The Republicans are completely on the defense when it comes to the issue of immigration," he added. "At some point the Republican Party is going to die if they don't actually act on making the party bigger than it currently is, which is an aging white population."
Boehner's spokesman Michael Steel said neither his boss nor the party is on the defensive.
"The speaker supports common-sense, step-by-step reforms to fix our broken immigration system," Steel said. "But, right now, the American people simply don't trust the White House to enforce the law as written. It will be difficult to make progress until that changes."
FOR FREE to continue reading
✔️ Unlock the full content of International Business Times UK for free
offer available for a limited time only
✔️ Easily manage your Newsletters subscriptions and save your favourite articles
✔️ No payment method required
Already have an account?
Log in
© Copyright IBTimes 2023. All rights reserved.