Immigration Reform Bill Suddenly Close: What Made Republicans Change Their Minds?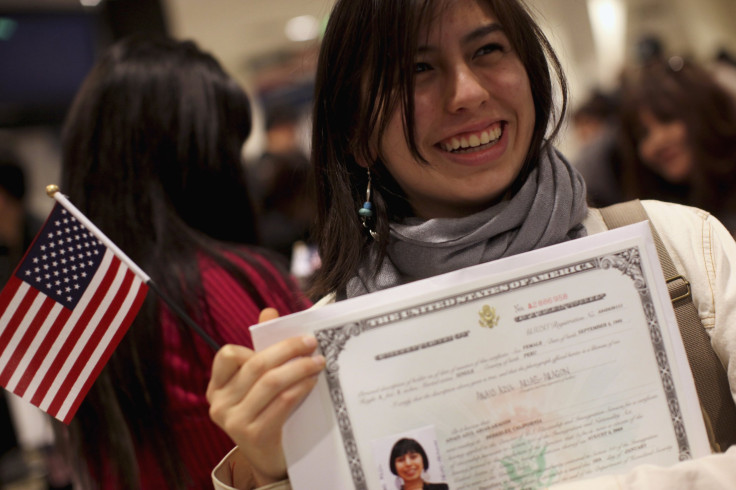 When President Barack Obama called on Congress to send him an immigration bill "in the next few months" during his 2013 State of the Union address in January, many were skeptical that it would actually happen.
By now it's a tired trope that the obstructionist tactics of Republican legislators have left Washington sclerotic, all but unable to address many of the issues facing America as Obama begins his second term in the White House.
But immigration reform is turning out to be one area of policy where action is happening, and experts on the issue say that a landmark law will likely be on the books by the end of this summer.
"People want to get this done well before the August recess, and people are talking about before July 4," David Koelsch, an attorney and law professor who runs the Immigration Law Clinic at the University of Detroit Mercy, said. "A signing ceremony on the Fourth of July looks really good, there's nice optics around that."
It's almost shocking at this point to see members of Congress from both sides of the aisle coming together to support a groundbreaking piece of important legislation.
But that's what's happening as even Tea Party-backed Republicans like Senator Rand Paul of Kentucky are coming into the fold and endorsing a path to citizenship and other pillars of what is shaping up to be the framework for comprehensive immigration reform.
There are still some differences between even the most centrist members of Congress that must be ironed out, but in most cases they are disagreements of scale and specifics, and a consensus about what to include in the bill is taking shape.
The Politics
Anyone who followed the 2012 presidential election can tell you that Republicans need to find a way to bring immigrants, and especially Latinos, into their camp if they ever want to retake the presidency.
Latinos, at 16 percent of the population as of the 2010 Census, are the fastest-growing ethnic group in the United States, and though President George W. Bush was able to attain 44 percent of the Hispanic vote just eight years earlier, Mitt Romney garnered only 27 percent of it in November.
That poor showing can be chalked up in large part to the Republican presidential primary, during which Romney and his fellow GOP candidates appeared to try and outdo each other in expressing virulent anti-immigration sentiments.
And, under pressure from the anti-immigration section of the Republican base, Romney himself offered an immigration platform that was wildly unpopular with the nation's immigrant community, as it included controversial proposals like self-deportation and making English the "official language" of the U.S.
Romney's inability to woo Latinos became a key catalyst for a shift in many Republicans' approach to immigration.
"You would not see this if it were not for the last election when Obama got 71 percent of the Hispanic vote," said Scott F. Cooper, partner and managing attorney at the Troy, Michigan, office of the Fragomen global immigration law firm. "They're not going to be able to win the White House back if they don't get the Hispanic vote."
The data shows that a key reason for that inability to attract Latinos to the GOP is the party's longstanding tradition of opposing many of the policies that would likely be included in an immigration reform measure, particularly the creation of a path to citizenship for illegal immigrants.
A survey conducted in February by the Latino Decisions public opinion firm revealed that 44 percent of Latino voters said they would be more likely to vote Republican in the future if GOP lawmakers took the lead in passing an immigration reform bill that includes a path to citizenship.
Workers, Visas, And A Letter To Obama
The politics of the immigration issue are complicated in ways that can appear to be counterintuitive.
The question of what to do about worker visas has been the focus of intense lobbying by labor groups as well as companies, two constituencies that often disagree on whether the immigrant workforce should be expanded by increasing the number of available worker visas.
Visas break down into a number of categories, with the H-1B, H-2A and H-2B being the most relevant to the immigration reform debate.
The H-1B provides a means for foreign nationals to work in the U.S. each year in highly skilled professions such as medicine, engineering and IT occupations. These visas are in extremely high demand, and just 65,000 are issued each year, meaning many thousands of professionals are denied the opportunity to come to America and work legally.
H-2A and H-2B visas, meanwhile, are issued to foreign nationals who work in less specialized fields. H-2A workers are restricted to agriculture, while H-2B visas are issued to workers in fields that require less skills than the H-1B. Much like the H-1B, the H-2B is in very high demand, and only 66,000 are issued per year.
At issue in the current debate over immigration reform is what to do about the caps on the numbers of H-1B and H-2B visas. The ceilings on the number of these types of visas that can be granted by the federal government are mandated by Congress, which will need to come to an agreement regarding how many of them will be made available annually once immigration reform is approved.
Many labor groups and unions want to limit the number of H-1B and H-2B visas in order to protect their members from potentially losing thousands of jobs to foreign workers if the gates are opened.
Some critics also argue that companies use these visas in order to hire foreign employees who are willing to accept much lower pay than their American counterparts get.
U.S. Rep. Zoe Lofgren, a California Democrat, said during a 2011 House hearing on worker visas that the U.S. Department of Labor provided her with some sobering statistics about pay rates for entry-level computer system analysts in her district.
The department determined that the average yearly wage for these skilled professionals overall was $92,000, but that the average yearly wage for entry-level computer system analysts with H-1B visas was just $52,000.
"We can't have people coming in and undercutting the American educated workforce -- that is just a problem," Lofgren said.
But executives at many companies, especially tech firms, maintain that the current maximum caps on these visas are far too low. They say the U.S. economy actually suffers because many workers who want to come to America and start viable businesses, or perform jobs that companies have a difficult time filling, are stymied by the visa caps.
In fact, just last week the CEOs of more than 100 top tech companies, including Google, Microsoft, Cisco and Facebook, co-signed and sent a letter to Obama urging him to expand the H-1B program.
"One of the biggest economic challenges facing our nation is the need for more qualified, highly skilled professionals, domestic and foreign, who can create jobs and immediately contribute to and improve our economy," the March 14 letter states, calling for an increase in the cap on visas for highly skilled workers.
Evie Jeang, managing partner of the California-based Ideal Legal Group law firm, which represents immigrant small-business owners and workers, argues that the facts are on the side of increasing the visa caps, particularly for foreign entrepreneurs.
"There is always this misconception that immigrants are stealing jobs and that's contributing to unemployment," she said. "But if you look at the statistics, immigrants are creating jobs and creating economic opportunity."
The divide between labor and business on the issue of visas has contributed to a rift between Democrats and Republicans on the topic; Democrats are more likely to support offering fewer visas, in line with their traditional labor constituencies, while Republicans are more often in favor of increasing visas, in line with their traditional big business constituencies.
But Koelsch, the Michigan attorney and law professor, sees the disagreement between the two parties on the issue of visas as fairly minor in the scope of the immigration debate.
"These are the early days of the negotiation process. Some of the key Democrats are not going along with labor on this. The last thing they want to see is someone who's typically in their camp kill the bill," he explained. "It looks like there will be more of these visas, but somewhere in the middle, not quite as many as the Republicans want, but not as few as the Democrats want."
A Path To Citizenship
One of the biggest sticking points on immigration reform legislation in the past has always been the issue of providing a path to citizenship for the millions of immigrants already in this country.
Allowing the more than 11 million people who are in the U.S. illegally to become full-fledged citizens has long been derided by Republicans as an attempt to provide "amnesty" to people who broke the law when they entered the country.
The impetus behind the Republicans' change of heart on legalizing undocumented, or "illegal," immigrants isn't just political expediency; there are fiscal implications as well, and Republicans are sensitive to that issue.
"There are economic benefits to immigration reform. Giving people a path to citizenship or legalization will require them to pay taxes," said New Jersey-based immigration attorney Andres Mejer. "They will come out of the shadows, they will buy homes, they will invest in education and move up the social ladder."
A growing number of Republicans are choosing to embrace a path to citizenship, as Rand Paul did during a speech at the United States Hispanic Chamber of Commerce on March 19.
"Prudence, compassion and thrift all point us toward the same goal: bringing these workers out of the shadows and into becoming and being taxpaying members of society," Paul said, announcing his newfound support for the policy.
Paul is the most recent high-profile Republican to publicly change his mind about the path to citizenship. He was preceded by Sen. Marco Rubio of Florida, a likely 2016 presidential candidate and a member of the "Gang of Eight," a bipartisan cadre of senators working to create an immigration reform bill that Congress can pass.
The new gospel hasn't spread to everybody in the Republican party, though.
"What you still have is kind of a hard-core restrictionist element," said Cooper, the Fragomen attorney. "There are a couple of members in the Senate, but probably more in the House, who are adamantly opposed to any kind of legalization or amnesty program."
Despite remaining opposition, a path to citizenship will likely included in any comprehensive immigration reform bill that Congress brings to the floor this year, according to Gregory Chen, director of advocacy at the American Immigration Lawyers Association.
"Since the November elections, momentum has been steadily building to get immigration reform passed this year, in a way that we haven't seen probably in the better part of a decade," Chen said. "Significantly, we're talking about legalization for the undocumented who are here -- providing a way for 11 or 12 million people to get a green card or citizenship."
The debate over how to reform America's immigration system will not end overnight. But by the time Independence Day fireworks go off over the Washington Monument this summer, don't be surprised if this hard-fought battle has finally come to a close.
© Copyright IBTimes 2023. All rights reserved.