Immigration Reform News 2013: 4 Amendments That Could Make Path To Citizenship Harder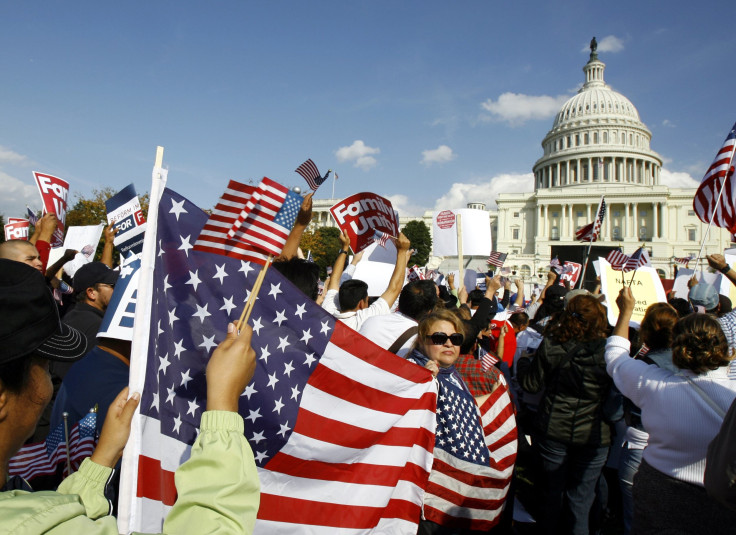 A comprehensive immigration reform bill written by the Senate's "Gang of Eight" and refined by the Judiciary Committee will face its toughest test Tuesday, when the full chamber begins offering amendments.
Democrats were able to use their 10-8 advantage in the committee last month to fight off amendments that would have dragged down the 2013 reform bill. But it will be much harder for the bipartisan group of senators to stand their ground on the floor -- even with a 54-46 Democratic advantage -- as 60 votes are needed to block a filibuster.
More than 300 amendments were considered in the Judiciary Committee alone and more than half of those voted on will head to the upper house. With dozens of senators waiting to have their say, the question now is whether the amendment process will strengthen the immigration reform bill or kill it.
Here are four likely amendments to comprehensive immigration reform:
'Poison Pill' Border Security Measures
This is looking to be the one issue that may break apart the Gang of Eight, as Sen. Marco Rubio, R-Fla., has said there will be no immigration reform without a boost in border security. If Democrats lose Rubio's support, they can all but forget about it. This legislation relies on Rubio's support, as he would help attract more conservatives to the measure.
Still, there are some "poison pill" amendments on the horizon that could make a path to citizenship almost unattainable, and Democrats won't accept that. Anything that prevents the streamlining of the 11 million undocumented immigrants currently in America would eat away not only at the core of the bill but also the very intention of it. One example is the so-called RESULTS amendment of Sen. John Cornyn, R-Texas. In case you were wondering, RESULTS is the acronym for Requiring Enforcement Security (and safety while) Upgrading Lawful Trade (and travel) Simultaneously. What this amendment does is require "100 percent situational awareness," that is, monitoring every part of the border, and an apprehension rate of at least 90 percent for illegal crossers.
"If we cannot secure the border, if we cannot take the necessary steps to earn our colleagues' trust, this will never become law," Rubio said Sunday on Univision's "Al Punto." "We're wasting our time. But I don't think it will come to that. I simply think that if we can arrive at a reasonable measure -- of course, it has to be something reasonable -- to secure the border and prevent any sort of wave of illegal immigration in the future, that we're going to have more than enough votes to be able to accomplish it."
Experts say this type of security is very difficult to achieve in places like the Tucson Sector in Arizona.
"I worry less about the possibility that it can happen and more that we're putting these political barriers rather than operation barriers," said Philip Wolgin, senior policy analyst for immigration at the liberal Center for American Progress.
Further weighing on the bill's prospects is the death of Sen. Frank Lautenberg, D-N.J., last week. For now, a Democratic vote has been lost, as his interim successor is state Attorney General Jeffrey Chiesa, a Republican. Chiesa will hold the seat until the Oct. 16 special election. Still, with the likes of New Hampshire Republican Kelly Ayotte publicly supporting the Gang of Eight bill, things are looking up.
"We're seeing senators really line up on both sides, and I think that's a good signal just in general," Wolgin said.
Back Taxes
If Sen. Orrin Hatch, R-Utah, gets his way this time around, immigrants will need to pay back taxes if they want to gain citizenship. Hatch's argument is that since they are in the country illegally and want to be citizens, they should operate in normal order. While this would bring new revenue to the federal government, opponents of this amendment say it would be very difficult to calculate taxes on money that was paid under the table.
This criticism is coming from Hatch's Republican colleague Sen. Lindsey Graham of South Carolina, who told Reuters, "I want anybody that owes back taxes to pay them. But when you are talking about a system where a lot of people got paid under the table with cash, it could be problematic."
Tougher Education Requirement For DREAMers
The DREAM Act would allow those brought to America as minors achieve legal status if they attend college or serve in the military. However, Sen. Joe Manchin, D-W.Va., wants to toughen those educational requirements; he wants to make graduating college a must before DREAMers can be put on the swift five-year path to permanent status. If they don't graduate, the youngsters will have to resort to the same 10-year wait other immigrants face.
"If you're asking to accelerate the process, then you have to make a commitment and complete something," Manchin told the Los Angeles Times.
Limiting Immigrants' Access To Guns
Gun control legislation may have failed to pass in April, but the debate isn't over. Sen. Richard Blumenthal, D-Conn., is thinking of reviving the debate by way of immigration reform. Among the amendments he is reportedly considering are preventing visitors and undocumented immigrants from buying guns.
Blumenthal, whose state was the scene of the gruesome Sandy Hook Elementary School mass murder in December, told Talking Points Memo he and colleagues are in discussions and will "make a decision within the next few days. I'm hoping to raise this issue and the amendments, but the priority is to pass an immigration reform bill. So I don't want to put that objective in jeopardy."
FOR FREE to continue reading
✔️ Unlock the full content of International Business Times UK for free
offer available for a limited time only
✔️ Easily manage your Newsletters subscriptions and save your favourite articles
✔️ No payment method required
Already have an account?
Log in
© Copyright IBTimes 2023. All rights reserved.