India 2014 Election: Will Third-Party Candidate Arvind Kejriwal Siphon Key Votes Away From BJP And Narendra Modi?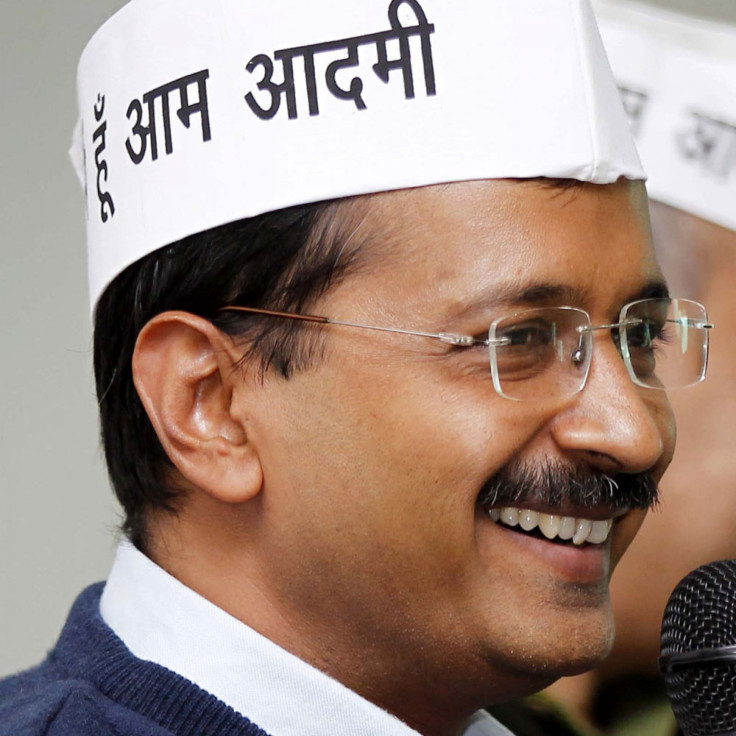 India's election campaign took a decidedly intriguing turn Wednesday when two top political figures took potshots at each other ahead of next month's polls in the world's largest democracy. One day after Arvind Kejriwal, the maverick leader of the anti-corruption Aam Aadmi Party -- and briefly, chief minister of Delhi -- announced that he will contest a parliamentary seat in Varanasi, Uttar Pradesh, against Narendra Modi, the prime ministerial candidate for the right-wing Bharatiya Janata Party, Modi accused Kejriwal of serving the interests of India's archenemy, Pakistan.
India Today reported that during a public appearance in Jammu and Kashmir state (the northern territory that India and Pakistan have long fought over), Modi quipped that Pakistan admires three "AKs" – the AK-47 assault rifle; AK-49 (a play on words referring to Kejriwal's initials and his 49-day term as Delhi chief minister); and A.K. Antony, India's incumbent defense minister. With respect to Kejriwal, Modi was referring to the fact that the AAP website's donations page featured a map of India that showed parts of Indian-controlled Kashmir as belonging to Pakistan (an error that has since been fixed).
But to Modi, that gaffe was tantamount to treason. Speaking at a rally in the town of Hiranagar in Kathua district, he accused Kejriwal and his aides of operating as "agents" of Pakistan. "AK 49 -- he has just spawned a party and on his party's official website he has given away Jammu and Kashmir to Pakistan. One of his associates says there should be a referendum in Kashmir. They are speaking Pakistan's language," Modi declared.
In a broader context, if AAP is able to siphon votes from the favored BJP in the April elections, Modi's mandate to govern could be weakened, forcing him to form broad coalitions that could dilute his hawkish views on China and Pakistan and compromise some of his domestic policy proposals. Two of the BJP's principal economic positions comprise welcoming more foreign direct investment in defense industries and a postponement in allowing foreign retailers, like Wal-Mart (NYSE:WMT) and Tesco to enter Indian markets. (That latter measure would shore up support among India's tens of millions of small traders, who form a key part of the BJP constituency). The BJP also seeks to introduce a general sales tax and revamp the financial sector, as part of an ambitious program to create 250 million jobs over the next 10 years. But if the AAP is able to eat away at BJP seats in parliament, some portions of these policies might have to be modified.
"Kejirwal is a very dangerous political opponent for Modi," said Dr. Michael Kugelman, an expert on South Asian affairs at the Woodrow Wilson International Center for Scholars in Washington. "Modi has hoped to capitalize on Indian voter anger toward the current [Congress] government, and he has pitched himself as a clean, credible figure who can improve India's economy and bring the country out of its recent doldrums. But Kejriwal sings a similar tune -- and his message has struck a decidedly populist tone that the message of Modi (with his pro-business emphasis) does not. Though Kejriwal's following remains tiny compared to Modi's, Modi and the BJP certainly fear that Kejriwal could take potential votes away from the BJP."
Kugelman added that since the BJP will need to cobble together a coalition (assuming they win), certain strident policies will have to be watered down to avoid upsetting one or more of the coalition partners. "Ultimately, though, it depends on who the coalition partners are," Kugelman said. "My sense, though, is that the most affected policies in such contexts tend to be those that are domestic-focused. The BJP would have more freedom of maneuver when it comes to foreign policies."
Kugelman also commented that what is particularly striking about this new feud is the insult Modi reportedly used – "agent" for Pakistan, something that could cast a shadow over future relations. "This certainly won't assuage the fears of many that a Prime Minister Modi would bode ill for India's relations with Islamabad," he added.
In response to Modi's jibes, Kejriwal tweeted, "Did [Modi] call me an agent of Pakistan and AK 49? It does not behoove a man who aspires to be PM to talk this way." He has also challenged Modi to a debate. However, by contesting for a seat in the Hindu holy city of Varanasi, a BJP stronghold, Kejriwal may simply be making a symbolic statement against the two mainstream parties (BJP and Congress), both of which he has condemned as corrupt. (He, in fact, abruptly quit as Delhi chief minister after he accused the local BJP and Congress political machines of blocking his plan to install an ombudsman, as part of his anti-corruption campaign).
In an opinion piece on Al Jazeera, Indian author Mukul Kesavan suggested that if Kejriwal performs poorly in Varanasi (against a field of other candidates, not just the BJP), "the AAP's credibility as an insurgent political alternative to mainstream parties would be seriously damaged." But in the unlikely event Kejriwal wins, it will burnish his image as a risk-taking, anti-establishment maverick (after all, he defeated the incumbent and powerful Congress chief minister of Delhi, Sheila Dikshit). In addition, given that Varanasi is the holiest site for Hindu pilgrims, a victory over the Hindu nationalist Modi there could further erode the BJP leader's hopes of becoming the global voice for Hinduism. Moreover, since Modi has taken the time to explicitly attack and insulted Kejriwal it would suggest that the BJP takes the AAP quite seriously and fears how much support they could lose to the upstart party.
Although the political systems in India and the United States are vastly different, Kejriwal may be hoping to achieve the kind of performance that the third-party candidate, Alabama Gov. George Wallace, delivered in the 1968 American elections. Wallace, a strident segregationist, picked up an impressive 13.5 percent of the national vote and carried the entire Deep South -- likely taking votes away from Republican Richard Nixon, who won the election by a mere 500,000 votes over Democrat Hubert Humphrey. Nixon and the Republicans answered the challenge from Wallace by adopting a more hard-right stance on racial issues like school busing and affirmative action in subsequent years.
© Copyright IBTimes 2023. All rights reserved.