India 2014 Elections: Narendra Modi, Israel's Best Friend In South Asia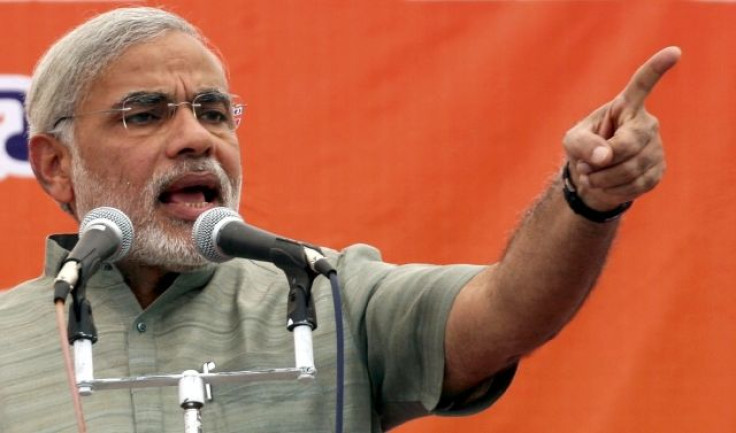 Narendra Modi, the right-wing, pro-Hindu nationalist Indian politician and chief of the conservative Bharatiya Janata Party (BJP), and the man who polls suggest will become the next prime minister of the world's most populous democracy, has long courted political and trade links with the state of Israel. Modi's ties to Israel, which BJP officials strongly endorse, has turned into a financial bonanza for the western Indian province of Gujarat, where he has served as chief minister for the past 13 years.
One of the wealthiest and most industrialized states in India, Gujarat serves as a kind of crown jewel of Modi's campaign, which calls for a resurgence of the nation's overall moribund economy.
Under Modi's leadership and encouragement, Israel has poured billions of dollars of investment into Gujarat. Officials from both Gujarat and Israel have visited each other over the past few years to deepen trade and economic links. Ongoing mutual endeavors include projects in industrial research and development, solar and thermal power, pharmaceuticals, infrastructure, water recycling and water desalination plants.
For example, late last year, India entered into agreements with two consortia including Israel's Tower Semiconductor Ltd. (NASDAQ: TSEM), also known as "TowerJazz," IBM Corp. (NYSE: IBM), Silterra Malaysia Sdn. Bhd. of Malaysia and STMicroelectronics NV (NYSE: STM) of Switzerland, for the construction of two semiconductor fabrication plants in India, one near New Delhi, the other in Gujarat, at a total cost of some 634.1 billion rupees ($10.4 billion). India not only generates investment dollars from these deals, but also reduces its dependence on having to import chips.
To attract foreign chipmakers, the Indian government has offered tax breaks, a 25 percent subsidy on capital spending and interest-free loans of about 51.2 billion rupees for each plant. Medianama reported the two plants will create 22,000 jobs. FirstPost noted that India's consumption of semiconductor products is projected to skyrocket from $7 billion this year to $55 billion by 2020, meaning many more such fabrication plants will be required.
But this is only one small part of Israel's ambitious investment plans for India and, in particular, Gujarat state. Israel National News reported that the Jewish State seeks to found an industrial development fund with Gujarat, citing comments made on Indian television by Israel's consul general in Mumbai, Jonathan Miller. "Gujarat is a business-oriented state and this [memorandum of understanding] will help both Israeli and Gujarat-based companies in developing and strengthening the industrial relationship," Miller said. "Our focus is on increasing research ties with Gujarat. Israel is keen to increase research and development (R&D) and cultural ties with Gujarat." Miller added that he also wants India and Israel to sign a free-trade agreement.
Israel and India also are involved in projects involving the key agriculture sector. "Israel is a world leader in advanced agriculture technologies. Israel's success lies in the determination and ingenuity of farmers and scientists and in the close cooperation between R&D and industry," Miller told Indian TV. "These characteristics have created a flourishing agriculture sector amidst a difficult environment with limited ground and water resources. Amongst the many fields in which Israel and India collaborate, agriculture has always been front and center."
As for Modi, the controversial chief minister of Gujarat was long treated as a pariah by Western Europe and the U.S. for his alleged involvement in communal riots in his state in 2002 between Hindus and Muslims, which killed at least 1,200 people. Although he was absolved of any complicity in those massacres by a panel of India's Supreme Court in 2012, Modi remains an extremely polarizing figure. Alas, during his years in the wilderness, Modi was forced to look elsewhere for trade deals -- namely the affluent and powerful non-western democracies of Japan and Israel. Indeed, in January 2013, Modi personally hosted the Israeli ambassador to India Alon Ushpiz in Gujarat to discuss deepening trade ties.
A report in The Diplomat from last year postulated that if and when Modi ascends to the prime ministry, India's ties to Israel will "expand dramatically." "While it was a Congress [Party] government that established diplomatic ties with Israel in 1992, it was under a BJP-led government from 1999 to 2004 that Indian ties with the Jewish State blossomed," The Diplomat report noted. "This period [led] critics to believe that this was not just a security partnership but also a relationship with strong religious and ideological moorings."
Indeed, the BJP's hostile rhetoric against Pakistan, and the Islamic world as a whole, has been music to Israel's ears. In 2003, following the Sept. 11 terror attacks, in a speech before the American Jewish Community in Washington, D.C., Brajesh Mishra, then India's national security adviser under the BJP government, called for a trilateral alliance comprising India, Israel and the U.S. to "jointly face the same ugly face of modern-day terrorism," adding that such an alliance would "have the political will and moral authority to take bold decisions in extreme cases of terrorist provocation." Later that year, in a historic event, Ariel Sharon became the first Israeli prime minister to make an official visit to India. (Sharon's visit, it must be pointed out, as protested by Muslims and leftists in India.)
But long before Modi appeared on the scene, right-wing and Hindu nationalist figures have praised and supported Israel. Several prominent Hindu figures, including Vinayak Damodar Savarkar, Sita Ram Goel, Arun Shourie, among others, have explicitly condemned anti-Semitism and endorsed the formation of Israel. India recognized Israel as long ago as 1950 -- but the relationship has complicated India's links with the Arab and Muslim world. As a result, India has taken a delicate stance with Israel, rarely ever making any provocative statements regarding the endless intrigues in the Middle East. Indeed, India is dependent on oil from Iran and Saudi Arabia and has sent millions of migrants to work in the Middle East since the 1970s oil boom (providing India with much-needed cash remittances).
Thus, India must be circumspect in how she deals with Israel; in fact, New Delhi typically votes against Israel in the United Nations. But that hasn't stopped the two countries from entering into numerous big-money agreements in the areas of defense, security, energy, aerospace engineering and agriculture. Defense trade between Israel and India amounts to some $10 billion alone, according to reports (thereby making Israel the number one arms supplier to India, supplanting Russia).
But there have been many bumps along the way. In the 1920s, when Indian nationalists agitated for independence from Great Britain, they allied themselves with the Palestinians and strongly opposed Western/Zionist plans to form a Jewish state. Interestingly, the two most famous Indians of the 20th century differed on their views of Israel. Mahatma Gandhi was opposed to the creation of Israel since he did not think a country should be based on religion (paralleling his opposition to the partitioning of the Indian subcontinent into Hindu India and Muslim Pakistan). However, India's first Prime Minister Jawaharlal Nehru strongly supported the creation of Israel and was close to several prominent Israelis, including David Ben Gurion, the country's first prime minister.
In 1947, as India had been cut into two countries (India and Pakistan), the "new India" nonetheless voted against the partition of Palestine at the U.N. General Assembly. India finally recognized Israel in 1950, but remained politically in the camp of Muslim Arab countries who demanded a state for Palestinians. It really wasn't until 1991-1992 that Israel and India started developing deep diplomatic and trade ties. India has had many good reasons to side against Israel: It had to appease its huge Muslim minority; the country feared that the Arab nations would favor Muslim Pakistan over India in various geo-political affairs (particularly the territorial rights to Kashmir); and, perhaps most importantly, its heavy dependence on Arab/Iranian oil and gas.
Behind the scenes, however, other arrangements, many of them secret, were established between New Delhi and Jerusalem over the decades. Reportedly, as long ago as the early 1960s, Israel offered India military and intelligence assistance with respect to India's various conflicts against Pakistan and China. Israeli Defense Minister Moshe Dayan apparently even made a secret visit to India in the mid or late 1970s to formalize military cooperation projects.
Now, the BJP is especially warm to Israel, partly due to the BJP's intransigent hostility toward Pakistan and Islam in general. BJP has praised Israel repeatedly as a bulwark against Islamic terrorism. In 2003, when Ariel Sharon visited India, the Hindu nationalist Rashtriya Swayamsevak Sangh (RSS) movement stated: "The entire world acknowledges that Israel has effectively and ruthlessly countered terror in the Middle East. Since India and Israel are both fighting a war against terrorism, therefore, we should learn a lesson or two from them." India's and Israel's shared role as victim of Islamic terrorism seems to be a uniting and pervasive theme in the countries relations. In addition, Israel has called for India to become a permanent member of the United Nations Security Council.
Modi himself has visited Israel as chief minister, suggesting that, as the possible next prime minister, he could make history by journeying to the Jewish state. Sumit Ganguly, professor of political science and director of the Center for American and Global Security at the Indiana University School of Global and International Studies in Bloomington, commented that he doesn't think closer ties between India and Israel (under a Modi administration) would necessarily hurt India's relations with Arabs, "unless Modi does something rash. "Bear in mind that the BJP, when in office, deepened ties with Israel but nevertheless managed to maintain good relations with the Arab world and Iran," Ganguly added.
Michael Kugelman PhD, an expert in South Asian affairs at the Woodrow Wilson International Center for Scholars in Washington, D.C., commented that India's relations with Israel have been quite strong in recent years, and Modi in power would simply strengthen this relationship even more.
"India has pulled off an impressive diplomatic balancing act in recent years, in which it has pursued ties with the Israelis and Iranians simultaneously, and with no repercussions," he said. "If there's anything that would upset Tehran or the Arab states (or, for that matter, other Muslim-majority states), it's his association with the 2002 riots and with a Hindu nationalist party -- and not his desire for close relations with Israel. The latter, after all, is old news."
© Copyright IBTimes 2023. All rights reserved.