India 2014 Elections: Should Pakistan Fear A Victory By BJP Chief Narendra Modi?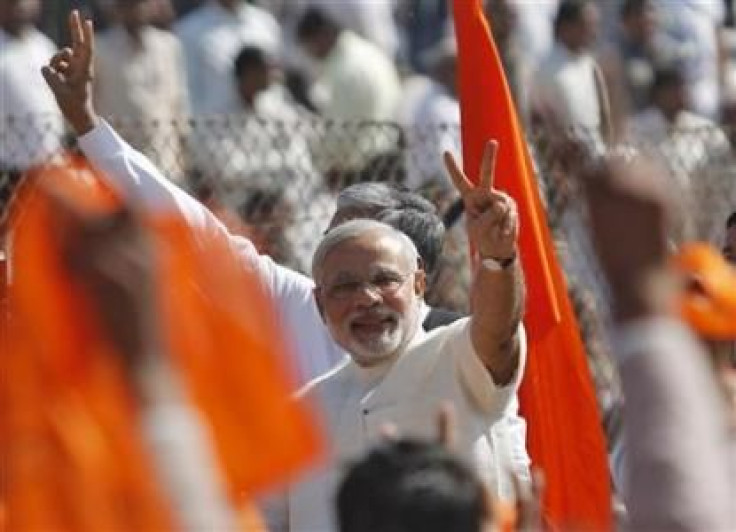 Pakistan does not fear a victory by hard-line, right-wing, Hindu nationalist Narendra Modi in India's parliamentary elections, according to a senior official. Modi, who is widely blamed for Hindu-Muslim riots that scarred his Gujarat state in 2002 (and killed at least 1,200 people) and has a history of bellicosity toward both Indian Muslims and Pakistan, is seen as likely to become the next prime minister of the world's largest democracy.
But Pakistan's national security adviser and acting foreign minister, Sartaj Aziz, told The Telegraph Thursday that his country will "deal with" the next leader of India, whether it is Modi of the Bharatiya Janata Party or his Congress Party rival (most likely Rahul Gandhi). In an interview with the British paper, Aziz, a member of the ruling Pakistan Muslim League-Nawaz (PML-N) party, noted that when a previous BJP leader, Atal Bihari Vajpayee, was prime minister, he actually visited Pakistan in 1999 to talk peace. "Personally I'm not worried," said Aziz. "Firstly, we should deal with anybody who the people of India elect, and secondly, let's not forget that the last time we had a breakthrough in our relationship it was also with a BJP government. Mr. Vajpayee was from the BJP. I think before an election, politics is slightly different, more nationalistic and so on, but after elections you handle state affairs."
Aziz further declared that Pakistani Prime Minister Nawaz Sharif seeks to establish better relations with both India and Afghanistan, as well as to pursue the "enormous economic opportunities that lie ahead, for regional cooperation and regional connectivity with Central Asia and West Asia and trade opportunities. These are opportunities that we all can't afford to miss." Aziz added that such a peace dividend of mutually beneficial economic relationships "should be equally appealing to India."
But peace between India and Pakistan remains elusive; the two countries have already fought four wars since 1947 and engaged in innumerable border skirmishes. Peace talks between the two states ended last summer after five Indian soldiers were killed near the "line of control," the de facto border in the disputed territory of Kashmir. However, Aziz said the two South Asian giants have each picked representatives to engage in secret "back-channel" negotiations. Aziz further assured that he was not concerned about Indian diplomatic overtures to Afghanistan, something Pakistan's military and intelligence networks reportedly greatly fear. "They want to participate in reconstruction and development [in Afghanistan]. Fine, we don't mind that at all," he said. "But if they try to interfere by supporting one faction or another, then, of course, it will make things difficult for our policymakers."
As for Modi, for the average Pakistani, he remains an extremely controversial figure. Although a special panel of the Indian Supreme Court in 2012 absolved Modi of any culpability in the 2002 Gujarat massacres, he is still blamed by many people in India (particularly Muslims, secularists and liberals) for failing to use his authority to stop the carnage from spreading. Indeed, Human Rights Watch, the New York-based rights activist group, concluded that: "The attacks on Muslims throughout the state were planned well in advance … and organized with extensive police participation and in close cooperation with officials of the BJP state government".
Moreover, a report by German broadcaster Deutsche Welle suggested that Modi is "hated" by a broad swath of people in Pakistan and that his election could worsen already tense relations. "Modi is a monster. He is responsible for the killings of thousands of Muslims in Gujarat. Pakistan should break ties with India if he becomes the prime minister," a taxi driver named Asif Bajwa told DW. Journalist Abuzar Sharif explained that many Pakistanis believe that Modi himself was explicitly involved in the Gujarat killings of Muslims. "Nobody has any proof of his role in the riots, but here in Pakistan, perceptions are stronger than reality," Sharif said. "Modi is considered not only an anti-Pakistan politician, but also an anti-Islam Hindu fanatic."
Modi's emergence could spell bad news for South Asia as whole, Sharif warned. "It is alarming that both India and Pakistan are witnessing an increase in religious extremism and the liberal and secular parties are taking a back seat. In Pakistan, we have a conservative premier [Nawaz Sharif] who is known for his ties with hard-line Sunni [Muslim] groups," Abuzar Sharif said.
Abuzar Sharif further pointed out that Prime Minister Sharif has been assiduously seeking peace talks with the Taliban, a group that is intransigently hostile to India and Hinduism. "Across the border, Modi is gaining popularity. This doesn't augur well for [a] nuclear-armed South Asia," he stated. Noting that extremism and fundamentalism are ascendant in both India and Pakistan, Baseer Naveed, a Pakistani researcher at the Hong Kong-based Asian Human Rights Commission, lamented that right-wing groups will have a fertile ground to continue to exploit a climate of fear and animosity with the election of Modi in India. Indeed, some Islamic militant groups in Pakistan like Jamaat-ud-Dawa use the Gujarat massacres of 2002 as "proof" of historical "atrocities" committed against Muslims by Hindus, thereby whipping up anti-Indian sentiments. Similarly, Hindu extremists in India maintain a ceaseless campaign of antagonistic rhetoric against Islam and Pakistan.
Munir Akram, a former Pakistani ambassador to the United Nations, also holds Modi responsible for the 2002 Gujarat mass killings, and takes a dire view of a Modi-led government in New Delhi. "No one doubts his involvement. He has never expressed regret for this massacre," Akram wrote in Dawn. Akram further lamented that Western nations have dropped their boycott of Modi by recently meeting with him, in the expectation that he will become the next Indian leader no matter what reservations they may harbor against him. "Disenchantment with the Congress party government's economic policies and performance, and Modi's reputed credentials as an effective and business-friendly administrator, have enhanced his appeal for Western leaders and corporations. Modi is thus being mainstreamed," Akram commented. Modi's true nature, Akram cites, can be found in a proclamation the Gujarat chief minister delivered to the Hindu nationalist group Rashtriya Swayamsevak Sangh in 2002 (the same year as the communal riots): "Hindu militancy … will wipe Pakistan off the face of the world."
Some Pakistani observers think (or hope) Modi's bellicosity is primarily a facade designed to solidify his base, but that once in power, he will have to deal with global/political realities and shake off his strident ideology. In addition, Modi has recently tamped down his anti-Muslim rhetoric. "The New Delhi government represents the whole of India. If Modi takes over the reins, he will have to follow certain rules of international relations," Anwer Sen Roy, a Pakistani journalist, told DW. Referring to the aforementioned Indian PM Vajpayee, Roy noted that he maintained relatively good relations with Pakistan in the late 1990s (when Islamabad was also ruled by Nawaz Sharif). "At that time people were apprehensive about the future of the Indo-Pakistani relations. But we saw that Vajpayee came to Pakistan on Sharif's invitation and the two leaders signed the historic Lahore Declaration [a treaty to avoid nuclear war] in 1999 to improve bilateral ties," said Roy.
Tahir Mehdi, a Pakistani researcher, commented on the prior BJP administration in India from 1998 to 2004, a period marked alternately by warmongering, near threats of actual war and peace talks. "During [BJP's] tenure, [India and Pakistan] swung between the two extremes and went so close to both. ... But we came back from the brink and missed both, luckily the war and sorrowfully the peace for a host of, and entirely different, reasons." But Mehdi is pessimistic that Modi (given his seemingly immutable anti-Muslim image) can improve relations with Pakistan. "Because of the Gujarat pogrom, Modi does not cut the right figure for leading a public and popular act to end the Indo-Pak conflict," Mehdi wrote. "He has a negative aura and carries heavy baggage. ... With Modi in [power], war may not become a probability, but chances of peace do not brighten either."
Stewart Windeler, Pakistan analyst at the Economist Intelligence Unit, took a more measured view, noting that the current administration in Islamabad expects that if Modi is elected Prime Minister, he will consider broader national interests beyond Hindu Nationalism in his relations with Pakistan, suggesting that Pakistan will not react with strong hostility to a Modi administration. "The Pakistan government is also keen to continue building bilateral economic relations even if Modi wins," Winder added, noting that a BJP administration in 1999 signed an accord with Pakistan. "So we cannot rule out a rapprochement between the two sides in the event of a Modi victory," he concluded.
FOR FREE to continue reading
✔️ Unlock the full content of International Business Times UK for free
offer available for a limited time only
✔️ Easily manage your Newsletters subscriptions and save your favourite articles
✔️ No payment method required
Already have an account? Log in
© Copyright IBTimes 2023. All rights reserved.