India Boosts War-Fighting Capabilities As It Pivots Toward 'Chinese Threat' At Border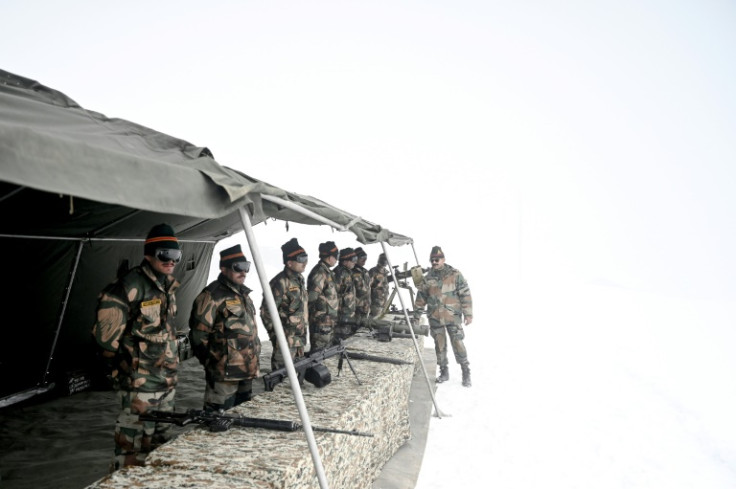 KEY POINTS
India seems to be preparing itself for the long haul as tensions with China continue over the border dispute
The 19th round of talks between the Indian Army and China's People's Liberation Army took place Monday
Experts say that it is 'unlikely that tensions will dissipate' in the near future
With the Indian Army rapidly enhancing its defense capabilities along the Line of Actual Control (LAC), India appears to be preparing itself for the long haul as tensions with China continue over the border dispute.
The India-China conflict along the LAC — a 2,100-mile-long de facto border that separates northern India from China — has led to both sides bolstering their military capabilities, especially after the 2020 Galwan Valley incident soured their bilateral relations.
New Delhi and the Indian Army's "pivot of the military towards the Chinese threat has made for a very robust and aggressive defense posture," Brig. Deepak Sinha (Retd.), a second-generation paratrooper and author of "Beyond the Bayonet: Indian Special Operations Forces in the 21st Century," told International Business Times.
On Monday, the Indian Army and China's People's Liberation Army (PLA) held the 19th round of military talks in eastern Ladakh to ease tensions. The outcome of the discussion is reportedly expected to come out this week via an official statement.
The previous 18 talks between the two sides have helped limit unwanted escalation, but there has been no progress in real disengagement.
While the border dispute is a decades-long issue, the Galwan Valley incident that led to the killing of about 20 soldiers became a flashpoint, prompting India to mobilize and deploy more troops in the region to arm itself against China.
"[India's] force levels facing China have almost doubled including in terms of our Mountain Strike Corps deployed against them. It has forced China to deploy sizable regular forces of equivalent strength from the PLA," Brig. Sinha said.
Rukmani Gupta, a New Delhi-based Defence and Security Analyst, also told IBT that India has made "significant progress" in establishing a posture that "seeks to anticipate and deter attempts by the PLA to change the status quo on the ground."
"Since the Galwan standoff, significant progress has been in shoring up persistent surveillance capabilities along the border with China, particularly the use of medium-altitude long-endurance UAVs and other unmanned systems," Gupta said. "Greater combat readiness has also been prioritized as is evident in the infrastructural upgrades undertaken and planned - both civilian and military, the tweaking of hardware to meet wintertime requirements and the steady increase in personnel numbers."
India has also ramped up its efforts in building infrastructure, enhancing road connectivity and accelerating railway networks to facilitate better movement in the region's difficult terrain.
"The focus on improving [India's] border communication infrastructure rapidly is beginning to pay dividends as we can move our forces far faster than earlier," Brig. Sinha said. "Attempts are on to reorganize our higher defense set up by establishing joint theatre commands etc and modernize our forces with indigenous weapons systems. Our partnership with the United States, especially with regard to the sale of high-tech weapon systems and cooperation in the intelligence domain are game changers and greatly enhance our defense capabilities."
The 19th round of talks between the Indian Army and PLA took place ahead of the next BRICS Summit on Aug. 22-24, where there are chances of Indian Prime Minister Narendra Modi meeting Chinese President Xi Jinping on the sidelines.
"The upcoming BRICS and G20 summits provide an incentive for both countries to make efforts towards improved bilateral relations. However, while the border remains disputed it is unlikely that tensions will dissipate," Gupta said.
"The latest round of talks reportedly focussed on addressing the trust deficit resulting from the military standoff and designing confidence-building measures that will encourage overall de-escalation of troops, these are issues that will need to be addressed before any substantive discussion on resolving the border dispute can take place," she added.
While talking about a possible end in sight to the long-standing tensions between the neighboring countries, Brig. Sinha said there doesn't seem to be one "in the near term given President Xi's ambitions."
"As our military capabilities improve it gets that much more difficult for China to indulge in hostile actions. Therefore, the possibility of China initiating a limited conflict before our developmental plans have fully fructified cannot be ruled out, especially given the relatively difficult economic situation within China and President Xi's vulnerability," he said.
"It is worth recalling that the 1962 Conflict was initiated by Chairman Mao after he had been replaced as President, their Great Leap Forward had been a disaster and the two superpowers of the time were busy with the Cuban Missile Crisis. The situation presently is comparable in many respects, in addition we have general elections due next year," he added. "However, such a move is not without risk for China as if it gets bogged down in a conflict its ambitions will be adversely impacted. If we get through the next five years without a conflict then the situation should stabilize."
© Copyright IBTimes 2023. All rights reserved.