India Explains To US Why It Needs Iran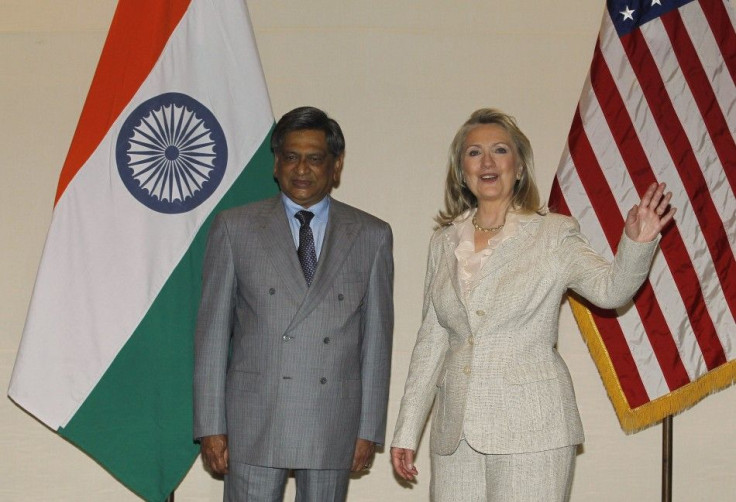 India Tuesday conveyed to the US that it has to look at the Western sanctions on Iran beyond the issue of energy, as it has critical stakes in the region.
At a joint press conference with US Secretary of State Hillary Clinton after their talks in New Delhi, Indian External Affairs Minister S.M. Krishna said that he had conveyed to her the country's difficulty in cutting down on oil imports from Iran.
Iran is a key country for our energy needs but we have to look at the Iran issue beyond the issue of energy trade. In the first place, we have to see security and stability in the Gulf region, India has vital stakes in Gulf region, said Krishna, according to PTI report.
Clinton, who is in India on a three-day visit, conveyed to the Indian Minister the need to cut down on oil imports and said that India should look to alternate sources like Saudi Arabia for it oil imports.
She said that only continued and relentless pressure on Iran on its nuclear program will bring it to the negotiating table, Rediff.com reported.
Pointing out India's strategic ties with Iran, Krishna said that it was one of the critical routes for India's foreign trade and was a key partner for India to reach the central Asian markets.
I conveyed our vital stakes in peace and stability in the Persian Gulf and wider West Asian region, given the six million Indians who live there and the region's importance to our economy, Krishna said at the joint interaction, according to a Rediff.com report.
India- Iran Ties
Cordial relation with Iran is important for Indian economy. The country has a sizable population of its citizens living in the Gulf and West Asian region, who are crucial contributors to the Indian economy.
Apart from crude oil imports, India has a strong market in the Gulf region and its exports to the region stood at $100 billion. India, reeling under pressure to correct its trade deficits, cannot afford to risk losing the Gulf markets for exports. Hence, India has high stakes in the peace and stability of the Gulf region of which Iran is an integral part.
India is one of the top five countries that import crude oil from Iran. India's total imports from Iran for the period of 2010-11 stood at $14 billion. India, which has improved its economic ties with the US in recent years, has very warm bilateral relations with Iran too.
The country has been resisting tremendous pressure from the US to cut down its oil imports. Though time and again India scaled down its oil imports from Iran, bowing to the US pressure, on a broader scale it has refused to accept the sanctions on Iran.
Indian oil companies have cut down their oil imports from Iran by 15-20 percent. Crude imports from Iran dropped to 18.5 million tons in 2010-11 from 21.2 million tons in 2009-10.
However, India, like China which is another major importer of Iranian oil, is exploring ways to circumvent the sanctions by the EU and the US to continue the imports from Iran.
Two months ago, India and Iran agreed to trade crude oil in exchange of food grains to overcome the combined restrictions from the US and EU on transacting with dollar and euro.
India has been asking Iran to adhere to its international obligations under the Non-Proliferation Treaty, but support its right to use nuclear energy for peaceful purposes.
Iranian High-Level Delegation in India
Meanwhile, coinciding with Clinton's visit, a 56-member high-level delegate from Tehran was in New Delhi. After the holding talks, India and Iran agreed to scale up its trade relations through a bilateral preferential trade treaty.
The fact is that the economies of India and Iran should work together. Others like or do not like, we should work together and everybody should think for their interests, PTI quoted Yahya Al Eshagh, president of the Tehran Chamber of Commerce, Industry and Mines, as saying.
Arvind Mehta, joint secretary in the Indian Commerce Ministry, confirmed the move and said: The Indian government has commissioned a study for a preferential trading arrangement with Iran.
The traders from both countries have been demanding a secure payment mechanism to facilitate currency transactions. Iran also is mooting opening of a branch of its Parsian Bank in India to facilitate the banking transactions between the countries.
© Copyright IBTimes 2023. All rights reserved.