India Losing 2,000 Farmers Every Single Day: A Tale Of A Rapidly Changing Society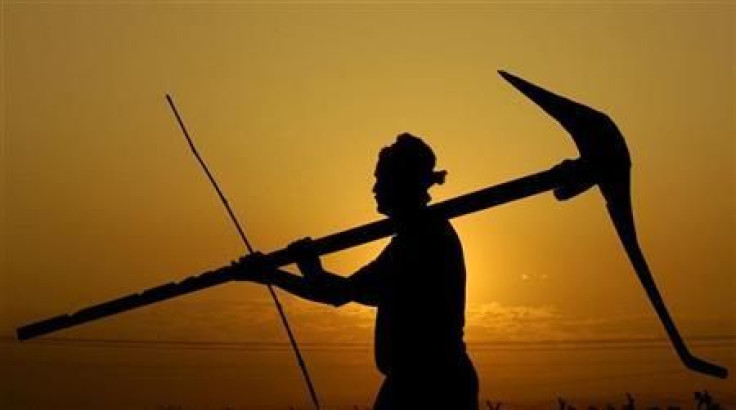 Drought, urbanization, suicides and other factors are contributing to India's dwindling population of farmers – once regarded as the very heart and soul of India's society and economy.
According to census data from the Indian government, the number of farmers in the country plunged by 9 million since 2001.
"Cultivators," as the Indian government describes farmers, now total some 119 million, making them the second-largest group in the workforce in absolute numbers, but representing just below 25 percent of the total number of workers, down from about one-third in 2001.
While the number of "cultivators" has been decreasing, there are actually now more agricultural laborers (that is, people who work on farms but do not own the land) – numbering some 144 million, or 30 percent of the total workforce, up from 26.5 percent in 2001.
"The rise in agricultural labor could be explained by the falling size of land-holdings over time," Census Commissioner C. Chandramouli said, according to The Times of India.
P. Sainath, an expert on Indian rural affairs, suggests that the decline in Indian farmers is a national tragedy.
Writing in The Hindu newspaper, Sainath notes that India is losing more than 2,000 farmers every single day and that since 1991, the overall number of farmers has dropped by 15 million.
Part of this reduction in the number of farmers has to do with an epidemic of suicides by rural cultivators trapped in enormous amounts of debt.
"We have been undergoing the largest catastrophe of our independent history — the suicides of nearly a quarter of a million farmers since 1995," Sainath said at a lecture at the Institute of Development Studies in Kolkata.
"We are talking of the largest recorded rate of suicides in human history."
The India Tribune estimated that an Indian farmer kills himself every 12 hours. According to the National Crime Records Bureau (NCRB), between 1995 and 2009, more than a quarter-million farmers committed suicide.
In 2009 alone, more than 17,000 farmers committed suicide just in the state of Uttar Pradesh.
Some experts believe the actual number of farmer suicides is much higher than official data indicates.
"The official statistics in India rely on the National Crime Records Bureau -- basically what are police reports of suicide," said Professor Prabhat Jha of the Center for Global Health Research in Toronto, according to BBC.
"Suicide is a taboo subject," he added, suggesting that some deaths have likely been attributed by their families to other causes, like serious illness.
Indian human rights workers also allege that cotton farmers in India (one of the country's biggest crops) have been brought to despair by having to purchase expensive seed and fertilizer from genetically-modified (GM) cotton seed companies as well as having to cope with wildly fluctuating food prices on the market.
GM seeds produce higher yields, but are 10 times more expensive that regular cotton seeds.
Britain's Prince Charles himself spoke of the "truly appalling and tragic rate of small farmer suicides in India, stemming in part from the failure of many GM crop varieties," during a video-link with a conference in Delhi.
But debt is only one factor in the spate of suicides – the more profound cause is India's gradual transformation from a rural economy to an urban-based manufacturing and technology behemoth.
Moreover, as the Western nations deal with a widening income gap between rich and poor, so, too, does newly prosperous India. Sainath noted that the average Indian corporate chief executive now earns 30,000 times more in salary than the average laborer – suggesting a massive chasm between the lifestyles of the urban elite and the rural poor.
Raju Das, a developmental studies professor at York University in Canada, said farmer suicides represent part of a "broader political-economic problem," according to The National Post.
Loss of government subsidies, cheaper foreign imported foods and an escalating cost of living have also led to farmer suicides.
One also cannot ignore the mercies of Mother Nature.
"Even now, 60 years after the British left, 70 percent of India's farmland depends on the monsoon," Das said.
"That means if the monsoon fails and rains fail, there is drought and the government has not invested enough in water irrigation facilities."
Further, Professor Jha points out that the practice of suicide is spreading across the breadth of Indian society, particularly among the young.
"While suicide in farmers is certainly an important [phenomenon], if we're concerned about suicide we need to look at the bigger picture," he said, according to the Post.
"The main story of suicide in India is not of farmers, it is of young people, between the ages of 15 to 29, who are taking their lives. So the dominant headline I think really is, why are so many young Indians killing themselves?"
Indeed, Jha noted that the rate of suicide among Indian agricultural workers and farmers amounts to about 7 deaths per 100,000 people, while the overall suicide rate in India is more than double that amount.
© Copyright IBTimes 2022. All rights reserved.
FOLLOW MORE IBT NEWS ON THE BELOW CHANNELS