South African Farm Workers Win Huge Pay Increase; Farmers Warn Of Doomsday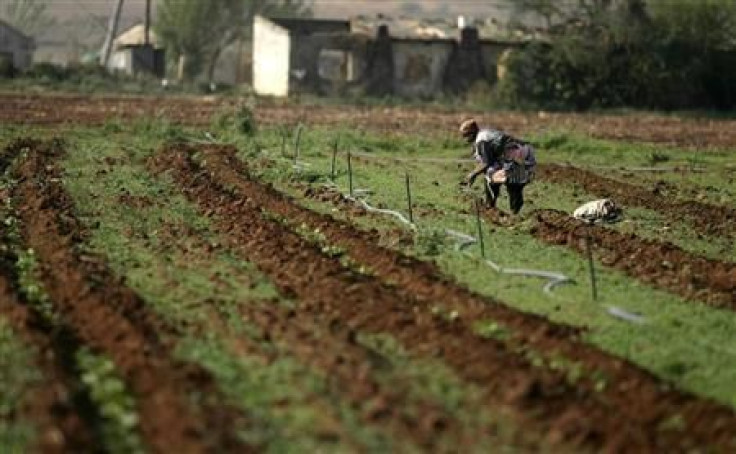 South African farm workers have won an exorbitant pay increase, following weeks of bitter and violent strike action that killed one person.
Laborers on farms will receive a daily minimum wage of 105 South African Rand (about $11.80) for a nine-hour day, effective March 1, said the government's Labor Minister, Mildred Oliphant – up from the current level of 69 Rand, an astounding 52 percent spike in salary.
Oliphant said the new pay agreement will last for three years – in years two and three, wages will adjust according to the consumer price inflation rate plus 1.5 percent. (In December 2012, South Africa recorded an inflation rate of 5.75 percent.)
Not surprisingly, the Congress of South African Trade Unions (COSATU), one of the largest trade unions in the country representing some 2 million workers, embraced the news – with a caveat.
"COSATU welcomes this agreement, but it is not enough," said COSATU's Western Cape Secretary Tony Ehrenreich, calling for a radical overhaul of the agricultural sector.
"There is an attitude of hostility between farmers and their workers, and to some extent between government and farmers. Workers have realized that they are not going to get anything for nothing."
Indeed, the new minimum wage will not satisfy some farm workers, particularly in parts of the Western Cape region, who have demanded daily compensation of 150 Rand (which would amount to a 117 percent increase from present pay).
On the other end, some farmer groups warn the pay hikes may lead to significant job cuts in the agriculture sector.
South African media reported that the Transvaal Agricultural Union (TAU) – an agricultural organization dominated by Afrikaner farm owners -- blamed the pay increase on "pressure" and "intimidation" by striking workers, and asserted the pact could set a dangerous precedent for future similar actions in other sectors of the economy.
"Small and emerging farmers in particular certainly cannot afford these wages. Even [businesses] in certain industries will not be able to pay these wages ... They will have no other choice but to reduce their workforce for the sake of financial survival," the TAU said in a statement.
The TAU further warned that higher wages for laborers will likely propagate inflation, higher electricity prices and higher fuel prices, among other things, that will hurt the consumers.
Louis Meintjes, TAU president, further predicted labor unrest in a country already wracked by worker discontent and violence.
"Other workers will be most unhappy if their fellow workers received a substantive salary increase which did not apply to those already receiving wages in excess of the minimum wage," he said.
"Farmers will therefore have to implement an increase applicable to all pay scales, which makes the situation much more difficult. With such increases, farmers will have no option but to invest in mechanization, which will minimize the impact of further increases and labor unrest."
Another entity, Agri South Africa, an agricultural trade association, declared a doomsday for the industry.
"This is especially true for labor-intensive sub-sectors where individual farmers will now have to make tough decisions on adjustments to ensure their sustainability," said AgriSA President Johannes Möller.
"Such adjustments are inevitable, taking into account recent hikes in fuel prices and water tariffs, and a likely sharp escalation in electricity tariffs."
Some government officials have also expressed their concerns about impending higher wages.
Pieter Mulder, the Deputy Agriculture Minister and leader of Freedom Front Plus, a South African political party that represents the interests of white Afrikaners (many of whom are farmers), warned that seasonal laborers will endure significant job losses.
"It should be expected that South Africa's agriculture will in the next couple of years undergo a total restructuring, where farmers will be changing to less labor-intensive products," he stated.
"Where permanent workers will not be affected so much by the new wage determination, it will lead to the dismissal of tens of thousands of seasonal and temporary workers."
However, to alleviate such fears, Labor Minister Oliphant assured that some farmers may enjoy exemption from paying the higher wages – if they could prove that such salaries would cause such financial hardship that they would be forced to close their businesses.
"Agriculture is an important sector in our economy and it is imperative that it is stable at all times," she said.
Farm workers, many of whom work seasonally in perilous conditions, have long campaigned for higher wages and better protection from various woes.
In 2011, Human Rights Watch reported that South African agricultural laborers faced exposure to pesticides, suffered from a lack of access to safe drinking water and sanitation, and often did not receive paid sick leave.
According to SouthAfrica.Info, about 638,000 people are formally employed as farm laborers, although about 8.5 million people are directly or indirectly dependent on agriculture for employment and income.
© Copyright IBTimes 2023. All rights reserved.